Tom Simonyi

Member





i have been having a BLAST playing with geraniums !!!
tom - how tall is that one ?
here is one of mine from last year...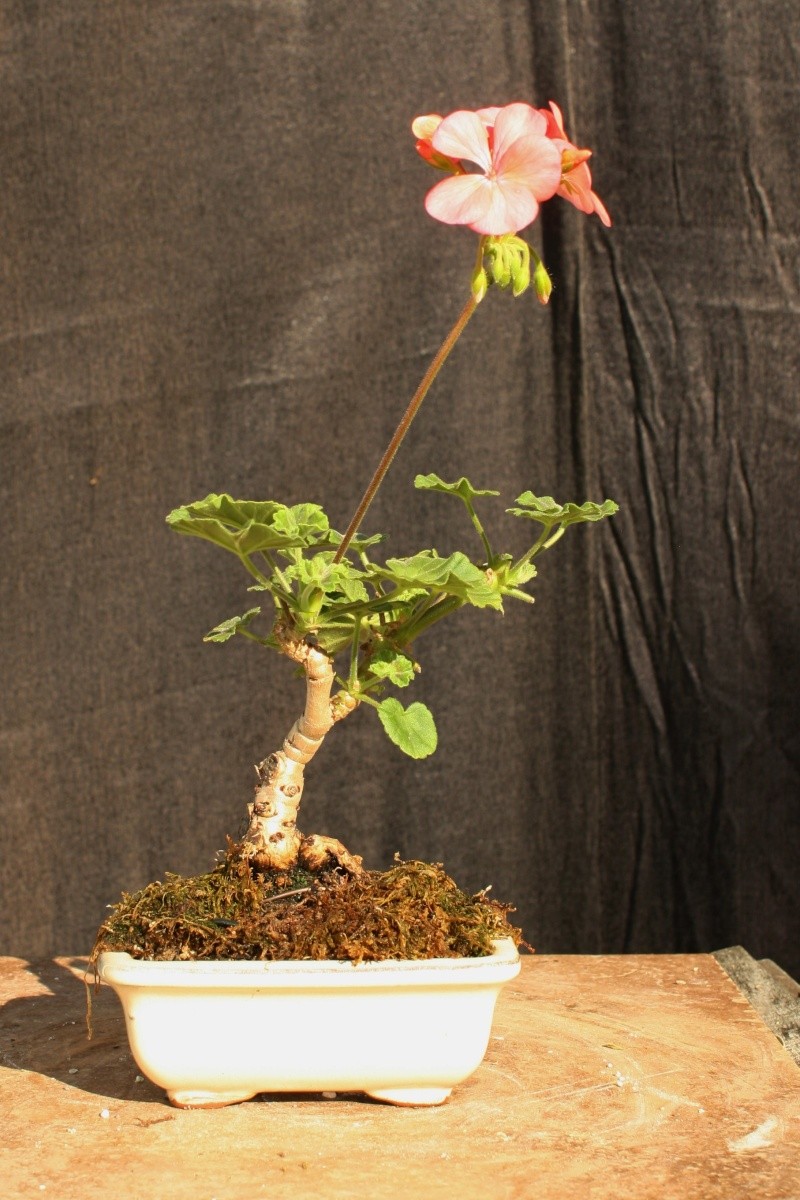 this is my 3rd summer with this one... and i have since acquired more just for fun...
it is a common geranium and not a dwarf, but i have found that the leaves reduce easily and this year the flower stalks are coming out shorter and shorter with smaller and smaller flowers... with no flowers it is about 3-4" tall from the top of the soil and the "trunk" is getting gnarlier and gnarlier...
i repotted it last weekend but dont have a current picture...
if it co-operates, i may stick it in an AAC group shohin display in september.
_________________

AAC Original Milwaukee Wi. Chapter - North America
aka beer city snake
link to ARBOR ARTS COLLECTIVE BLOG

kevin stoeveken

Member





Hmmm. Somebody gave me a scented Geranium the other day,half dead from neglect,of course!It is the so called "Citronella" variety;which contains none,nor does it repel mosquitoes(for which it is marketed). I don't know much about them.But I like the photo of your plant very much(yours too Kevin). How long have you been training it,etc?Any pointers ?
George.

geo

Member





Thank you, George.....and good luck with yours! Regarding training....not a whole lot except look for good branch structure when selecting potential candidates and prune lightly when necessary. I also feed pretty heavily. My geranium currently is 6 inches in height from the soil line.

Regards,
Tom

Tom Simonyi

Member





Kevin...forgot to mention how much I like your geranium....good job wth it so far. I hope it will end up in the shohin display you mentioned. Please keep us posted.

Tom

Tom Simonyi

Member





You are very welcome George....

Tom

Tom Simonyi

Member





thanks guys
i prune these fairly hard as the back bud like crazy... i am constantly rubbing off new shoots in undesired places...
also it seems like "branch" selection should be looked at as temporary as thickness can be hard to control and an older branch is eventually being replaced by a new one in better scale to the "trunk"
every now and then i cut flower stalks off before they bloom to redirect that energy
i am in (usda) zone 5 and so i treat mine like a tropical and bring it in when the weather turns cold in the fall.
cuttings root easy too so you will have lots to play with if you wish...
with these, just have fun


kevin stoeveken

Member






Tom Simonyi

Member






---
Permissions in this forum:
You
cannot
reply to topics in this forum