Today I had an oppertunity: A long-ago abandonded Yew / Taxus nursery has been sold and the new owner was cleaning out the plot. Over 600 plants were removed and tossed in containers. In exchange for a few hours of work, I brought home 5 decent-sized trees (about 20cm/8inch trunks on the biggest), cut down to stumps just above the main trunk splits, with no foliage..

They now sit in contaiers, with well-draining substrate, root system washed out completely. Will post pics later/tomorrow. (Too buggered now; 12 hours working trees).

What is the best route to take?

Some advice sun,. others shade. Some say water daily. Others advice to let the substrate dry out completely to encourge root development.

Who knows..?

leatherback

Member





Yews are pretty tough so there is a good chance yours will be fine. I'd keep them in partial sun/shade so they are not in full sun at the hottest parts of the day, but to ensure they are getting a bit of sun. I'd water them with a solution containing Rhizotonic, and mist them once a day to try and help new bud development. They should bud if they have survived the shock. I would tend to keep them at least moist as I'm not sure letting the roots dry out is the best idea.

Good luck and please post pictures if they survive OK.

MKBonsai

Member





So this is what I have been uo to..
Rootball, after washing and rough reducing, before cleaning all the cut ends.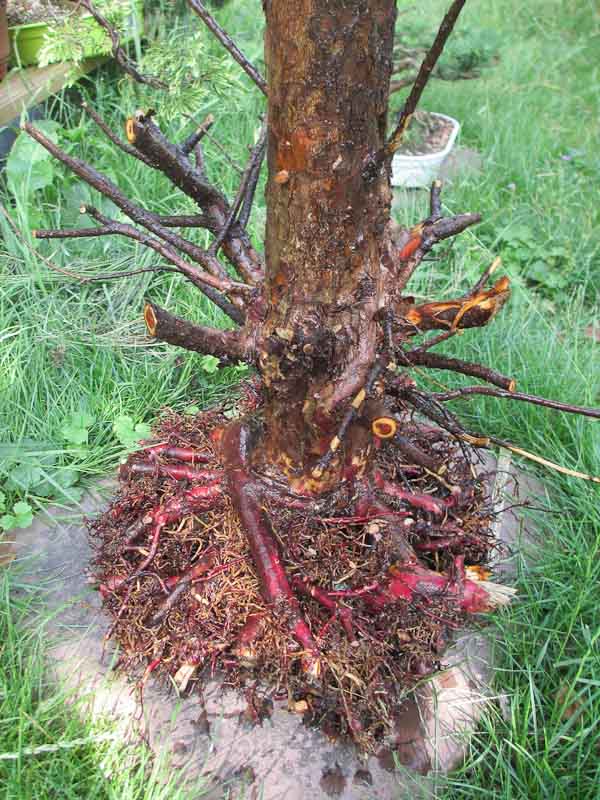 One of three decent plants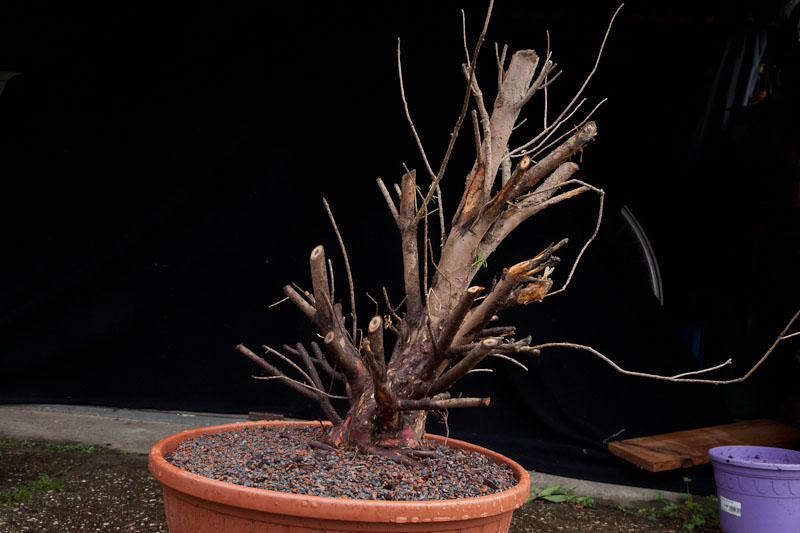 Nr 2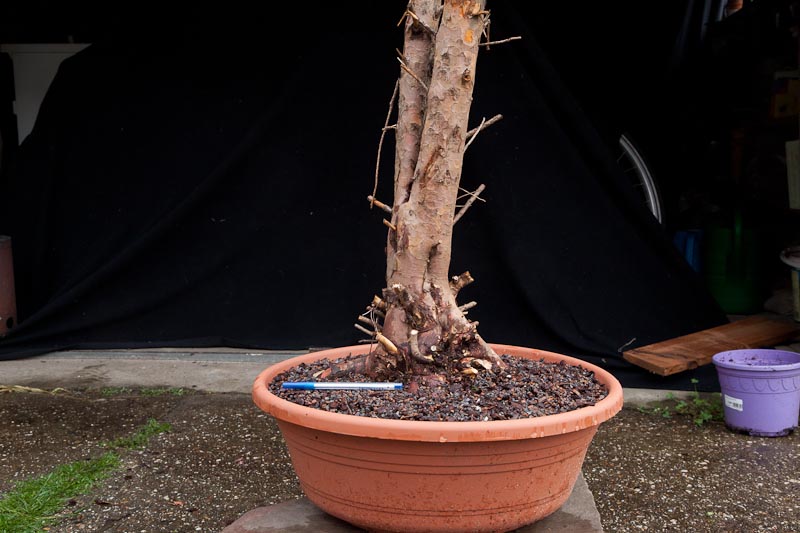 Nr 3, the best of the lot.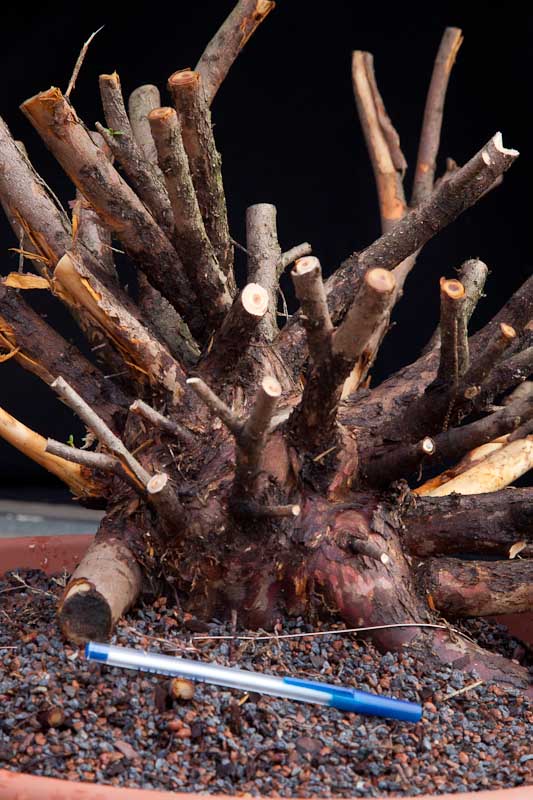 The other two are true carve-material. Just stumps, but fat.
All in line, waiting for recovery...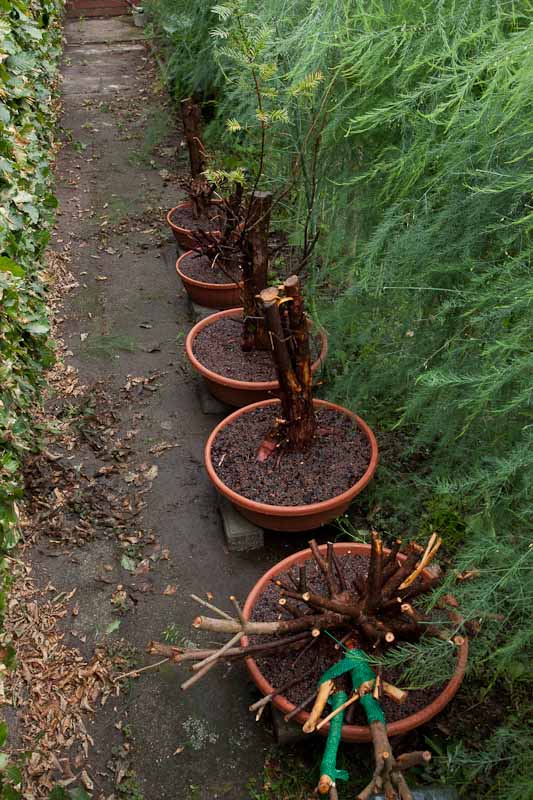 leatherback

Member





I think, going back in time, I would have recommended to leave them with soil and replant them into a growing bed... Other than that, I would go with the suggestions already mentioned... Having collected a couple dozen yews, I have recognized that health in the first year does not mean that it is going to make it (no matter how much new growth they provide)... so give them a couple years in their pots to rest and prove they are ready for anything else. Good luck!

daudelus

Member





daudelus wrote:Having collected a couple dozen yews, I have recognized that health in the first year does not mean that it is going to make it (no matter how much new growth they provide)... so give them a couple years in their pots to rest and prove they are ready for anything else. Good luck!
Absolutely right. I have understood that for true yamadori yews, the wait is untill you get more than 15cm / 6 inches of growth in a season, else it is not ready yet

leatherback

Member





Sadly, all of them sulked throughout winter. Pushed some growth in spring, and then one after another died. None had made new roots. Only one remains, which is now showing traces of brown between the needles; Pretty sure this one is a goner too.


leatherback

Member





Tough one! Try not to take it too much to heart... they were collected in July (not ideal by any stretch). Such a severe cutback would have given a growback if they were in the ground, but I suspect they exhausted themselves producing foliage and couldn't do it while giving energy for root growth.

daudelus

Member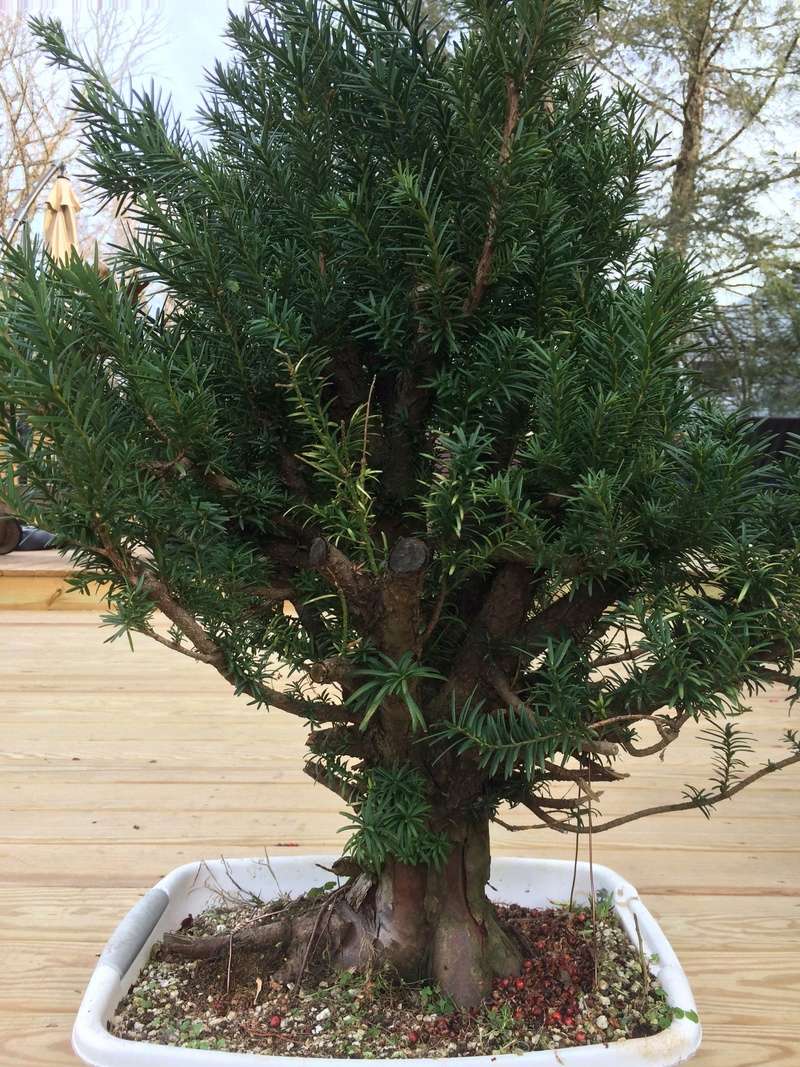 Here is one I dug from a hedgerow about 2 1/2 years ago in the spring. All I've done to it is fertilize and water... except to trim a small amount of long branches and things I definitely wouldn't be using... the interesting thing is that all of the yews in the hedge were very large and by the time I was done, I was doing sloppy work of digging them... just plopping and prying them out after using a reciprocating saw to get through the big roots. I think it just goes to show that leaving foliage on is important and leaving them alone is as well...I still wouldn't say mine are going to make it either even though it has been almost 3 years. This spring I will repot them, because they are getting root bound. I would say 6 made it from 8 collected that day (so far).

daudelus

Member





This is interesting to me because I also have a recently "collected" taxus. However mine was purchased from a local garden centre and appears to have been "collected" with a mechanical digger!
The roots have been randomly smashed through and torn off, the tree was "collected" in autumn not spring and the whole thing (no reduction of the foliage) was dumped in the corner of a yard with only a string bag around the tattered roots to keep the clay soil in place. I've actually seen this being done in a growing field and it makes even cutting them out with a reciprocating saw seem like a delicate operation in comparison

The funny thing is that this is how pretty much all commercially produced trees turn up in nurseries as far as I can tell and having bought a few over the years (including another yew) and they have all survived and thrived.
I did ask when my tree had been dug and for how long it had sat about and was told that it was only a couple of days actually but not to worry because the tree was dormant and as long as it didn't dry out completely it'd be fine. "We sell hundreds of 'em like that every year" said the nursery man!
Now I realise that there isa great deal of difference between an old yamadori tree that has been clinging to life in a hostile environment for decades (or even centuries) and a very healthy relatively young nursery grown tree but even so, makes you realise how tough most trees are.
Perhaps the real problem here was removal of all the foliage as daudelus suggests? I know yews do bud back very profusely when healthy but I've always assumed it was wise to leave at least some foliage on the end of any branches you wanted to try and keep.
Regards
Richard

Richard S

Member





I think everything worked against these trees..

- It was very hot when the trees were dug
- It was a VERY dense nursery that was being removed, with trees several metres tall ripped out by a small digger
- The trees just did not have foliage within a reasonable distance
- The roots I worked too hard. Should have just placed them in the ground, rather then trying to squeeze them in the biggest container I could get
- I have an infestation of fungus gnats in the greenhouse in the winter

Just ivercoming either a cutback, or a trnasplant would have beeen fine. But no such option. h well.. Live and learn. They would have been tossed in a container anyway

leatherback

Member





One of the good things about yew is that even if there is no foliage near the trunk and there are just long whips, give it time, and you will likely have buds up and down the trunk. Like the one I posted earlier, I left it about 5ft tall before cutting it back last spring to about 2 1/2-3ft... most of the growth down low is newer....next, I'll be able to decide what main branches won't be in the final display and get rid of them after a re-pot... like you mentioned.. they were going to the compost pile anyway!

daudelus

Member





---
Permissions in this forum:
You
cannot
reply to topics in this forum