Hi all,
I am a new bonsai enthusiast and recently purchased my first tree. It is a four year old Privet (ligustrum lucidum). So far I have been having some questions regarding watering. I have been feeling the soil to determine when it needs watering, but it seems to retain more water than I expect. I was told it may need watering up to twice a day, but judging by the soil I haven't needed to water it for a couple of days at a time.
All this wouldn't concern me much, but I'm starting to lose leaves. In the last week it has lost five or six. Should I be watering more? Is this a sign of a different problem all together?
Additional details: It is indoors with indirect sunlight in the Seattle area.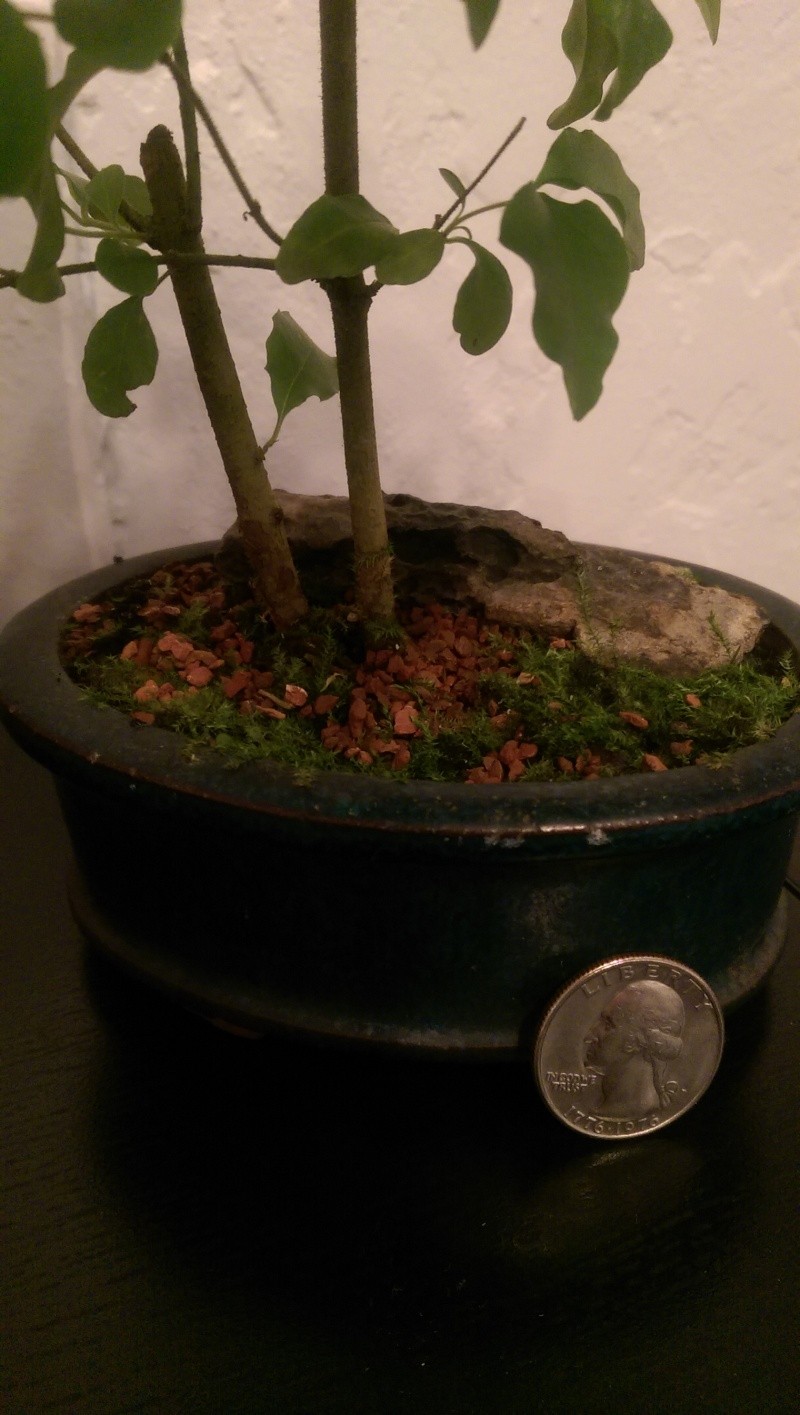 the 2x a day watering scenario would apply if it were outside on hot summer days, but definitely not as an indoor indirect light plant.
and there is ALOT more to this subject that i won't go into regarding soil mixtures vs water retention vs environment which can get quite complicated, though it doesn't necessarily need to be complicated for someone new (such as myself not long ago)

sometimes the simple ways are the best ways...

i.e the best water meter is also the cheapest:

stick a chop-stick in the soil and leave it in there...
then every day or so pull it out and feel it...
if it is damp, stick it back and dont water...
if it is dry, stick it back and water.

walter pall has an easy to find 2 pt video on you tube about feeding, substrates (soil) and watering which lays things out in a pretty easy to understand manner.

btw - my guess would be too much water, rather than too little...
and while i know it is hard to do, try not to panic when it loses a few leaves as the situation is generally correctable.
and i am sure there will be advice forthcoming from others on this plant specifically.

hope that helps.
_________________

AAC Original Milwaukee Wi. Chapter - North America
aka beer city snake
link to ARBOR ARTS COLLECTIVE BLOG

kevin stoeveken

Member






LanceMac10

Member





As Lancemac says, privet is an outdoor tree. Yours should be outside ALL the time. It will not survive for long if kept indoors.

At this point, yours looks healthy. It is normal for these, as more-or-less evergreen shrubs to lose a few leaves in the spring.
_________________
Jim Lewis - lewisjk@windstream.net - Western NC - People, when Columbus discovered this country, it was plumb full of nuts and berries. And I'm right here to tell you the berries are just about all gone. Uncle Dave Macon, old-time country musician

JimLewis

Member






---
Permissions in this forum:
You
cannot
reply to topics in this forum