Juniper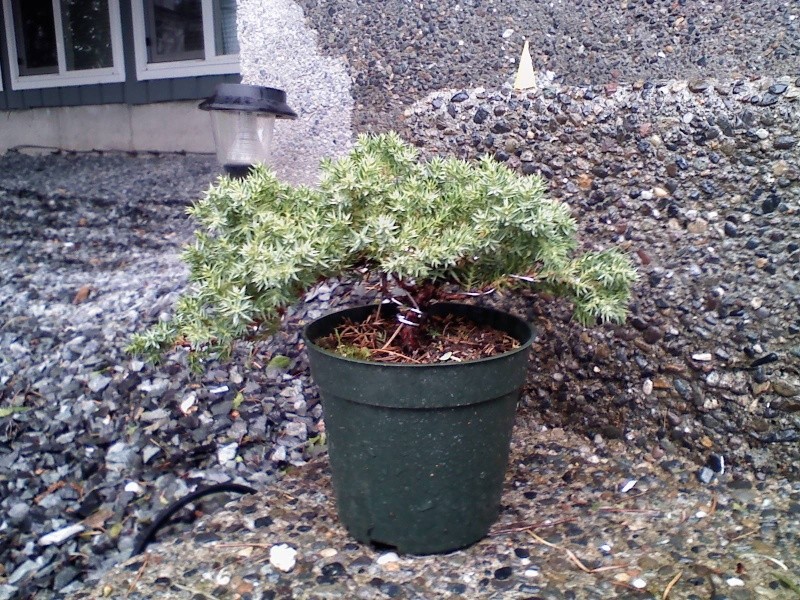 Cotoneaster
Dwarf Boxwood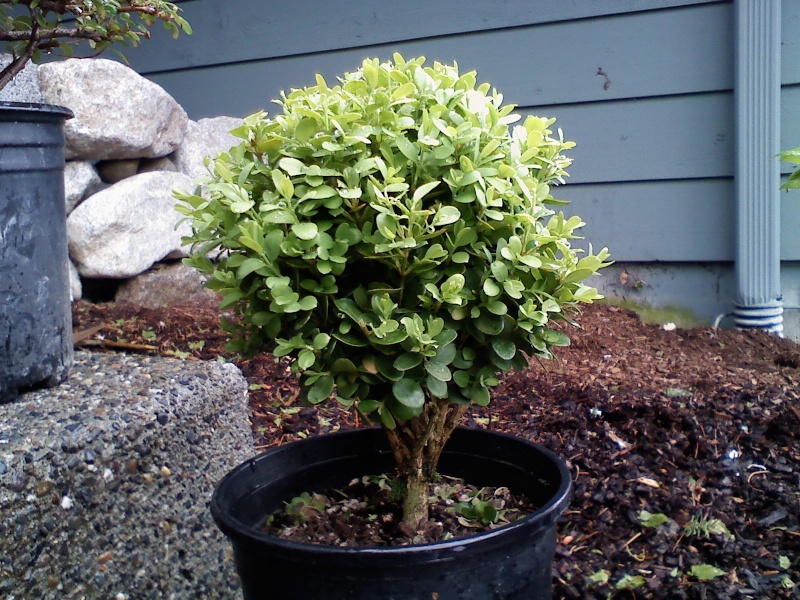 Azalea
I am brand new to bonsai, and i figured I would get started! I really love nature, and I love the art form of bonsai, and it helps that the only bonsai store around me is owned by a man who is always willing to help and teach you things, lend you tools when you need them, and even give you a bonsai after he knows you for a while.
I am having trouble styling all of these, and i was wondering if anyone had any ideas, or saw anything that I am not seeing, your thoughts would be much appreciated!
thanks
Vinnie

Vinnie

Member





Hi Vinnie, I am very new to this site so it is a little presumptuous of me to be replying to your post. I take is WA is not western australia given those snow capped peaks in the background. The best thing for you to do is to join a local club to get some hands on advice if thats possible. I have always found single trunk trees to be much easier for beginners to manage, trees with multiple trunks tend to require a little more skill to get good bonsai out of. Establishing a trunkline/lines is the first task for you. Once you have done that the branches can then be arranged to enhance that line. I have no idea of your climate so you will have to talk with someone in a similar climate to find out when to work on your new trees. I suspect thats not a huge help to you but it is a start.
Craig
G'day Vinnie...welcome to our forum...
You are a step or two ahead of me, but...here goes:
IMAAFMO (InMyAncientAndFeebleMindedOpinion)...
Try this...you may like it...You could do yourself a large favor by hooking up with a local bonsai club...hopefully there is a club relatively close to you. But…BEFORE YOU BUY YOUR FIRST TREE (in your case, your next tree)…
 Search out a local bonsai club…join a local club, and find a "local" (someone well versed in bonsai care
practices for your location). And try to establish a mentor/student relationship…IF POSSIBLE. Support
your local club...and they will return the favor.
 In the meanwhile, READ, READ, READ (see book suggestions below)…ask questions at the club, of
the "local", and here at IBC.
 With help from the club…the "local"…IBC…decide what your next tree will be…one that flourishes in you
area.
 Learn the care requirements for the tree you plan to buy…BEFORE YOU BUY IT.
 Try to get a club member to go to the nursery with you to select your purchase.
 The next step is to learn to keep your container plant(s) alive.
 Here's an internet site that has a lot of good info:
http://www.bonsai4me.com/.
Just keep in mind that
it is a UK site.
 Then…if you want help from IBC, post a picture of your tree before you start working on it.
 If you start cutting/wiring/etc., before you post a picture, be prepared for what we hope will be
constructive criticism.
 Remember that it is usually better to ask for help with a procedure that you have not done before
…BEFORE YOU DO IT.
BOOK AUTHOR SUGGESTIONS:
David DeGroot, Herb Gustafson, Deborah Koreshoff, Colin Lewis, and John Naka...and, there are many more good authors.
This advice should help you get off to a good start with your bonsai experience…it will help you to avoid many pitfalls, including that dreaded square wheel…you know, reinvent… So, use this advice as you wish. Or not.
Remember, support your local club...and they will return the favor.
And always remember, and don't ever forget, that Bonsai is a trip that requires time and patience…welcome aboard and enjoy the journey.
Patience is key!
I just wish that somebody had told me about the bonsai club and the "local" thirtysomething years sooner.
Pat…mounted on my trusty stead, riding off wildly in all directions…

bonsaistud

Member





Thanks for that info! i hope there is a bonsai club near here... i am goin to a bonsai auction and show on saturday too

Vinnie

Member





G'day Vinnie...
Here's some bonsai clubs in WA...the "miles" represent Googles distance from Renton.
WASHINGTON – Olympia 53 miles Olympia Bonsai Club Meets at 7:00pm 2nd Thurs, at the American Legion Post #3, 3201 Boston Harbor Rd. NE, Olympia. Address is Box 2682, Olympia, WA., 98507-2682 Gene Tsuji (360)491-0593.
WASHINGTON – Seattle 12 miles Puget Sound Bonsai Association. Meets at Center for Urban Horticulture at Univ. of Wash., 3501 NE 41st St., 4th Mon 7:30pm, except Jan and Dec.
WASHINGTON – Sequim 80 miles Dungeness Bonsai Society. Meets at Pioneer Park, 387 E Washington Street in Sequim. 1st Tues, Feb, Mar, Apr, May, Sept, Oct, Nov, 10:00 AM to 12:00 PM. President Robert Stack, Dungeness Bonsai Society, PO Box 1441, Sequim, WA 98382.
WASHINGTON – Spokane 224 miles Inland Empire Bonsai Society - Meets at Manito Park meeting room 4W, 21st Ave, 3rd Sun each month at 12:00pm. Hal Allert (509)869-4583, E-mail
info@inlandbonsai.com
Web
http://www.inlandbonsai.com/
WASHINGTON – Yakima 144 miles Yakima Valley Bonsai Society. 7:30pm the last Tues, Feb through Oct at the Yakima Area Arboretum, 1401 Arboretum DR

bonsaistud

Member






gman

Member






---
Permissions in this forum:
You
cannot
reply to topics in this forum