Page 2 of 2 •
1, 2

Ever the optimist eh? You plan on keeping in touch with whoever inherits it? It won't be THAT long.
Here it is four months later. Like trim hiding bad carpentry, I pulled some small branches around from the back to try and fill in the gaping maw between the two right branches. And it's filled in a bit. Still waiting for more growth to make a more rounded crown.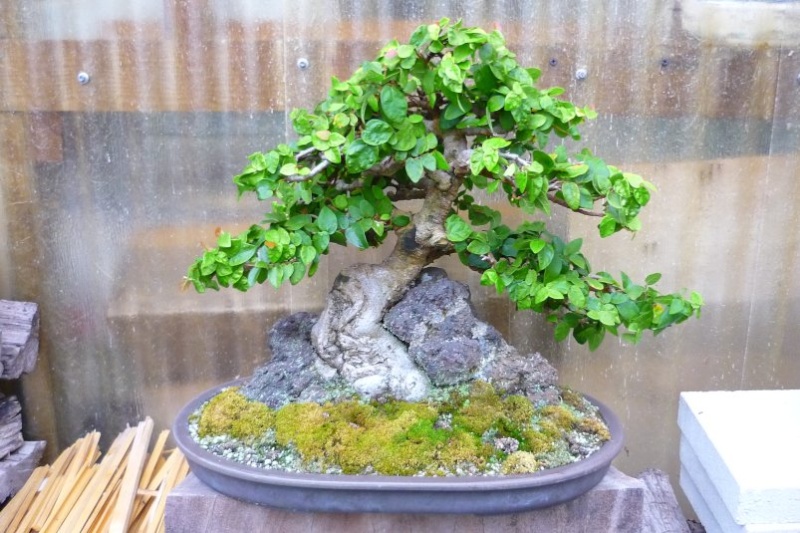 Is the pumila branch more brittle? In a typical ficus, you could wire one of the two lower branches on the right to be a little higher and fill in that gap. Of course, I was thrown by how large you said this tree was. Perhaps the branches are simply too thick now.

Precarious

Member





David...the branches are like other ficus but there's only one low branch and I don't think it would look right to have the lowest branch higher than the next one up. It's tricky to manage. Each branch has thin viney tendrils on it at mostly not very convenient places so I have to move them around with very thin armature wire. If the sun ever comes out I'm looking for more leaves to loosen things up.
Bruce Winter wrote:

I wanted to wait 'till the new red leaves filled in to hide the space on the right where a branch graft failed but I'm on a run here finally able to post pictures thanks to Jim and Fiona. Haven't been able to do this since the original mighty IBC went down. Limited to only one image per post but I'm not complaining. It's really kind of messy but vines are like that.
This is the view that had me thinking there were two lower right branches. It is a wonderful tree, and considering it's growth habit... surely a LABOR of love


Precarious

Member





Thanks David, I see what you mean. If there were enough tendrils on that shorter branch I could bring it up a bit but on both branches, all of them really, there are bare areas where I have to move leaves back and forth.
Hey Bruce, remember me? Ficus Pumila fever. lol. Resurrecting an old post. About 2.5 years old to be exact. Wondering if I can talk you out of that ficus yet? My birthday IS coming up in June, lol. My cuttings are now just a bit thicker than a pencil, I'm going to be dead before I get a tree out of these things!!

jake4bonsai

Member





Hi Jake. Still got the fever eh? Even if I wanted to let it go how would I get it to you? Very restrictive laws here about plant material entering or leaving.
Here's a shot from last November. It's been losing about half it's leaves about 3 times per year. It did 't used to do this. Anyone else experience this?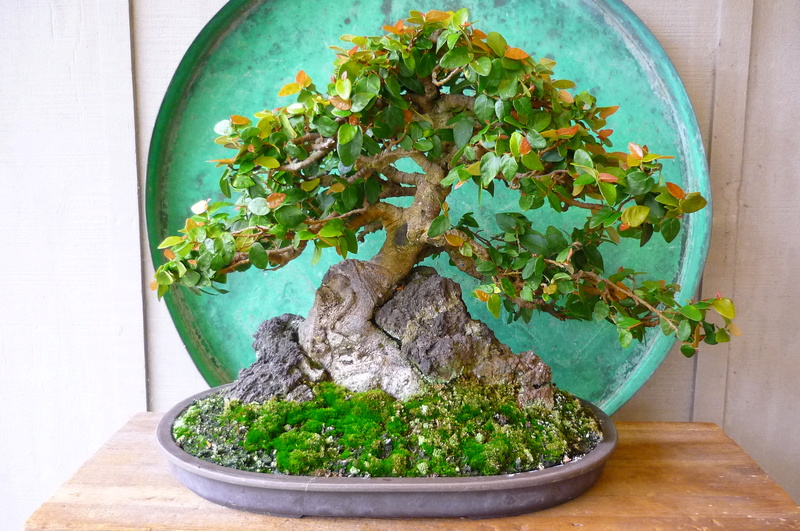 It took forever to upload this pic. I just kept trying different things 'till it worked. Also, the only way I can get here is a link from an email. If I enter
http://www.internetbonsaiclub.org/
I get a blank page. Any ideas?
When I click the above link...blank page. Odd
That is just a great tree, I keep a picture of it on my phone for inspiration. I didn't think there was a problem shipping plants to and from Hawaii. David Fukumoto does it often. I was going to buy a tree from him several years ago until I asked to see a photo and he flipped out on me. I been trying to get people in Florida and California to collect me one but I can't get anyone to do it. Ficus Pumila definitely don't thicken as quickly as other ficus. I don't know why they aren't everywhere because they're fantastic for bonsai. Out of everyone I know in bonsai you are the only one I know that has a ficus pumila bonsai. Jerry Meislik had several but killed them all! There are pumila starter plants sold all over the internet and even at big box stores as house plants but there all paper thin. I wish some of these tropical bonsai places would raise some. With the picture problem, I'm not sure what's going on there. I use Facebook mostly. I was looking up pumila again, seen your tree, clicked it and it brought me back this thread.

jake4bonsai

Member





Thanks Jake. Sure wish I could ship it and a few others. The market is dead here.
Page 2 of 2 •
1, 2

---
Permissions in this forum:
You
cannot
reply to topics in this forum