Page 2 of 2 •
1, 2
Ever the optimist eh? You plan on keeping in touch with whoever inherits it? It won't be THAT long.
Here it is four months later. Like trim hiding bad carpentry, I pulled some small branches around from the back to try and fill in the gaping maw between the two right branches. And it's filled in a bit. Still waiting for more growth to make a more rounded crown.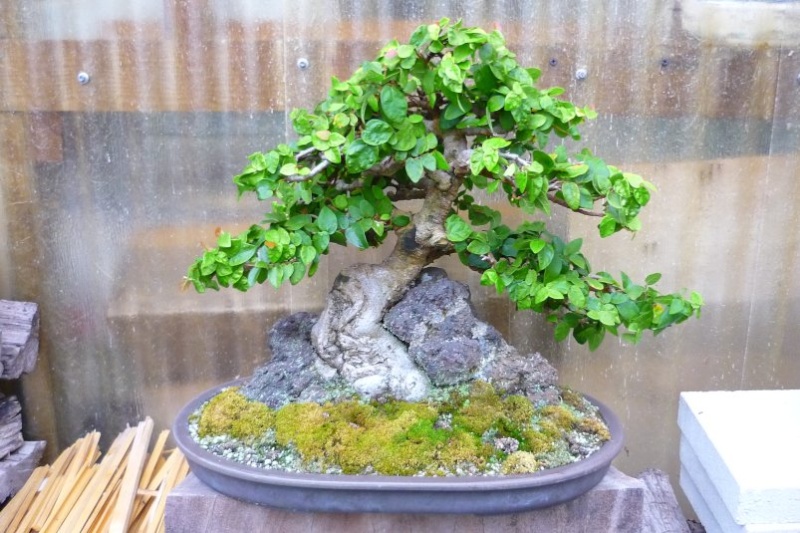 Is the pumila branch more brittle? In a typical ficus, you could wire one of the two lower branches on the right to be a little higher and fill in that gap. Of course, I was thrown by how large you said this tree was. Perhaps the branches are simply too thick now.

Precarious

Member





David...the branches are like other ficus but there's only one low branch and I don't think it would look right to have the lowest branch higher than the next one up. It's tricky to manage. Each branch has thin viney tendrils on it at mostly not very convenient places so I have to move them around with very thin armature wire. If the sun ever comes out I'm looking for more leaves to loosen things up.
Bruce Winter wrote:

I wanted to wait 'till the new red leaves filled in to hide the space on the right where a branch graft failed but I'm on a run here finally able to post pictures thanks to Jim and Fiona. Haven't been able to do this since the original mighty IBC went down. Limited to only one image per post but I'm not complaining. It's really kind of messy but vines are like that.
This is the view that had me thinking there were two lower right branches. It is a wonderful tree, and considering it's growth habit... surely a LABOR of love


Precarious

Member





Thanks David, I see what you mean. If there were enough tendrils on that shorter branch I could bring it up a bit but on both branches, all of them really, there are bare areas where I have to move leaves back and forth.
Page 2 of 2 •
1, 2
---
Permissions in this forum:
You
cannot
reply to topics in this forum