In my third year of working this tree. When I got a hold of the material, it had 3 branches
coming off the back, a lot of deadwood, and a telephone for a trunk. So what to do ???
I could of just wacked it down to the lowest branch and started from scratch...
However, I decided to work with what I had... A straight trunk and 3 branches.
Now a straight trunk as this has would be hard to hide. 3 branches, would be hard to
achieve a very formal tree, that a straight trunk would often call for. And lastly, I didn't
want a sparse looking tree as often is the case with Campeche. So, after evaluating the
tree, I noticed that the nodes of foliage shot out like clockwork, equally spaced on every
branch...
Which got me thinking, if I wired the branches straight up and down, rather than hiding
the trunks verticalness, I brought out this feature and accentuated it... Making it instead
the tree's focal point... I could then have perfect branch placement where and when I wanted
it for secondary branches, and could in essences end up with a very full tree with varying pad
heights.
Second, pick is of the very shallow pot I wanted to try and get it into...(which it now is in)
to really help show off the buttressing of the roots. Last pic is a virt of where I eventually
see the tree heading.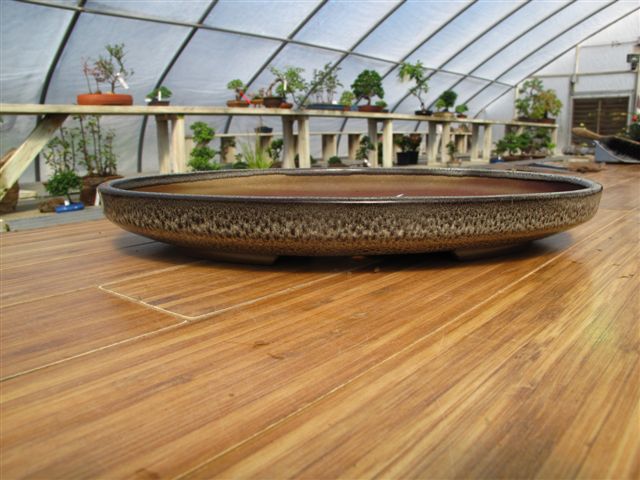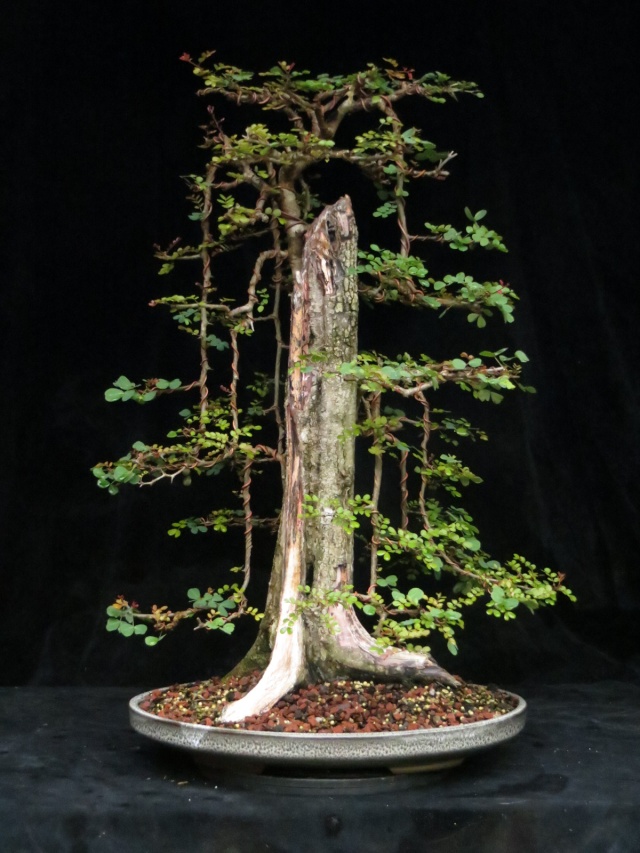 stacy allen muse

Member





I think you worked out a very interesting and effective solution. It has a nice semi-surrealistic quality that doesn't overpower the entire composition. I'm looking forward to it's progression.

Thanks for sharing.

Orion

Member





This is a very interesting design. It reminds a lot of the strange trees often seen in the show Samurai Jack.

PeacefulAres

Member





This is what I would call art...pure and crazy art going against all conventions.
I wish one day all trees will be just art...and nothing but pure expression of ones individuality, like this tree.
I like it.

Neli

Member





Thanks everyone for the compliments !!!
I will be sure and post progression pics as it... well progresses ! 


stacy allen muse

Member





It's certainly not for purists, but I love it!  Since I had no idea what Campeche logwood was, I googled it.  I was very surprised to find your tree right at the front of the Google Images page.  

Well done.  (I do think I'd hesitate on trying to grow it for any length of time on such a flat dish, tho.)
_________________
Jim Lewis - lewisjk@windstream.net - Western NC - People, when Columbus discovered this country, it was plumb full of nuts and berries. And I'm right here to tell you the berries are just about all gone. Uncle Dave Macon, old-time country musician

JimLewis

Member






---
Permissions in this forum:
You
cannot
reply to topics in this forum