This stone has some problems!  
But when viewed from the front!
I can feel/hear the rushing water.
stonener
*decent *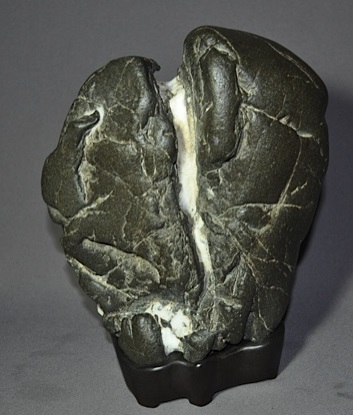 I like your stone. Did this come from eBay; it looks familiar?

Todd Ellis

Member





No Todd this one is not from eBay! But does have a Chinese look to it,
But I do have some and your right there seems to be many?
This one is completely as found unworked and totally natural
Came from Merced River 12 miles from Yosemite National Park,
in Northern California's Sierra Mountains watershed.
Basalt with white quarts that splits the stone top to bottom,
but does not run down the back, as most of them do.
Heavy 25 lbs stone only one brought back on 7 mile hike.
Water level is low right now and found it in the center of the river.
Starting to cool down here and the hunting is good...

Last edited by stonener on Wed Oct 09, 2013 3:34 pm; edited 1 time in total (Reason for editing : -)

Todd Ellis

Member





Great find Stonener...Love the background story on the stone and how you found it. Did you make the daiza for this? Can you give some background on that as well?

Kakejiku

Member





For Sure! Kakejiku Thank You for asking!
This Daiza is a hybrid type, it's made of solid poplar wood as a outside mode,
a center well is carved out then filled in with car repair Bondo.
Stones is set into it to form a perfect solid supporting fitted seat.
Then outside wood is carved to desired shape that looks best for stone design wise.
Basic set of rules followed to create balance and still allow the stone to be seen 1st
Feet are the carved at key visual support points in which every style you like.
Finally daiza is plainly painted also to set off stone...

stonener
*condensed version*

---
Permissions in this forum:
You
cannot
reply to topics in this forum