So I picked up this juniper at a nursery up the road today to play around with. It seems to have a decent trunk (from what I could see with a baby attached to my front and needles poking me when I tried to get a peek) and some nice options on branches. It definitely needs lots of airing. I plan to trim the branches a bit so I can see what I have a little better, but I'll be leaving it in the big pot for another year or two.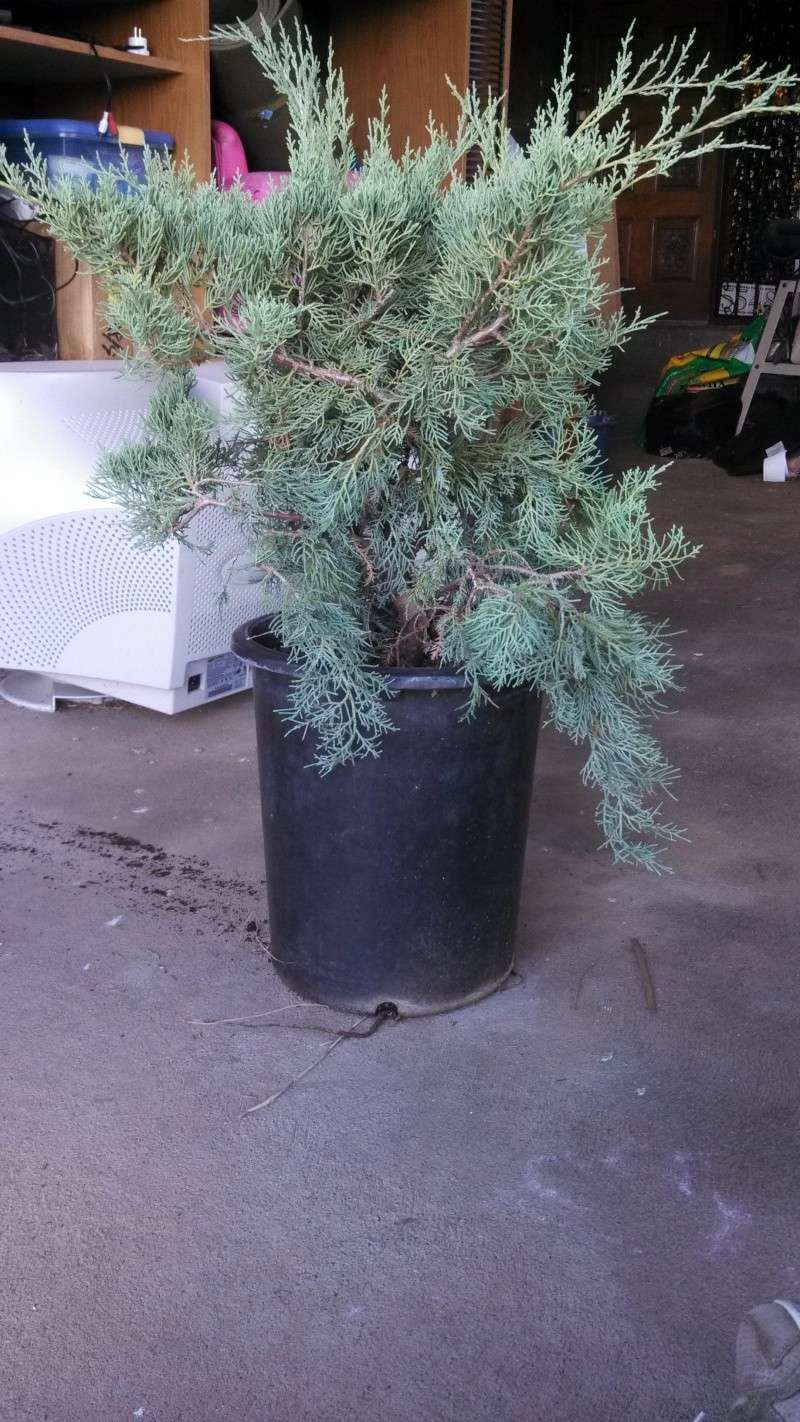 So, it's a little something to play with for the next few years while I wait for my seeds to take off.


Lynise

Member





Is it possible that you post some pictures of the trunkline and branches?

ChrisV

Member





I was trying in that one and it's just really thick. I'm going to start cleaning it up a bit tomorrow, but let me go out and see if I can get a better picture now that the sun is out.

Lynise

Member





Yeah, the picture isn't coming out very well. You can kind of see the bottom of the trunk, but then it gets lost in the foliage. The part where the trunk is exposed is pretty flat when viewed from the top. I also had someone ask how big it was, so I put a bottle in front of it. When I start on it tomorrow or Saturday, I plan to trim the branches at the bottom of the trunk, the dead stuff, and the needles that are really small needles anymore, but more of a branch. See if I can get a better picture from there.
Little bit of the trunkline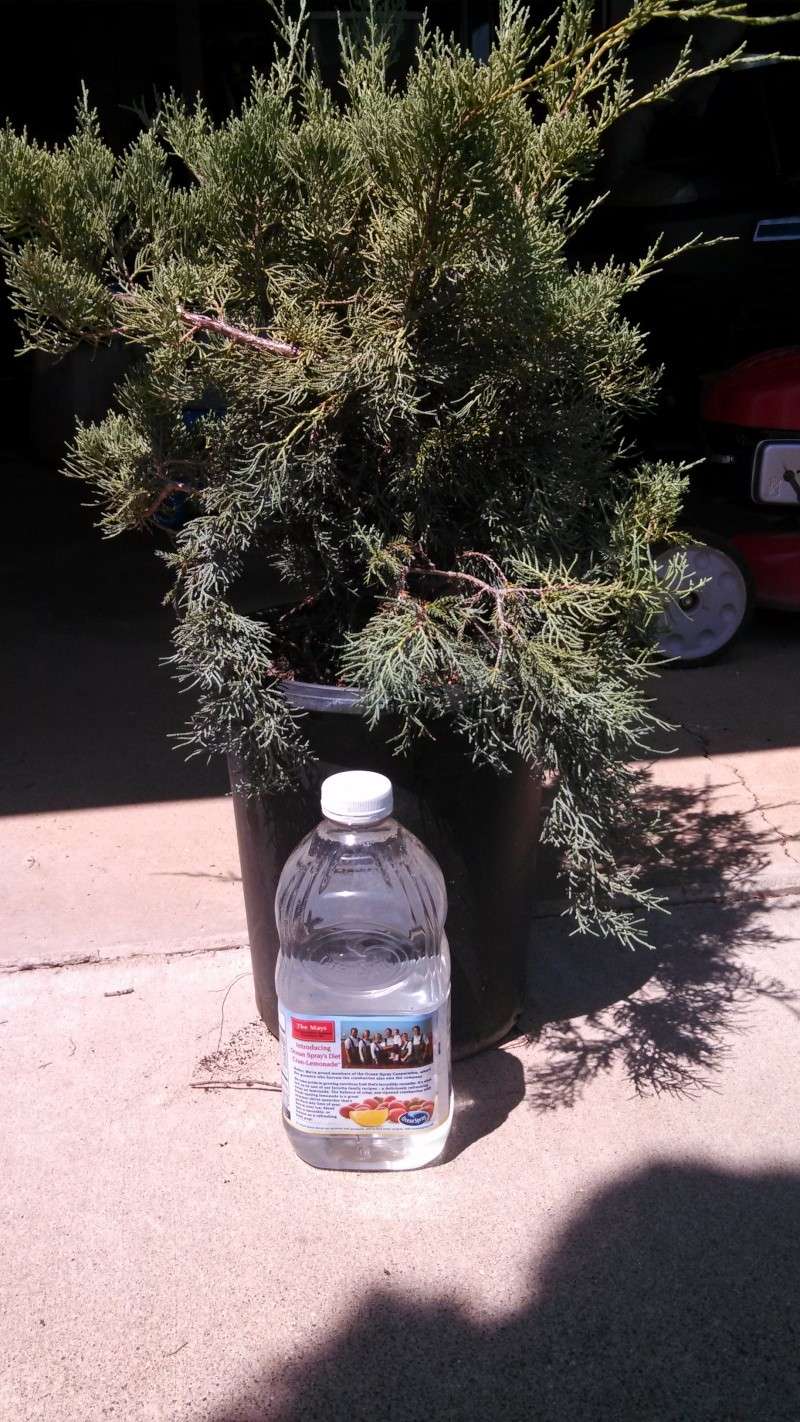 The size comparison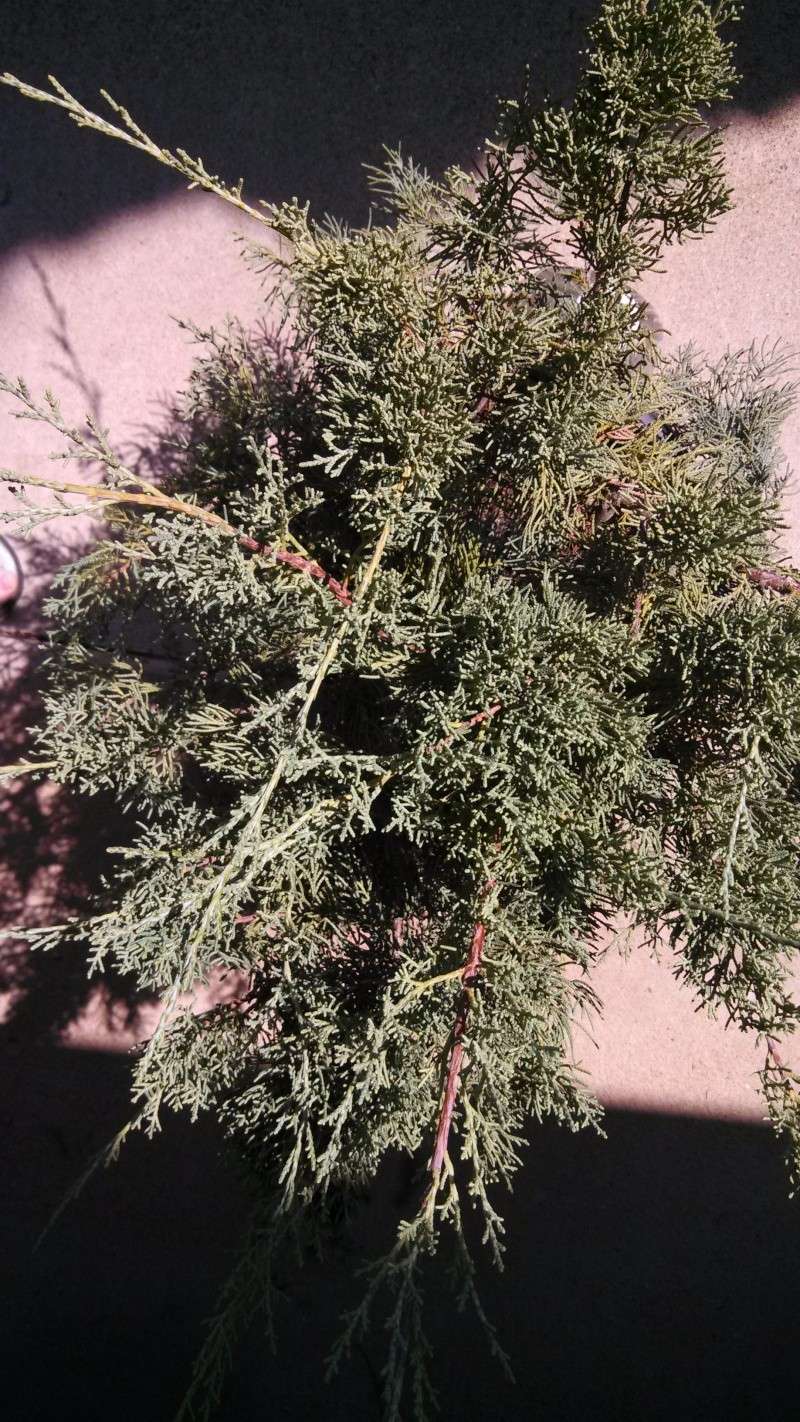 The top view
It definitely needs a little work. Also, are you guys using the forum size option when you upload your pictures? Mine just seem huge in comparison to a lot I've seen.

Lynise

Member





Alright, don't want to take too much off of this tree without getting a little advice first, so I have done some minimal cleanup and taken some more pictures.
So here is the trunk. There's not much on this part of the tree so I'm thinking this will be my front. On the left is a branch coming out under the soil that I'm going to leave until I repot next year. On the right is a sacrificial branch.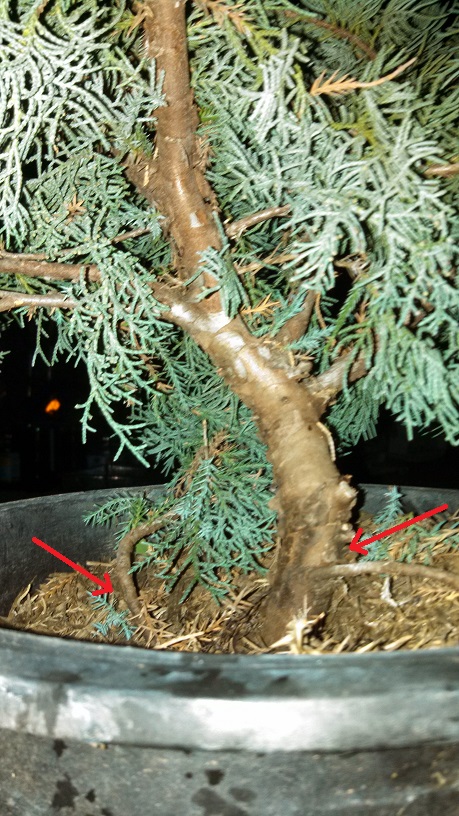 This branch splits right at the trunk. You can see where the lower one comes out and just kind of hangs down. I like the shape of the top branch but farther down, you can see where it hooks back on itself. So I'm thinking keep the top branch, but trim it where it hooks back?
These branches are stacked directly over each other. Thinking one of them needs to go, but not sure which one.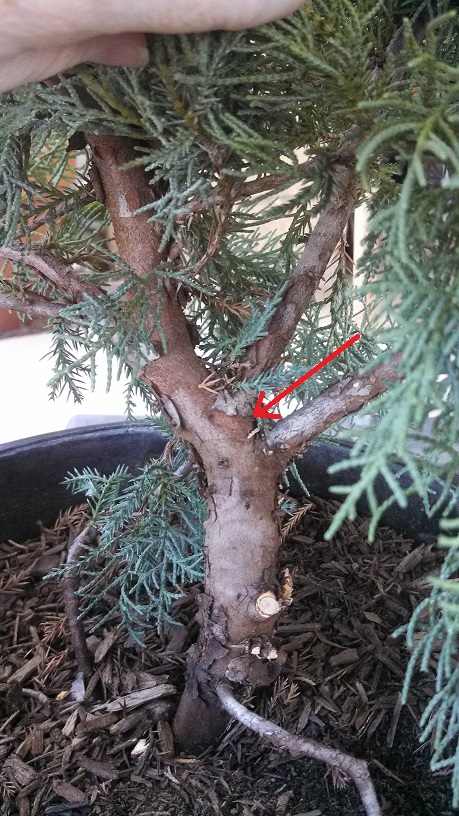 This is another view of the same branches where you can see a little more of the direction they take coming out of the tree.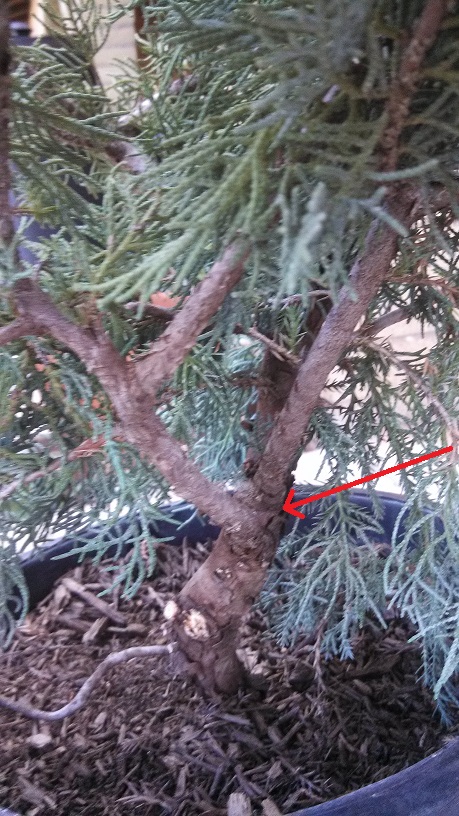 And finally, this tree has very thick foliage on it. I know I don't want/need this much, but a couple little pointers on thinning it a bit would be appreciated.
Hope these pictures help give a bit better idea of what I have. I don't want to take too much off until I know what to do with those areas to start since they are at the bottom. I have a couple branches up higher that overlap each other with so much foliage that you can't hardly part it, but I'll get to that next. Thanks again.
Last edited by Lynise on Mon Aug 26, 2013 1:07 am; edited 1 time in total (Reason for editing : Forgot some information)

Lynise

Member





Hello Lynise.... This tree is really a task for a workshop or class. It will be difficult, if near impossible to determine things by the pictures and information given. Are there any clubs or experienced bonsai artist that you can contact? One piece of advice I can give is that whenever you buy a tree, always look at the trunk and try to have a rough plan of what style you want it to be in. I assume you are familiar with the 5 styles of bonsai. If not, they are formal upright, informal upright, slant, semi cascade and cascade. Normally, when a tree is purchased, the buyer has a notion of which style the tree might be suitable for. This can help prevent money and time loss. I think the only way that some assessments might be made if the whole front of the tree was visible and in one shot, not portions of the tree. Even in this case, it might be difficult without seeing the tree in person.

Rob
The closest club is in Phoenix, 3 hours away. There is also someone else I talk to about bonsai's on occasion. Just waiting for them to pop in.

Lynise

Member





Here is some out-of-date info on the club in Tucson, which ought to be easier to get to:
http://www.users.qwest.net/~rjbphx/PTucson.html
I vaguely seem to recall that the club disbanded, but could be wrong. But if it is gone, you might use some of the contact numbers to find an experienced grower to talk to.
The American Bonsai Society website is still infected by the "Clickjack" virus, or so my Security programs tell me when I try to go there.
At any rate it may be worthwhile to join the Phoenix Club so you will get their newsletters. You may not be able to attend many meetings, but you can learn when any workshops are being scheduled and they may be worth going to.
Meanwhile, I suggest you make use of as many different books as you can. I've always found the Colin Lewis' (no relation) "The Art of Bonsai Design" is quite helpful when it comes to designing and working on junipers, as is Deborah Koreshoff's "Bonsai - Its Art, Science, History and Philosophy," though her book is less specialized
Both are out of print, unfortunately, but used copies of Colin's book are quite reasonable on Amazon.com. Koreshoff's book is also available used, but usually is a bit more costly.
One always wonders why the best books on bonsai are allowed to go out of print while so much junk sticks around.
Good luck with your tree. I suggest you shorten all the foliage clumps so it isn't so "weepy."
_________________
Jim Lewis - lewisjk@windstream.net - Western NC - People, when Columbus discovered this country, it was plumb full of nuts and berries. And I'm right here to tell you the berries are just about all gone. Uncle Dave Macon, old-time country musician

JimLewis

Member






---
Permissions in this forum:
You
cannot
reply to topics in this forum