Last edited by amanHussain on Fri Jun 04, 2010 4:41 pm; edited 1 time in total (Reason for editing : wrong term)
Hello Aman. Welcome to the forum.
Here's a rudimentary sketch on how to achieve the tree you want. The small buds at the top will make the apex and middle zones (including back branching) when you allow it to grow (green arrow). The bottom two branches should be bent severely at the crotch angle, so they don't look like bent fishing rods. As these branches thicken and grow dense, you can select what you need. Dunno where you are, but, check into a local bonsai supplier for copper wire. Annealed copper has better holding power than aluminum. With a heavier gauge, you won't have to tie the wire to the jin. And lastly, feed, feed, feed for speeding up the branch and foliage growth. You can work the deadwood before the tree is ready for another styling.
Good luck.

peter keane

Member





Thanks for the response Peter. Here is another option which is more appealing, however it requires a lot of stress by bending the branches a lot. The tree is in very good health and it has sprouted on old wood in many places, so I might give it a shot. I will be using a much thicker gauge of copper wire to this kind of bending.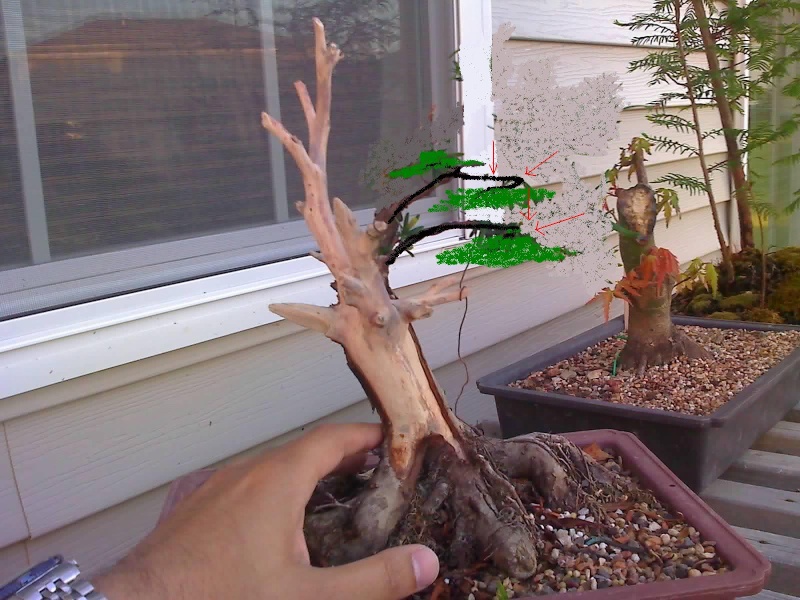 At this point the best thing to do is allow the tree to grow grow grow a couple of seasons. Heavy feeding and a couple solid growing seasons will change the tree enough that you may have a different design idea...also allows time for your design eye to develop further. Early on I learned that lesson with a couple of nice trees which could have been much better if I'd waited and let them grow.

Set it on a bench and feed feed feed for a couple of years and grow more branches to work with. As it is, theres not much work to do.
Put it into the ground and let it grow for a 3-5 years. It ain't a good material for a styling now. It will be much better and more interesting if U'll be patient. This is my advice

Good luck!

AdamJonas

Member





Thanks for your advice Neil and Adam... I will definitely let the tree grow unrestricted in a larger training pot for now.

Neil, I don't know if you remember me.... I came to Matt's house when you and Jay were working on a couple of Tridents. Matt had demostrated thread-grafting on one of his Tridents that day.

- AH

---
Permissions in this forum:
You
cannot
reply to topics in this forum