The 30th Anniversary Spring Festival 2013 of the MidAtlantic Bonsai Societies is taking place on April 19-21, 2013 in Harrisburg, PA. In addition to an overflowing vendor area and a member's exhibit there is a Professional Invitational Exhibit. Jim Gillespie has organized this well balanced display of 15 bonsai for the past three years and does an excellent job of inviting professionals to display a bonsai in a special room dedicated only for the Professional Invitational Exhibit.
Attached are the display photos of all 15 bonsai exhibits.
I hope you enjoy looking at the photos as much as I had preparing my own personal bonsai for the public.
Bill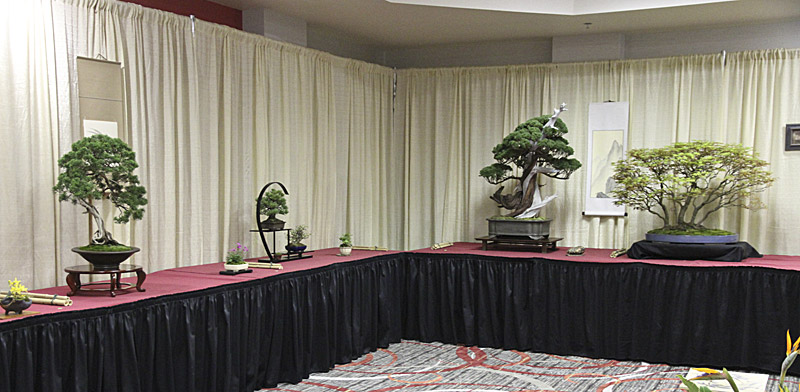 Professional Invitational Bonsai exhibit, view 1
Professional Invitational Bonsai Exhibit, view 2
Professional Invitational Bonsai Exhibit, view 3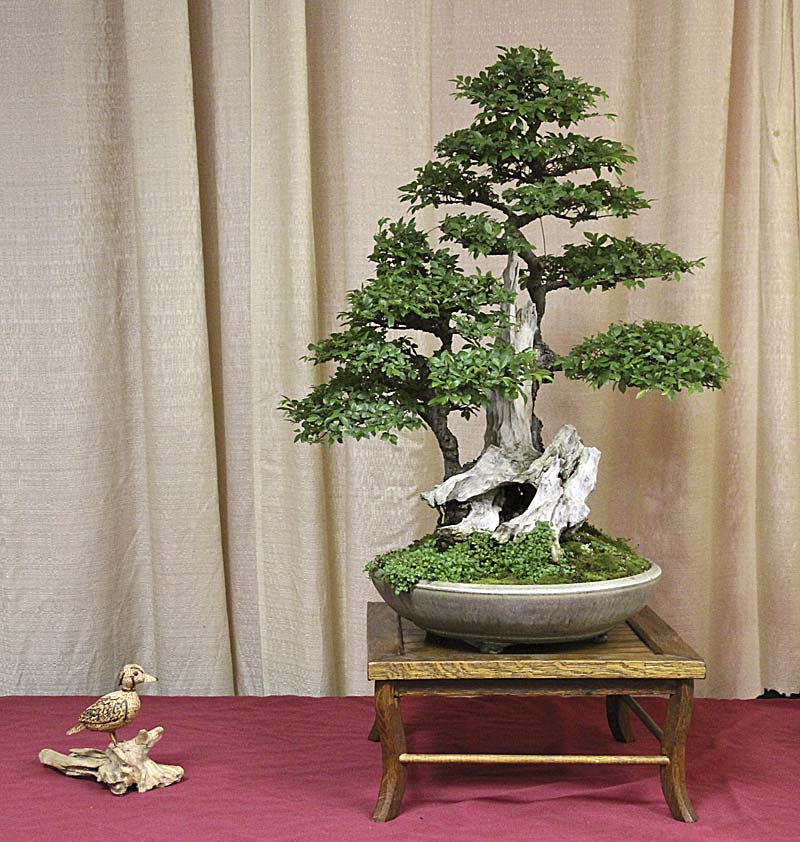 Cork Bark Chinese elm, Frank Mihalic, Wildwood Gardens, Chardon, OH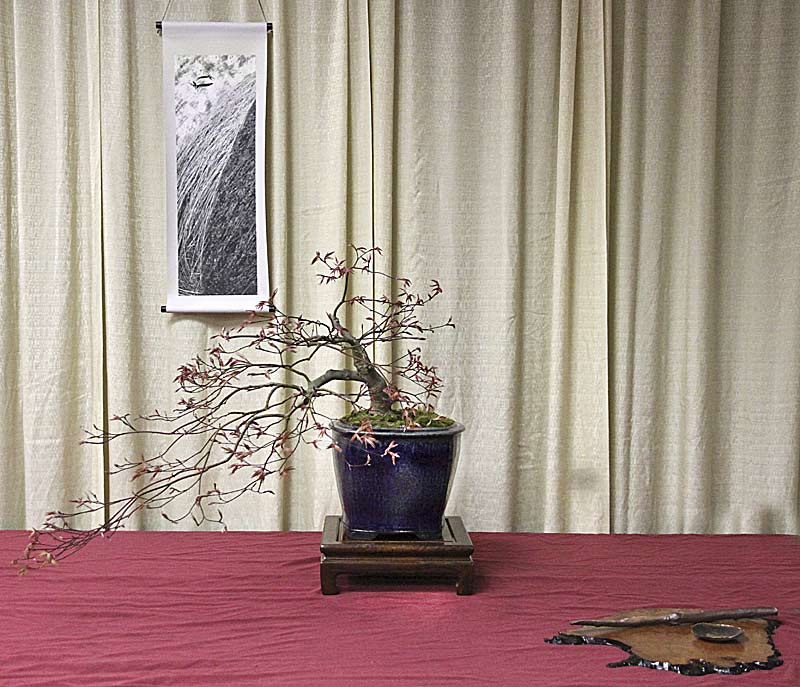 Dissectum Japanese maple, Ron Lang, Lang Bonsai Containers, Reedsville, PA
Cork Bark Chinese elm, Martin Schmalenberg, Stillwater Studio, Stillwater, NJ
Ezo spruce, Solita Tafur Rosade, Rosade Bonsai Studio, New Hope, PA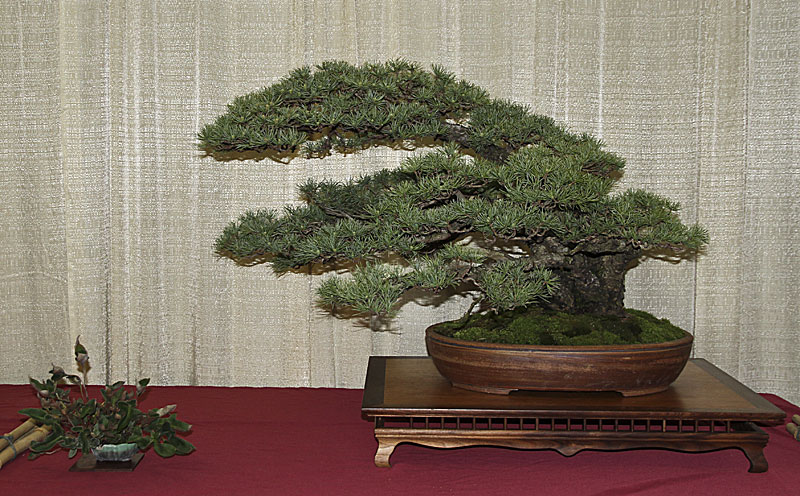 Japanese five-needle pine, Douglas Paul, The Kennett Collection, Kennett Square, PA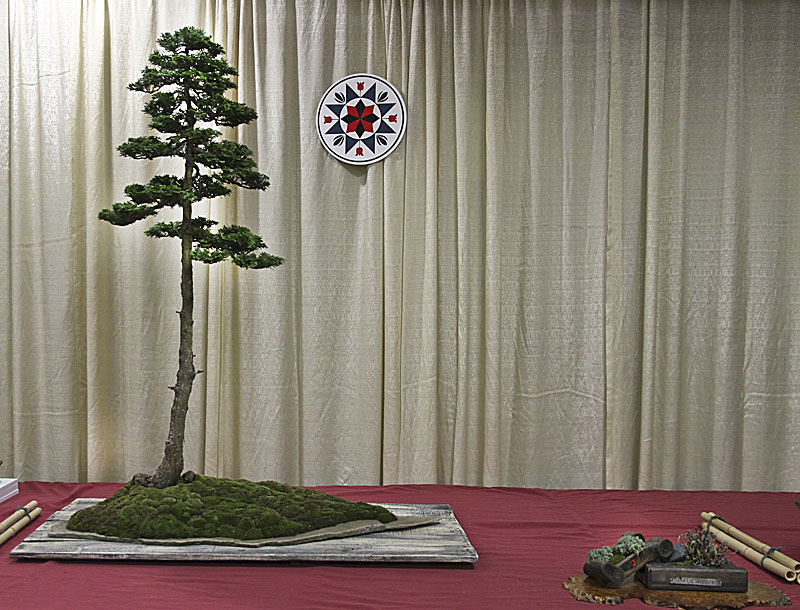 Dwarf hinoki cypress, Michael Pollock, Bonsai Shinsei, Pound Ridge, NY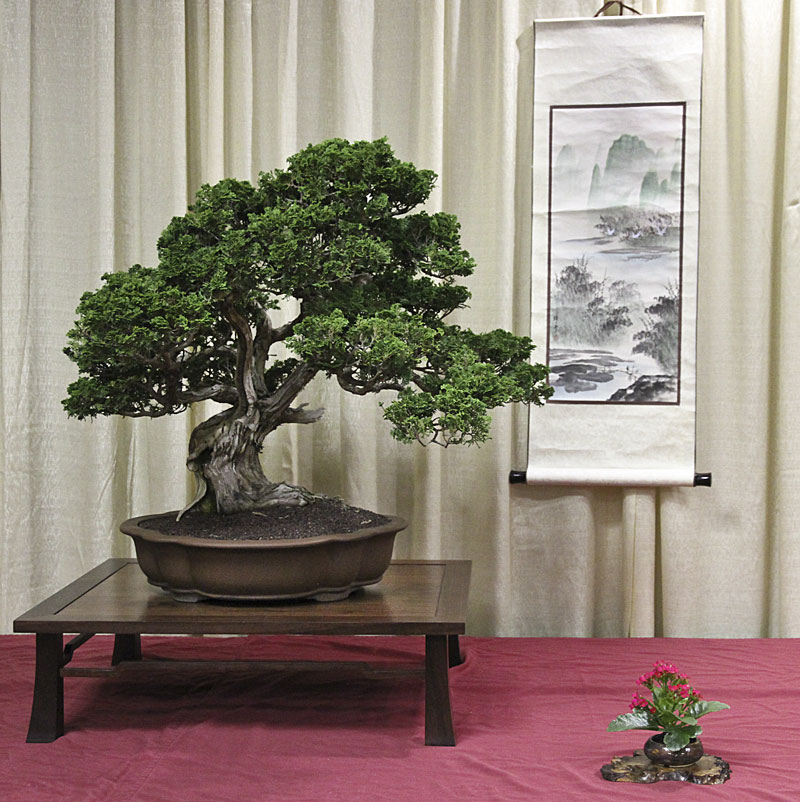 Dwarf hinoki cypress, Roger Lehman, Meco Bonsai, Lancaster, PA
Japanese maple, James Doyle, Nature's Way Nursery, Harrisburg, PA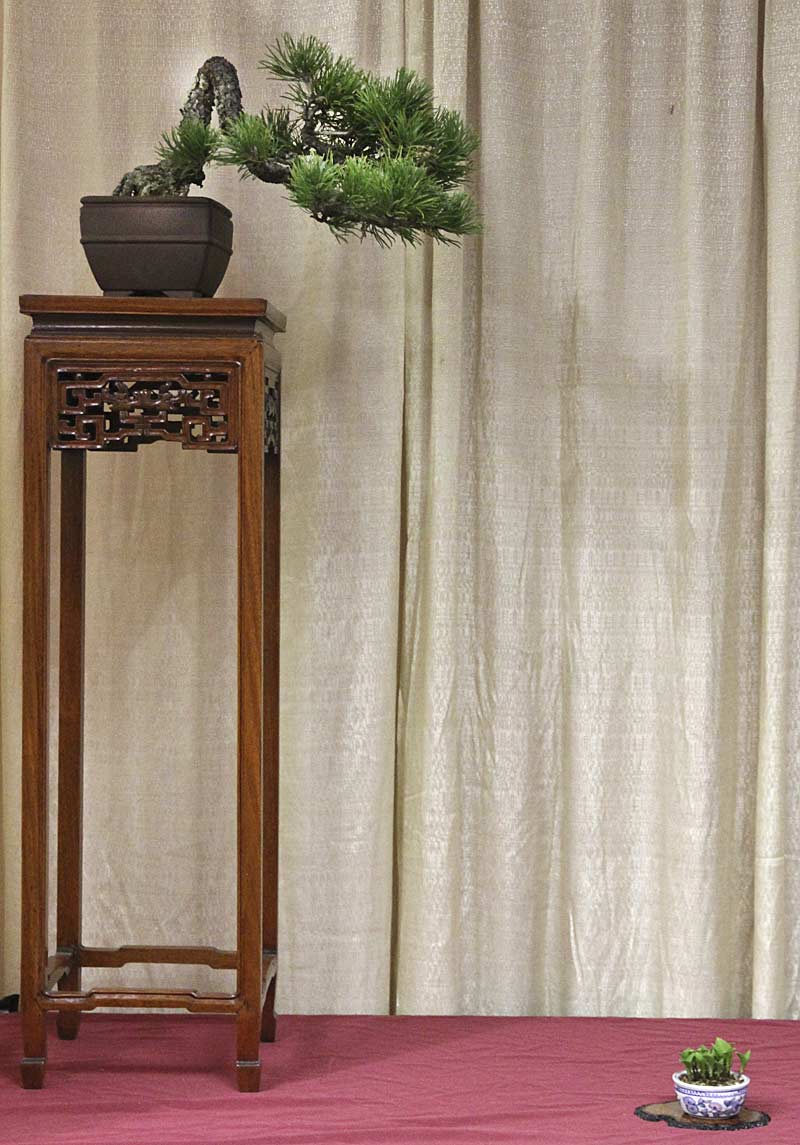 Swiss mountain pine, Julian Adams, Adam's Bonsai, Lynchburg, VA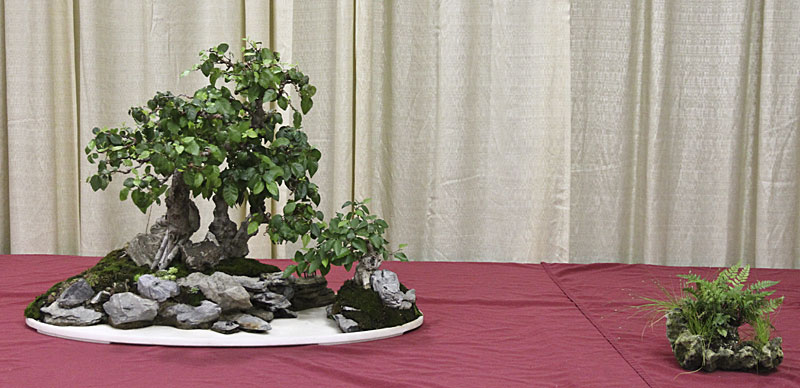 Korean hornbeam, Pauline Muth, PFM Bonsai Studio, West Charlton, NY
Shimpaku juniper, F. Chase Rosade, Rosade Bonsai Studio, New Hope, PA
Shimpaku juniper/Phoenix graft, Howard McNeal, Old Mill Bonsai Studio, Honeybrook, PA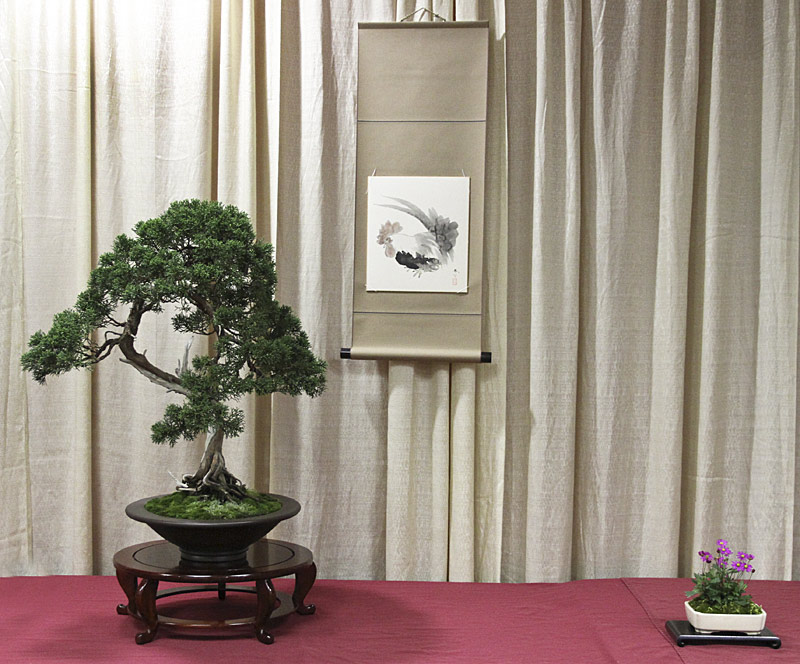 Shimpaku juniper, Sean Smith, Custom Oriental Wood-Craft, Marysvillle, PA
Shohin Bonsai Composition, Robert Mahler, Kifu Bonsai, East Greenville, PA
Shohin Bonsai Composition, David Knittle, Knittle Studio, Franklin Lakes, NJ in combination with Melvyn Goldstein, The Goldstein Collection, Euclid, OH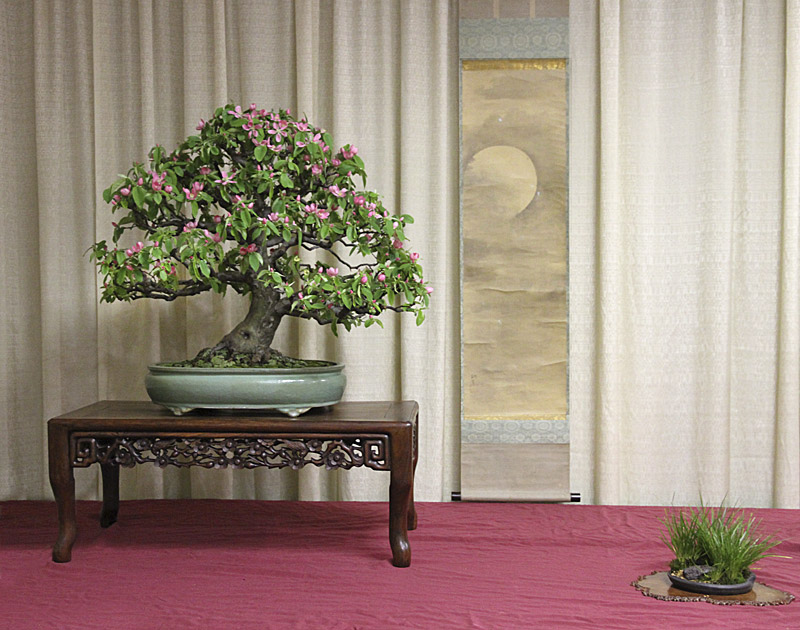 Chinese quince, William N. Valavanis, International Bonsai, Rochester, NY

William N. Valavanis

Member





_________________
Jim Lewis - lewisjk@windstream.net - Western NC - People, when Columbus discovered this country, it was plumb full of nuts and berries. And I'm right here to tell you the berries are just about all gone. Uncle Dave Macon, old-time country musician

JimLewis

Member





We are all very lucky that Bill V. Is not only a Bonsai Pro but also a definite shutter bug!

Looks like you timed the quince just right Bill.

-Jay

drgonzo

Member





Thank you Bill. Awesome display!!
Tona

Tona

Member





Thanks for posting the pics, Bill.

The show setup is very nicely done - the trees are the true honored guests here!

Lennard

lennard

Member





Thanks for showing these beauties! Douglas Paul's White Pine and stand are gorgeous! Bill, how did you get your Quince to bloom early? ...or is it early?
Todd

Todd Ellis

Member





Thankyou I realy like the sneeky phoenix grafted juniper.

john blanchard

Member





It looks awesome... I hope to make it this weekend


daudelus

Member





Thanks for photographs Bill, I was so busy working all weekend I only had a few minutes to check out the Display now I can take my time and enjoy all these wonderful masterpieces, especially your Quince.

---
Permissions in this forum:
You
cannot
reply to topics in this forum