Here is my only black pine that I started from a seed maybe around 14 yrs ago. It is the only survivor from a tray of them I propagated, and happens to be the only root on rock I attempted. It hasn't gotten much attention over the years but the apex was cut back at one point, and some large branches were sacrificed giving it some taper and movement. Unfortunately it doesn't have much in the way of appropriate branches and I have no idea how to proceed from here. This is by far the best front and the only one I would entertain using, although there are a greater number of branches on the back side. It has been very strong this year with a couple of candles sprouting in mid summer. The "buds" if you can call them that (see second picture) are so large as to be obscene. It seems like a good time to develop a plan, if one is possible at this point. Any suggestions from knowledgable JPB growers?
Mike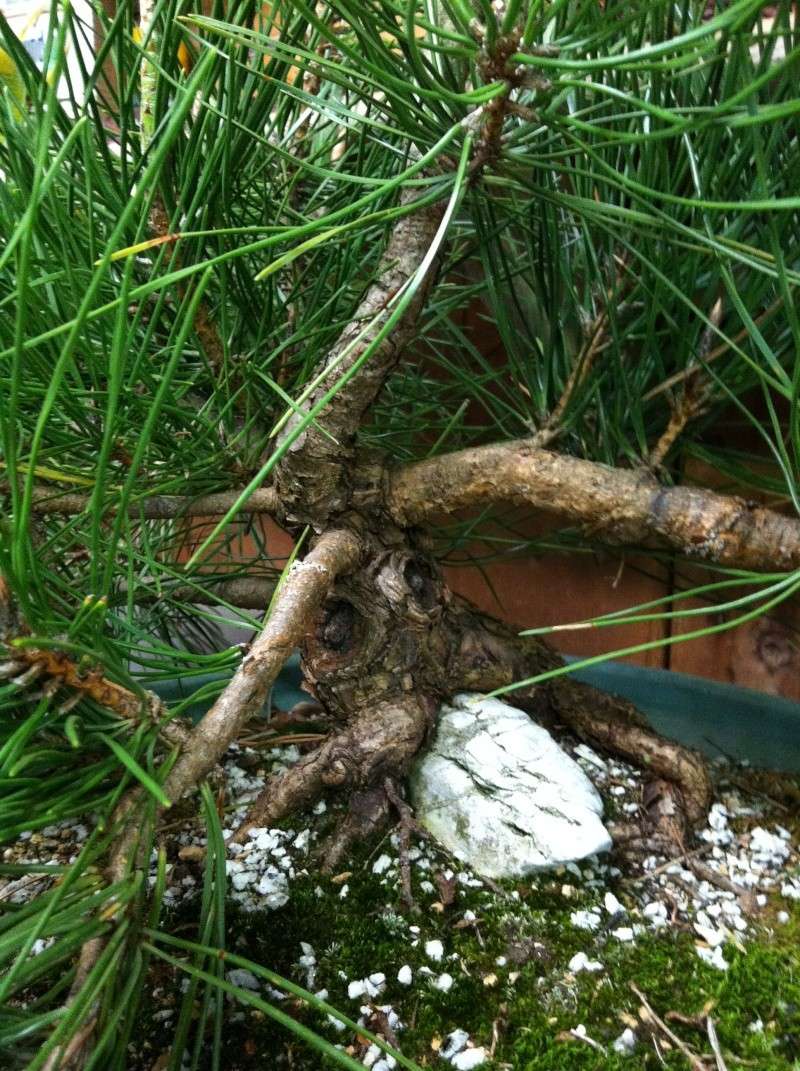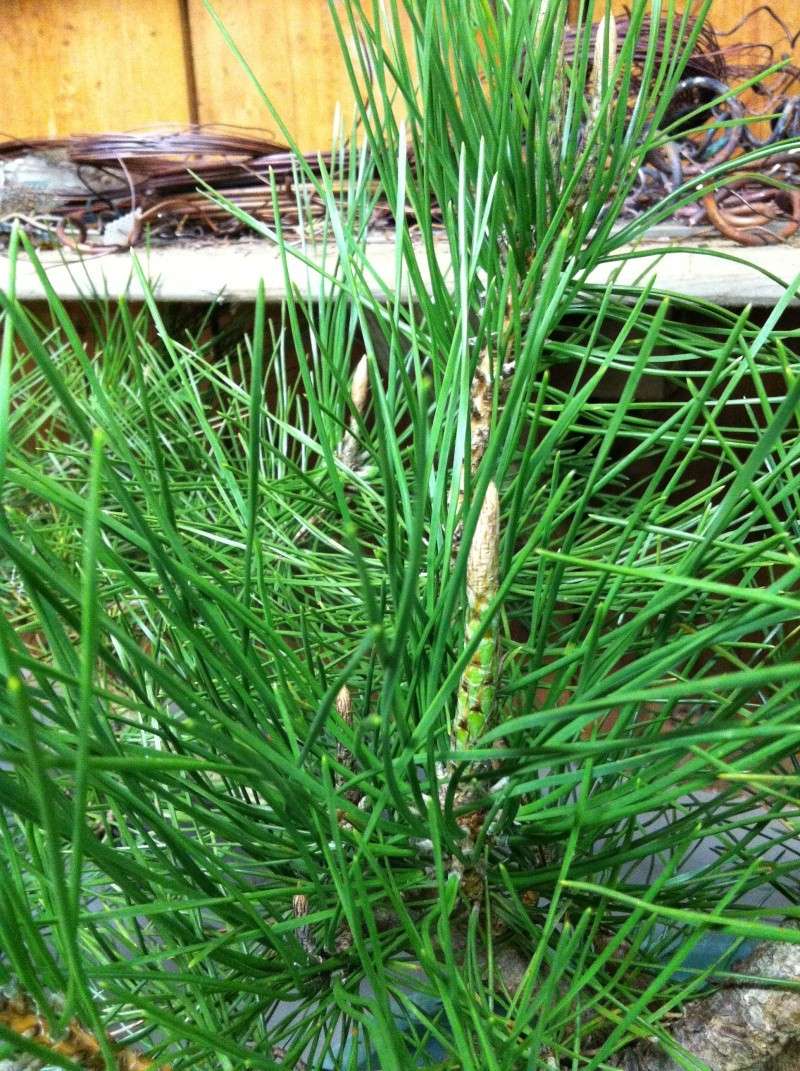 Maybe it would help if I narrowed down what I am asking for. I would like to take advantage of its unusual strength this season to try to get some back budding. At this time of year what would be the best way to encourage that? My best guess would be to remove all of the enormous buds that have already formed to force it to make new ones, but there may be a more sophisticated approach. It's not the best material I could have hoped for and I may have let it get away from me too far to reign it back in at this point I suppose, but I will continue to mess with it of course.
Mike

Mike ,

it would probably help a lot if you sent an image of the whole tree, against some sort of white or blank background.

Also height, size of trunk, and other measurements. Length of needles, size of growing container, type of soil mix and anything else you can thiink of.

There is a timed procedure for Japanese Black pine training. Do you know it ?

If you really want to get involved with your Black Pine, just say yes and I will see what I can do for you.
Later.
Khaimraj

Khaimraj Seepersad

Member





Hi Mike,
Boon has an excellent video series on black pine techniques/ developement. Check out Bonsai Boon online.
jason

Jason Eider

Member





Thank you for the responses! No I don't know the timed procedure for black pine and was having dificulty finding them, but I will check out Boon's site and learn from there. I know they can be complex to manage.

That is about the best pic I can provide really. It shows what I think is the "tree" buried in the middle of otherwise long leggy branches and 4" needles. It has grown in a colander in mostly crushed gravel all it's life and hasn't been repotted in years. There isn't much point in even thinking about styling I suppose unless I can get it a little under control and maybe get a few more branches to work with, if that is possible. Thank you for the help!
Velodog2 wrote:

That is about the best pic I can provide really.
sure limits the ability to help with the design

BigDave

Member





Just updating some threads here. This pine did not survive the brutal cold of this past winter, somewhat surprisingly. So its styling is a moot point.
Hi - Two sources I can recommend:

1] Search Youtube for "Ryan Neal Lecture on Pines Part 1" and also ".....Part 2" - if you follow this then you will be able to guarantee backbudding - I did it to a couple of my pines this year with excellent results.

2] Bonsai Today Masters Series on Pines - this has some suggestions on how to rapidly develop pines from seed in the ground and in pots.

So although it seems you may not unfortunately need this advice for the tree in question, it may be possible to use it to start again if you can overcome the challenges of the weather in future.

Good luck.

JT

MKBonsai

Member






---
Permissions in this forum:
You
cannot
reply to topics in this forum