This is my first growing season since I've been interested in bonsai. Getting my trees ready for winter really made me sad, so I've began reading up on growing bonsai indoors and was surprised to learn that rosemary is a suitable species. I started this plant from seed last spring for use in cooking and decided to bring it indoors. It was more just to get experience in bare rooting and styling. I know it looks like any "mallsai" found anywhere, but I'm strangely proud of it and see some potential. My cat thinks so too ; )
[url=http://www.servimg.com/image_preview.php?
i=4&u=15859043]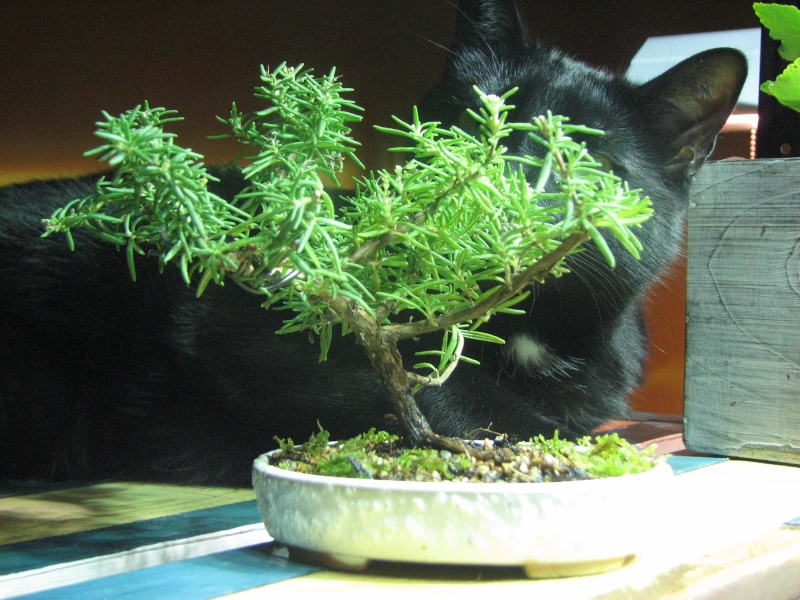 [/url][url=http://www.servimg.com/image_preview.php?


MikeG

Member





No no no, Mallsai are unnaturally twisted and sold for maximum profit. Yours is a valid experimental bonsai. It can be improved upon, but first you need to learn to keep it alive through winter indoors.

_________________
"It is not the strongest of the species that survives, nor the most intelligent. It is the one that is the most adaptable to change." - Charles Darwin.

Kev Bailey

Admin





Thank you, that's what I was thinking. It's been indoors under my 400w MH for over a month now and growing well. Even after reducing the roots by over 1/3 it's still producing new vegetation and flowers (which I'm plucking in favour of vegetation). I have a large Grewia Occidentalis to experiment with during the winter also, so I'm ready for spring when most of my trees come out of dormancy. I tried my hand at some root pruning last spring and they did over this growing season. But I find it quite different bare rooting, pruning and re potting an actively growing plant.

MikeG

Member





Hi,
Good potensai (not malsai). I have a friend who has grown Rosemary into an acceptable bonsai. However your tree is much too young. Should you leave it in a bonsai pot the growth will be slow. Suggest you transfer the same into a growth pot next spring and forget it for about 2-3 years. Then you can start work on it and create a good bonsai. Ofcourse till then you can keep harvesting the leaves to meet your kitchen needs

Regards
Ravi

Ravi Kiran

Member






---
Permissions in this forum:
You
cannot
reply to topics in this forum