Last edited by kdurais on Tue Jul 17, 2012 10:40 am; edited 1 time in total (Reason for editing : New images.)
Nice, remember that with stones presentation is very important, two of the best known stone people in the world are in Italy.

Billy M. Rhodes

Member





Hi Kdurais

Please take a look on other topics to see how you show a stone, as a suiseki material.

Kind regards Yvonne
Do you think any of these stones are keepers? An honest feedback would help.


Hi Kdurais

When taking a photo of a stone you want to have "valued" as suisekimaterial, do you have to find the front, and take the photo in eyehigh...to take the photo from birdview makes it impossible to see if it is a good stone...your stones are not without interest, but you have to take some other photos...take a look at other peoples stones, and how they are photographed.

Kind regards Yvonne
Thank you, Yvonne. I understand what you mean. I will soon put up new pics. Again, it is very kind of you to reply to my post.
Hi Kduras
All 3 stones appears to be of nice hard material.
The first stone is a nice landscapestone, that will blend nice into a daiza. What worries me, is that it looks like the stone have a few fairly resent chips along the front...It can be the photo...and if the stone is not newly broken, is it absolutely worth keeping.
The stone nr. 2 is a poolstone...not terrible interesting to me, but in the right suiban can it look nice...dont give up on the stone, you found it, and it is not a bad stone.
The last stone does not really speak to me....maybe someone else can, what i failed to see, the suiseki in it.
Look forward to more stones from you

.
Kind regards Yvonne
Hi Yvonne,

Thank you for your fair assessment.

You are right about the first stone. The front of the stone is indeed chipped. But it does not look very recent, a conclusion I arrived at at their being no significant difference in color or texture. I was thinking of burying that portion of the stone in sand whilst displaying in a suiban.

The last stone is my version of a waterfall suiseki. There is a calcite/quartz deposit towards the very bottom of the vein.

Thank you, once again.



Hi Karthik... Yvonne shared good advice in photographing a stone from its front. I would suggest photographing it from slightly above (10 to 15 degrees, e.g., your 4th photo is good!) as well as in front of the stone to give an impression of the stone's depth & to reveal important elements such as a waterpool. Never photograph a stone from below its daiza lip. Occasionally, a frontal shot level with the stone is necessary to clarify an element such as a tunnel underneath the stone or to better reveal multiple peaks in a mountain range stone, but these are rare & obvious exceptions to the typical perspective.

For discussion on the forum, a completely overhead view is sometimes requested-- usually to clarify what seems not fully revealed.

On the first stone, you covered-the-bases nicely. A photo from the left side was necessary to clarify the almost flat end. We can honesty see the stone. Showing a flaw is better than hiding it among stone friends. Vendors that hide flaws & manipulate stones to give a less than natural impression do not elevate our enthusiasm.

The first stone-- the mountain stone-- is worth holding onto until you find as nice an example without a clear break. Placing it in a suiban seems a reasonable choice. A viewer can choose to overlook the flaw or be distracted by it. Ultimately you'll decide whether you wish to collect at the level of rare stones without distraction. I would recommend withholding the effort/cost of a fitted-daiza for this stone.

Your second stone appears cracked along a plane that creates a plateau from-left-to-center. While you could attempt the presentation of a waterpool, plateau, or figure stone, it will never become a favorite if cracked. For the landscape views, the crack will be even more prominent if the stone is watered in a suiban.

Your last stone is my favorite. The next to last photo arguably recommends a figure bowing to the left and rear. The worn, open-cracks that have stopped are more reflective of weathering rather than breakage. I might slightly turn the stone to avoid seeing the white inclusion. When figures are directed toward one-side and the rear, it tends to open the space as the viewer gazes over the figure's shoulder. This is repeated seen in paintings of figures (e.g., a deer on a mountainside) leaving the scene on a Japanese paintings. It is also sometimes seen in placement of okimono & tenkei in single or paired placement.

Chris Cochrane

Member





Thank you Chris for tips on how to photograph a stone. My eagerness to show off my stones is to blame for the bad resolution (mobile phone) photos that I have posted.

I can't spot the figure you talk about. Could you perhaps mark it on the photo?

Your keen eye and intellect is what makes this forum of interest to me and others.

Thank you,
Karthik
As the first step to viewing bonsai in
Keido
practice (viewing in an alcove), Uhaku Sudo would have students bow directly in front on the tree before looking closely at every element in the composition. It was part of a ritual arguably expressing
wa-kei-sei-jaku
/ "harmony, respect, purity and tranquillity" by the viewer/student. For Keido, it is very closely connected to tea ceremony ritual (bowing to an offering-- e.g., tea-- by the host).
Seiza
is the Japanese squatting-on-your-heels position of most respectfully sitting on tatami matting. A bow from the seiza position has deep resonance...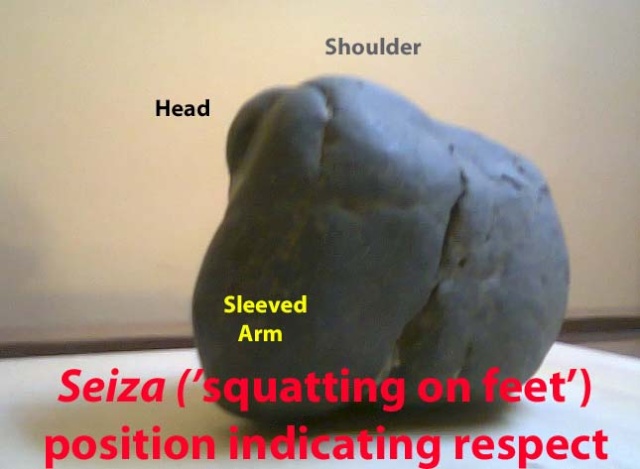 Rather than emulating further details of tea or Keido ritual, the figure suggests by its presence, alone, the atmosphere of a gathering where ritual is understood.

Chris Cochrane

Member






---
Permissions in this forum:
You
cannot
reply to topics in this forum