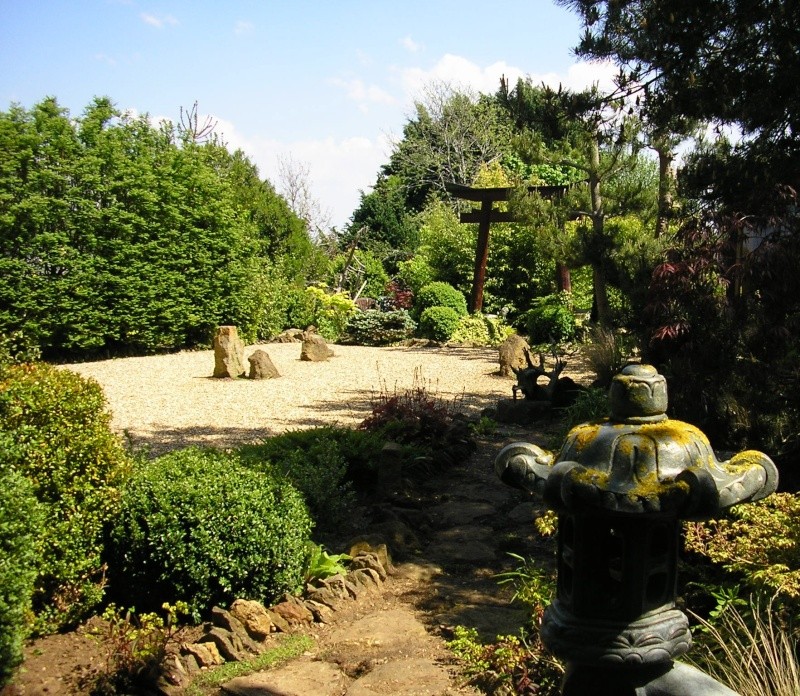 Peter E in Devon (and anyone else who may be interested) - Thanks for your enquiry, Peter. Please note that although I have done some reading on the subject, I am not an expert, and stand to be corrected on almost everything.
A Torii gate should mark the entrance to a Shinto shrine, but I have borrowed the idea to create atmosphere (I hope) within my Kare-sansui garden. It is intended as a meditation garden, not as a home for Bonsai. I understand in pure Japanese style that the two should never be combined. In an effort to dilute my "sins" in that respect, I have dedicated the garden to Kuku - no chi - no kami, the "spirit" or essence of all trees within the Shinto religion.
I am not a practising person, but certainly an admirer of the philosophies.
The "gate" was made from a telegraph or electric pole (replaced in my garden some years earlier) and some rough carpentry. The cross members, wedges and roof bar were scrap timber from my neighbour's renovation of his thatched roof and supports. It looks quite large in the pics, but the wife (she is stronger than she looks!) and I raised it and she held it while I packed concrete around the bases of the legs, in already 3/4 built "coffer dams". Lastly built the last 1/4 of the dams with old bricks, and decorated as shown.
You could, of course, use all new timber and use strong friends.
The gate is about 10ft tall, and there are many templates on t'internet you could use.
I'll post a couple more pics of other constructions in the same vein - done to create the same atmosphere.
If you are considering a project let us know how you get on.
Re - Bonsai. I really wish I was an artist, but I'll keep practising and hope Kuku-nochi-nokami smiles on my efforts, and I will be looking for help from IBC.
Cheers.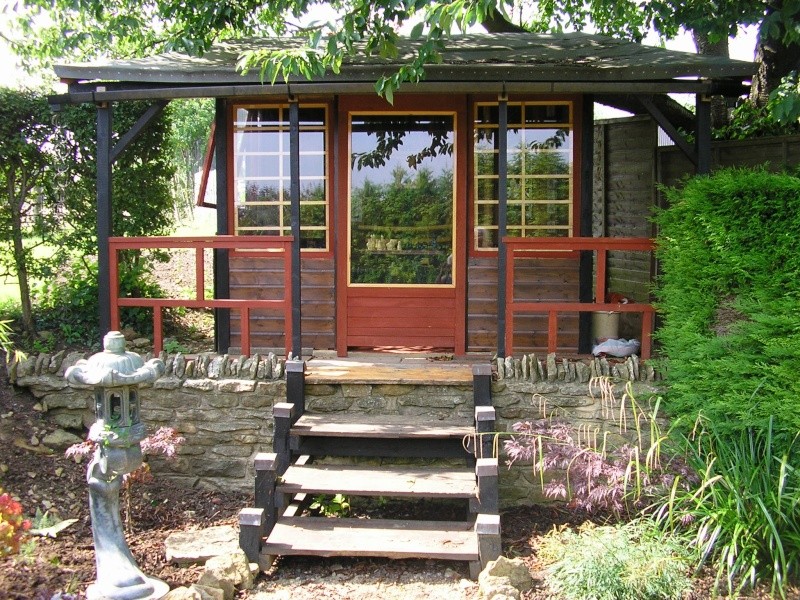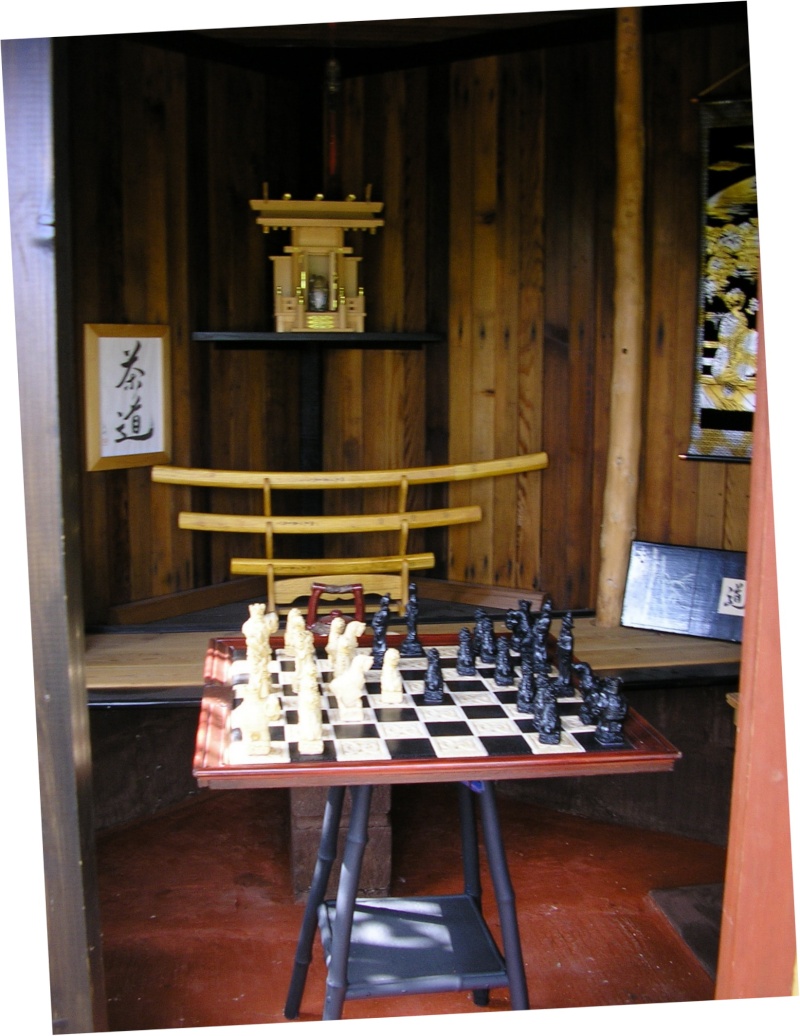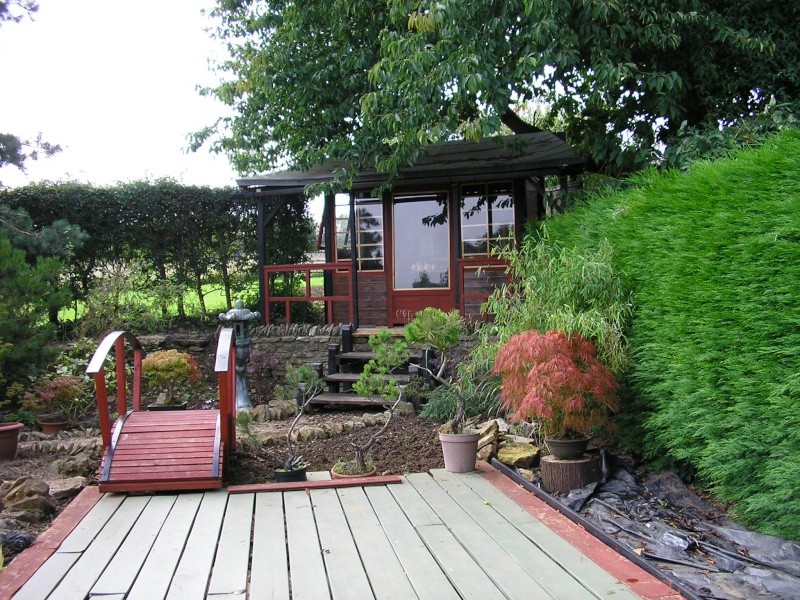 p.s. The platform is for "tai chi" exercises - vital when you get to my age!!
BEAUTIFUL job! I would that I had that kind of ability.
_________________
Jim Lewis - lewisjk@windstream.net - Western NC - People, when Columbus discovered this country, it was plumb full of nuts and berries. And I'm right here to tell you the berries are just about all gone. Uncle Dave Macon, old-time country musician

JimLewis

Member





_________________
"Espouse elucidation"
_____________________________________
my website

fiona

Member





Fiona and Jim - thank you for your kind comments. This project was more about avail-ability than skills. I had a source of free cedarwood sections of many sizes, the pole, next door neighbour's scrap (before it was put in skip!!), the ground space to work in, the stones dug out of the garden, and retirement time. Plus lots of on line research - and a strong and helpful wife - and an interest in the Orient, tai chi, iaido and martial arts generally. Anyway. the effect is great for meditation and relaxation - now it seems natural to turn to bonsai. To quote you, Jim, - " I just wish I had the ability......". But I'll try. Cheers.
Rick,

Thanks for the detailed reply. It was interestering to read your thoughts on the subject.
It is a stunning arch.
Unfortunately, i do not have the space for one but i may plan a smaller construction when i finish the new Bonsai display area.
This is currently part of a major garden make over.

Billy M. Rhodes

Member





Peter E. Amazing how you can get so involved with a subject, once you get started! Wish you luck with your project - no reason why space should inhibit you. With the right artefacts the atmosphere soon builds up! Cheers!

Billy - fortunately my ambitions were (and are) slightly more modest! I was in Kyoto in 1955, visiting the Imperial Gardens - the Ryoan-ji garden was strangely inspirational, and I have " borrowed " the stone layout for my own Kare Sansui set up. It's all about space and the use of it in directing thought and imagination - wish I truly understood it, but it works. Cheers!

---
Permissions in this forum:
You
cannot
reply to topics in this forum