Today for the first time, I walked an ocean beach for stones. I discovered a point off a long sandy beach that had high cliffs behind it. Embeded in the earthen cliffs were lots of nice black rocks. What I'm trying to put together is things like I've learned on rivers. For example on the lee side of the current behind Islands in the river. great place to find stones. If you find well polished too rounded stones you head a little more upriver to find a place where the stones have some movement in them and not too rounded by wear. I talked to some residents on the beach and depending on the seasons and strength of the tide, there are rock fields covered up by sand which depending can be revealed depending on the tides. Do I hang around tight to the cliff to where not as much sand and wave action is to find less worn. I did find two stones ( rare for me because I'm so picky) so I'm planning a return.

Anyone care to share what they've learned about collecting on the beach.

dick benbow

Member





dick benbow wrote:
Anyone care to share what they've learned about collecting on the beach.
Hello Dick,
A bit late, but i remembered your post.
Before you go, study the geological maps of the area to find out where different stone layers are and where they surface.
Sunip

Hi Dick,
You live in area near the sea shore . I think you're so lucky with nature/ left side the pacific oceans /right side is mountain ,so lovely to live in
Washington state, My province in VN call Dalat City ,The weather look like in your area but not lucky , Because the beach very far away.
I do not have experiences to find stone on the Beach .But I do know walk on the beach without shoes

Happy New Year
Warm Regards
Young
thank-ou Young, and Happy new year to you as well.

dick benbow

Member





Hey Dick!
Be sure to read local news paper for low tide schedule,
stones will be easier to collect if not in deep water,
count timing of waves breaking so your not knocked over onto stones.
wear water shoes, take a crow bar and a friend with you...
Stonener
Last edited by stonener on Sat Dec 29, 2012 8:08 am; edited 1 time in total (Reason for editing : +)
This partiuclar beach has Whales using it's sandy shallow water to catch sand shrimp in.. They scoop up lots of sand and then strain it thru their baleen. At low tide their scopps are eriely apparent. It's an interesting place. In a month or two I will return. that will be a time when the eagles who patrol the beach begin carrying off dead limbs
to reenforce their nests for spring.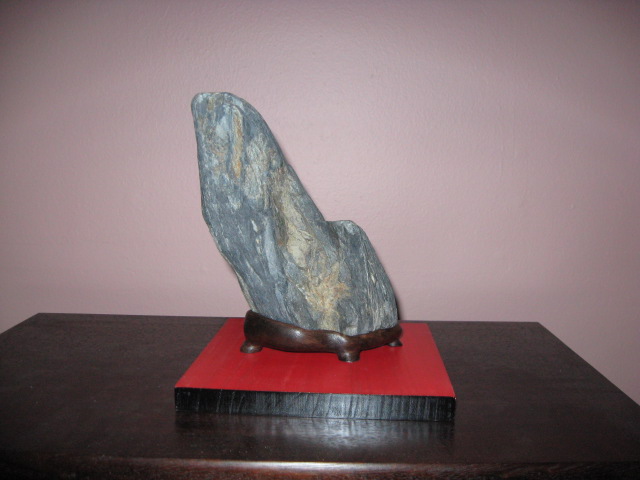 This was one of the stones I found last year and created a daiza for. I gave it to my brother as a christmas gift, as he resides on this beach and put me aware of it's potential.

dick benbow

Member





Hello Dick.
Lucky man to have family there and the opportunity, to visit such a beach.
Did you showed this stone earlier?
It gives me the image of a seal.
Hope to see more stones of that place.
Sunip


---
Permissions in this forum:
You
cannot
reply to topics in this forum