Hi Guys,
I just thought I'd share some images for our Clubs display at the Bearsted Carnival on Saturday. While the Stone Monkey was sunning himself at Ceramics South East the rest of us were entrusted with stalling out for the Society. It was our second show in 3 weeks but I think that we put on a decent display for what is only a small local club.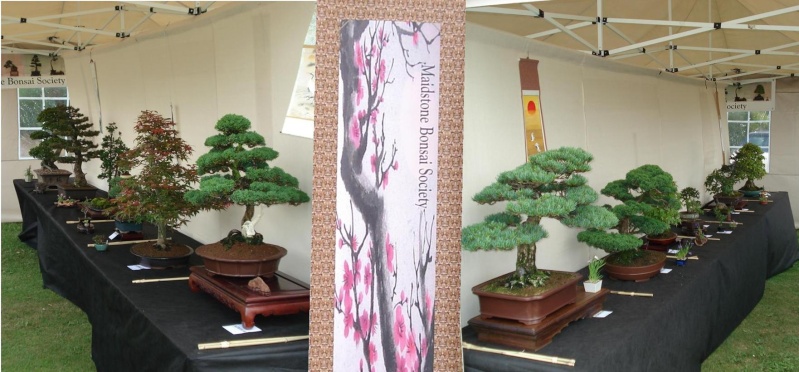 The visitors that we had kept the 4 of us manning the stand busy with questions and our PR machine was in full swing. Let's see how many new members we get out of it!!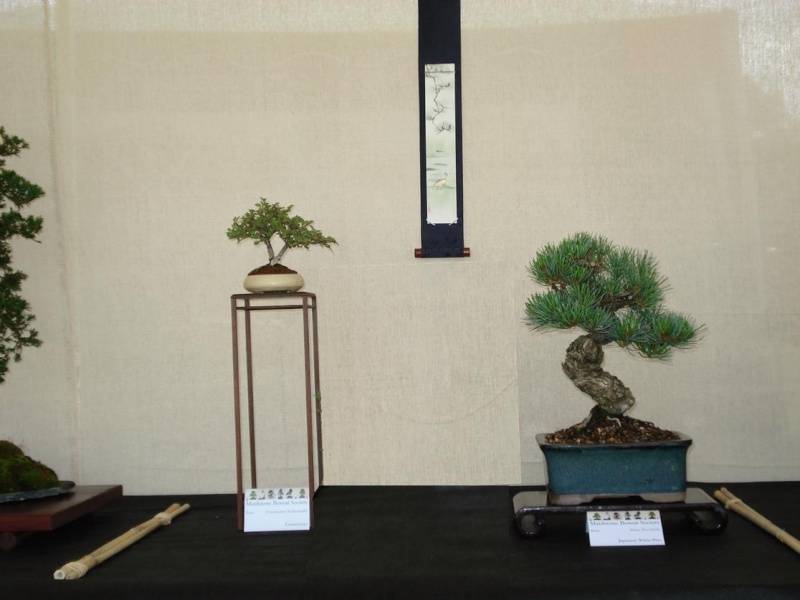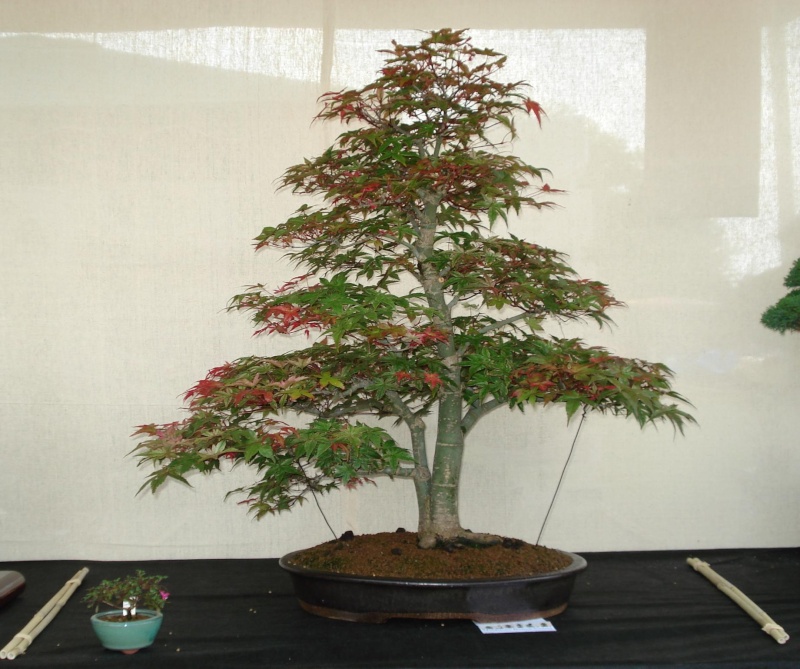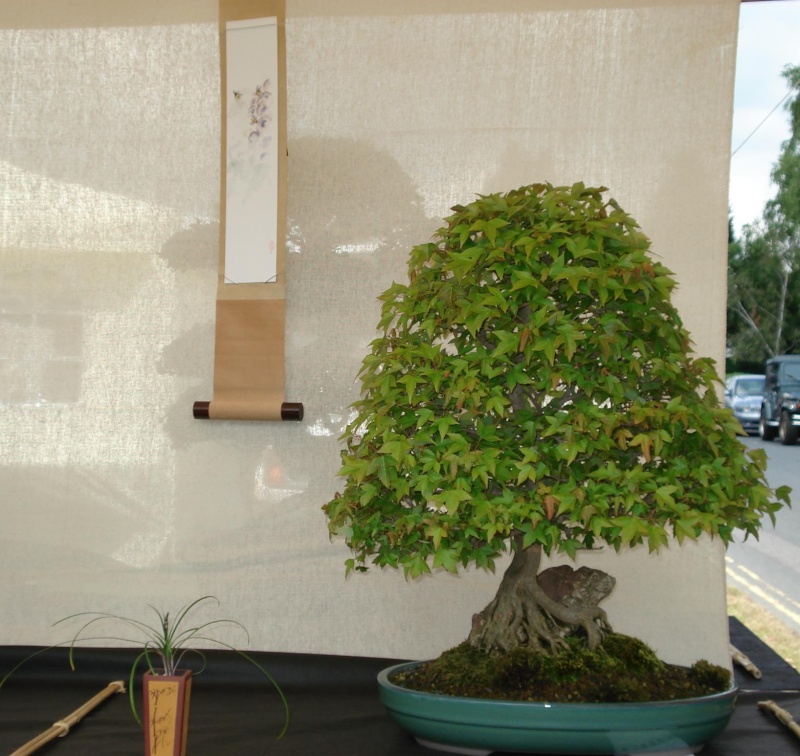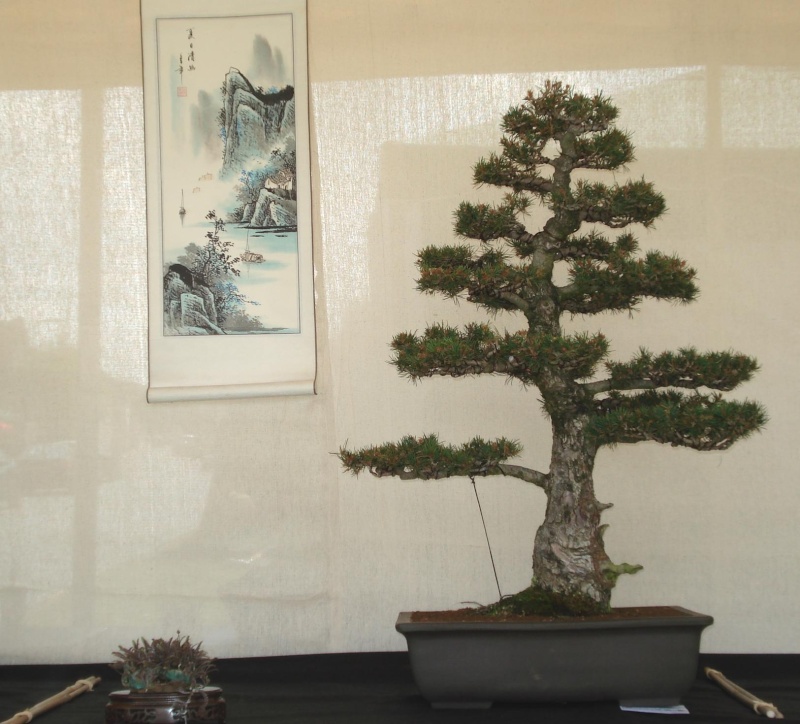 As this was a general event I took a leaf out of Jerry's book (I hope you don't mind) and took some raw material along to work on. This seemed to go down very well with people spending time watching me work (and I'm no expert by any stretch of the imagination!) and asking questions and even the younger visitors had a chance to "poke" a tree.
Rather this than a display tree

All in all a good day and I think that this year our Club has come on leaps and bounds so thinking hats on for next year!!
Love, Peace & Bananas,
Simon
NB
The Web hosting has cropped some of my pics.
I'm not that bad with a camera honest!!

bonsai monkey

Member





Simon
As in my emails to you today. EXCELLENT!! This is the best display our little club has put on for a long time. Well done to all who took part and put together a great display. Pity I could not be there

All the best mate
Andy

Stone Monkey

Member





Looking good Chimps


Lee Kennedy

Member





Good on you Maidstone members.
De-mystifing the art of bonsai with the public. Seems it isn't magic or a dark art after all


Could someone tell Pipa Greenwood.

CONGRATS TO THE ORGANISERS AND MEMBERS ALIKE.
Society shows are a challenge sometimes, getting the show to develop further refinement and still keep all members happy. The challenge of over elaborate scrolls, not enough tables, dressing the tree and overcrowding are all a headache for all UK show organiser.

Jeremy

Member





Well done Simon keep up the good work.

Ian.
Excellent display.

Looks like this educational theme has really taken off. We did it a few years ago when I displayed a range of Oaks from seedling to a 100 year old tree, illustrating the development in about 5 stages. Our new chairman picked up the idea and ran with it at our recent 2 day show at a garden centre. It was very well received and we hope to have a few new members from it.

Forget Pippa Greenwood, Jerry, she's a hopeless bonsai hater.

_________________
"It is not the strongest of the species that survives, nor the most intelligent. It is the one that is the most adaptable to change." - Charles Darwin.

Kev Bailey

Admin





bonsai monkey wrote:
(...) ...but I think that we put on a decent display for what is only a small local club.

Indeed, you did from what I can see.
I always enjoy watching such exhibitions, where people who like bonsai share what they think is the best of themselves. Thanks a lot, I appreciate, it just goes to show that even without "farting high above your ass" as we old-world barbarians say, you can offer a glimpse into what beauty means.


AlainK

Member





Nice job with the trees.
I don't understand the UK infatuation with Asian scrolls, to the point of affixing them to a temporary cloth screen that is semitransparent. Mimicking a tokonoma in this sort of environment is like painting a Renaissance fresco on a sheet of plaster board between two pine 2x4s. Why can't the trees stand on their own as works of art? I feel the scrolls in this flimsy setting don't do the display nor the tree justice.



Rob Kempinski

Member





Rob Kempinski wrote:

I feel the scrolls in this flimsy setting don't do the display nor the tree justice.

I like the simplicity of the double-trunk maple...

AlainK

Member





Thanks for all your kind comments and observations

I agree with Jerry that it is difficult to keep all the members happy and produce a well balanced display but we will keep trying to improve!!
Rob
Thanks for your input. It was the first show we had done using our own backdrops and I agree that the show through was not ideal and maybe we should have not used the scrolls. We could have doubled the backdrops up, as we had two, but we were running a wee bit later than planned on set-up and by the time we started on the displays it was a bit late - fate-a-cornflake really.
I'm sure that we will look at what we could have done better at a post mortum at some point but I feel that the only way to learn from your mistakes is to put our work out there, weather it's the trees or displays, and see what happens


bonsai monkey

Member





I dont think you need to be looking at it as a "mistake". The (few) scrolls you had may not be set up according to the purists or in accordance with strict Japanese "rules", but if the aim of the show was to raise the profile of your own group and/or to get Bonsai to the public's attention, then the scrolls probably did a job for you. At similar types of show of our own, I have found that the "pretty things hanging on the wall" are often as much a talking point with the public as the trees are. That's important for an organisation trying to promote itself and its art to the laity. Accent plants seem to have the same attraction for the public and I find myself frequently talking about those at shows to people with only a passing interest in the tree it's complementing. And yes, you
may
get the occasional pedant (such as myself) who will tut-tut and say 'oh that scroll's a nano-b***-hair too much to the right of the tree', but then you can congratulate them on their insght and invite them to your group as they obviously have a natural eye... yada..yada..yada...
It was a tremendous effort, Monks me ole chap, well done. I almost wish I lived in England!
OK that last bit was a lie!


fiona

Member






---
Permissions in this forum:
You
cannot
reply to topics in this forum