[img]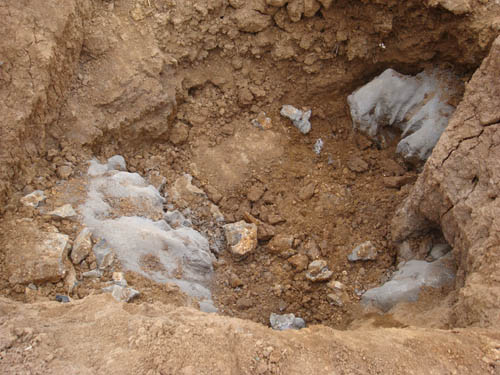 [/img]
1.last reported to Lingbi, dig deep, not a stone. Look at the picture yesterday dug up, shallow, stone is really good, stone OK!
[img]
[/img]
2. Rock digging tools Guinness ah, what are. My eyes. Most of the way there is Luoyang shovel, see. Than digging tomb also professional.
[img]
[/img]
3. looked up, today 's harvest, homebred boom 5 - bomber on a cruise. Well, it's big enough, the speed is not quick, picture still clearly oh!!!
[img]

[/img]
4. prize: Lotus Peak, one of the highlights of Yamagata, uniform texture, size, good varieties.
[img]
[/img]
5. prize. Modeling, stone skin smooth, rounded upper, lower square, most definitely is an intermediate annular grooves, natural Tiancheng, the @ -- @ my heaviest.
[img]

[/img]
6. prize three: Tengu modeling. True blue. Especially the stone skin!!! You see? A blade groove Lingbi stone for many years have not see such stone skin, I have the honor to Amoy, although spend thousands, but three days do not have white to. Victory! Victory! Stone, leather, and type.
Enhance the quality of ornamental stone, stone products stone instruments -- expert http : / / hfssxh.taobao.com

bhswjww

Member






bhswjww

Member





Dear Wang Jun,

Thank you for your post. These are some very interesting and insightful photos in the harvesting of lingbi stones.

Many thanks and warm regards from Taiwan,

Brad

---
Permissions in this forum:
You
cannot
reply to topics in this forum