went on a collecting trip up into the mountains of western NC recently. still trying to decide whether this is viewing stone material or not, so i thought it would make a good first post after joining the forum. sorry in advance about the shadows...midmorning photography and all.

further down the post now.
Last edited by Jesse McMahon on Fri Aug 26, 2011 5:40 pm; edited 1 time in total (Reason for editing : eliminating old links)

Jesse McMahon

Member





oh yes. actual size roughly 4.75 x 3.5 x 5 inches.

Jesse McMahon

Member





thoughts and/or comments will be welcomed and appreciated.


Jesse McMahon

Member





Hi Rite-of-way
Thanks for sharing i would like the first picture but maybe turn it a bit to the right its a bit leaning sideways,may we address your name properly sir/mam

Kind regards,
Alex

ogie

Member





pleasure to meet you, alex.

here's a different photo, and hopefully it's closer to the angle you asked for. i know it's not the right tray at all, but i figured the line of the sand would help to put things in better perspective. still not sure if this would make a good near-mountain stone, but thankfully there's no rush. thanks for the reply!

Jesse McMahon

Member





Hi Jesse ( mans name Ogie)

The stone looks interesting....I would like you to place the stone in the suiban as you think it schould be,
Then take 4 photos straight from the front, in eyehigh, from both sides, and the back.

Kind regards Yvonne
finally made time to photograph this stone again. thanks for your great advice, yvonne! hopefully this gives a much better representation of what's to be seen. once again, comments and opinons welcomed...but without further ado, on with the show.
front
left
back (sorry about the shadowy nature of this. i thought it would be okay, considering it's the back

)
right
top
if it's not worthy of a daiza, i'll likely plant a tree over it one day. i was just curious to get a public opinion and share. thanks for the comments already posted, and nice to meet some of you!
regards,
Jesse

Jesse McMahon

Member





Hi Jesse
Your stone lookes very nice, and schould be kept as a suiseki....It looks as all parts of the stone has the same age, with no recent chips, witch in my oppinion dissqualifies a stone.
The stone has many interesting parts...but looking at it from the top. It appears to me, as the black arrow is pointing at the front...it could also be the red arrow....I could be wrong, it would be easier to see if I had it in my hand.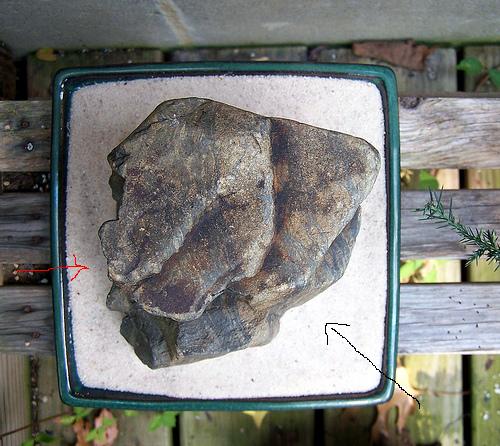 The front you prefer is not bad.

Kind regards Yvonne

---
Permissions in this forum:
You
cannot
reply to topics in this forum