I bought the Japan Juniper on May 2011 and have done some styling after bring back from the nursery. Hope to seek some comment on my styling.
Before Styling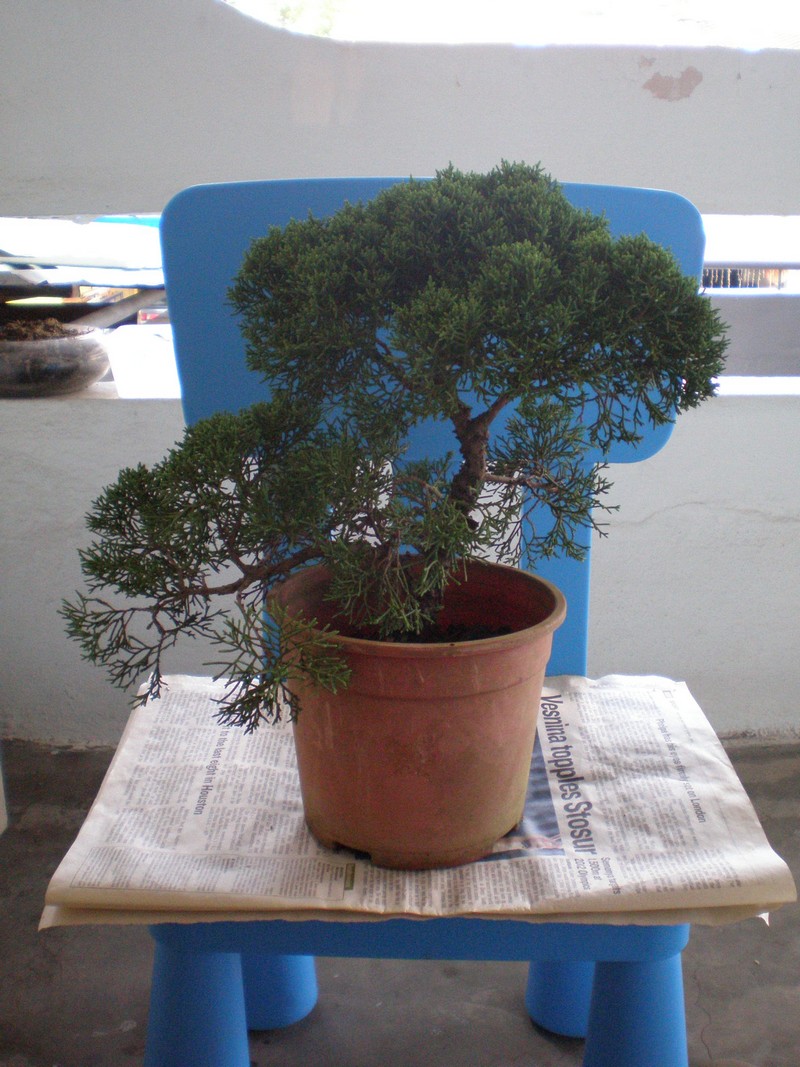 After Styling
- Trim some branches and purning and pitching some neddle.
- Add some red soil to bring up the trunk to made it move viewable.

My next restyling idea. Please comments if any.
- Remove the hold section in the red box & left some branches to made like a deadwood.
- Or. Transplant the section going to cut by remove some bark and wait for the root grow.


Samson Chong

Member





if you are not in a hurry i would choose to cut the bark, wrap in moss and let the roots grow - (air layering). then you will have 2 trees, and still have a piece if wood to make into jin on the first tree. - chinese junipers root nice and quickly.

or you could consider using it as a long low bottom branch to create a wider tree.

marcus watts

Member





Even keeping the lower branch as a sacrifice branch to help develop the lower trunk makes sense to me.

Billy M. Rhodes

Member





hello Billy,
Your plan of taking of the lower branch it a very good idea.
This becuase of the thin trunck.
Billy you have 4 branches in the top to make a great top.
Lower the branches more.

Regards,
Rakesh


@Marcus, i will cut the bark this week end. Hopefully the root will grow out well.

@Billy & Rakesh, I will consider your suggestion. Thanks for the comments.

Questions:-
1. Cut the bark, wrap in moss and let the roots grow - (air layering).
- The wrap plastic need to open small hole?
- How long we need to cut the bark? 15~20mm is enough?


Samson Chong

Member





Hai Billy,
Cut of a ring off bark as thick as the branch that you want to layer.
If you branch is 1 cm thick the ring should be something more then 1 cm.
After peeling this bark off you need to sracp off the very thin layer that transport water to that branch.
After that put some wet moss wrap it with plastic and then tie it upstairs and downstairs.
You do need have to make holes.

Regards
Rakesh

Samson Chong

Member






Samson Chong

Member





Hi Samson
It is important to draw your intention. If you want to change hankengai is good to determine which branches are important to you and what angle will have a trunk. Then replant the tree trunk in the new position. Try to draw your project please.

Gretings Pavel

Pavel Slovák

Member





Hi, Pavel

Thanks for the comment and will consider your suggestion. Hopefully will improve time to time from your great suggestion..

Samson Chong

Member






---
Permissions in this forum:
You
cannot
reply to topics in this forum