Thought I would share the progress of my exposed root Japanese black pine.
The tree belonged to one of my teachers here in the SF Bay Area. He picked it up a couple decades ago from a nursery in the area. It was imported from Japan in a nursery container. At the time, the soil was planted at trunk level. He discovered the rooting after a repotting. The tree lived in the Berkeley hills for many years with not much styling (at least a traditional styling). I've been feeding regularly since it was passed to me and in spite of the coldest SF summer on record, it is much healthier now. A couple weeks ago, Marco Invernizzi was in the area and helped me with some initial branch placement and a planting angle change. The bottom branches need thickening and more development, and the top half needs to grow out a bit.
Give it 5 more years of good growth and it's gonna be a nice one.
Luckily I'm headed to back to the Southeast U.S. next month. My pines are going to be bathed in heat. They should be much happier.
Lawrence
In 2006...
After this year's summer with some cleanup...
After styling... (the chopstick is ~9")
Lawrence,
congratulations for owning the tree!
It's a very compact and powerful looking tree.
IMHO-the last photo with slight angle adjustment is perfect. with this position it it were my tree I would reduce the top a bit to make it look more compact. but of course you can always develop the left side more to complete the tree.
regards,
jun

Lovely tree. Very nice styling. Good luck for the future.

Kind regards Yvonne
I would like to see this nice tree in maturer look .... something like this ....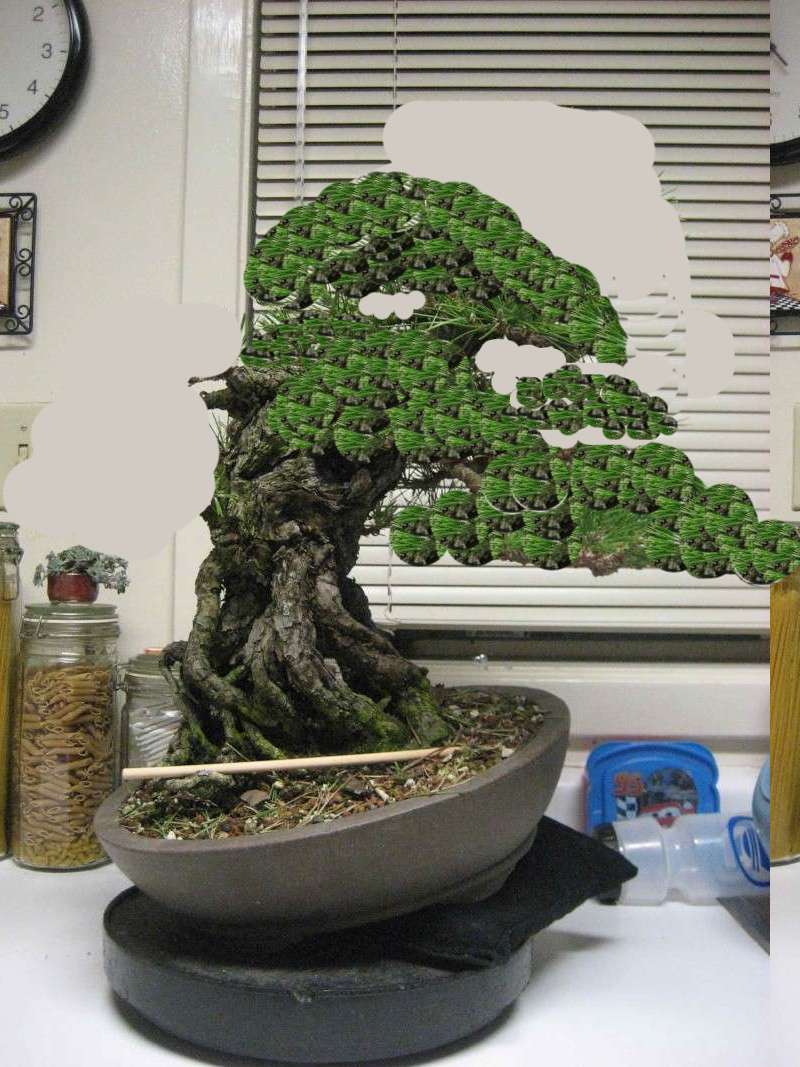 Last edited by martin kolacia on Mon Dec 06, 2010 6:50 am; edited 1 time in total

martin kolacia

Member





Hi Lawrence
Great tree an great potencial bonsai.

best regards
Viriato

Viriato Oliveira

Member






Viriato Oliveira

Member





very nice leclaire.
but IMHO reducing the top a bit would look even better. didn't do virtual, just cover the portion of the tree image with my hand, i saw a more balance tree.
regards,
jun


---
Permissions in this forum:
You
cannot
reply to topics in this forum