After receiving some good natured ribbing from Will in his "Boxing Cleaver" thread I thought I would post my Buxus Sempervirens here for some advice.
This tree was another one of my "holiday specials" which was lurking at the back of the same Bonsai nursery that I brought my Lonicera from last year. It had to be reduced down from its original 24" to the 15" it stands now. Although the tree was more of a bush the powerful lower trunk screamed out "Shohin" to me so I parted with my £25.00 and then took a saw and cutters to it – much to the concern of some of the nurseries customers!!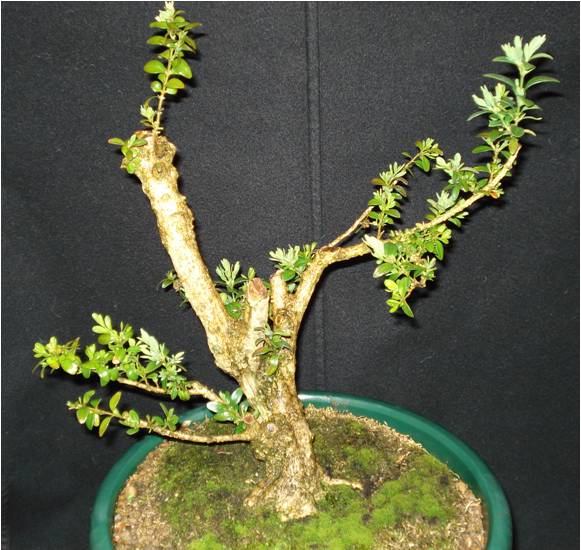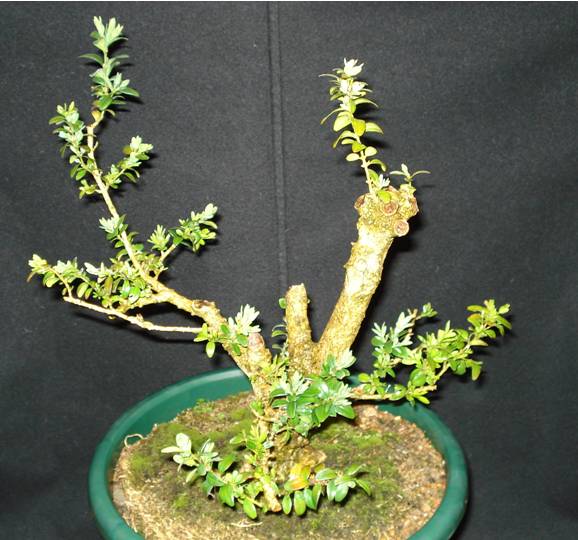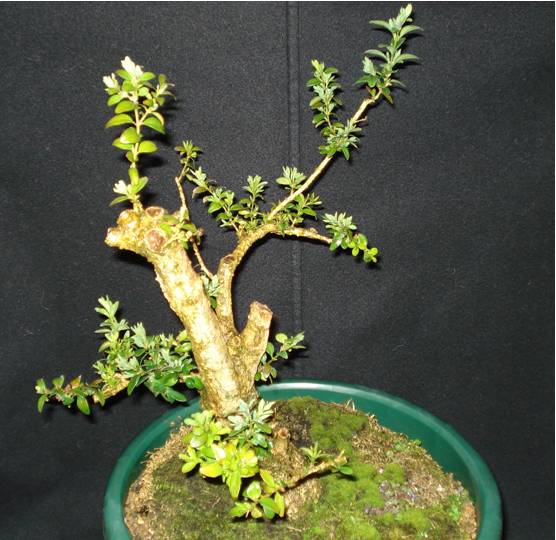 I let the tree rest all Summer long and it put on lots of new growth even popping new buds on the old wood. Time for some more study. As you can see from the pictures the lower growth is a bit sparse in places but I think it has lots of potential.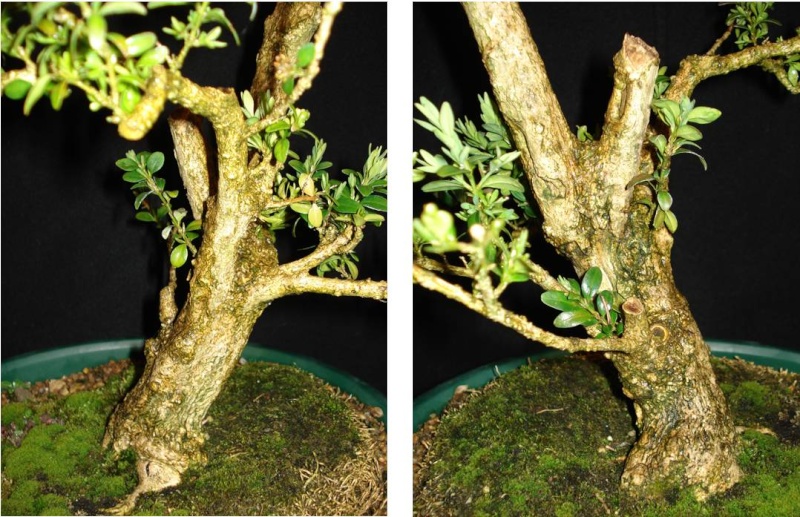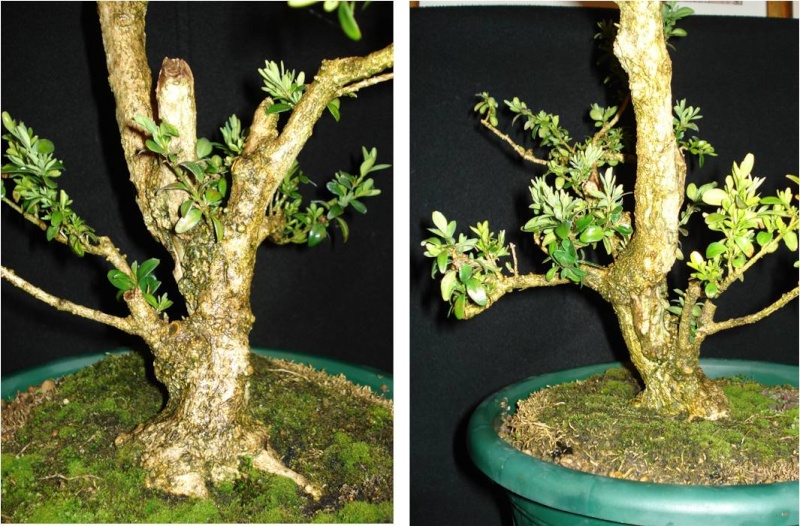 I'm now in 2 minds about my original front as the whole top of the tree leans along way forward plus there is a lovely piece of natural deadwood on the back which I could "join" to the heavy, straight branch that I was going to have to reduce anyway. This way around I could create a new apex using a small shoot that is at the front of the main leader rather than trying to make the upper part more upright. Is this the best solution?
Thanks & appreciation of any comments/suggestions in advance,
Okk,Okk,
Simon

bonsai monkey

Member





Hi Simon. My initail thought for this tree (if it were mine) would be to continue the 'hacking' process you started at the nursery. Perhaps something like this:
Like I say, this is my initial thought and, as such, is liable to change if anyone better equipped than me says it's rubbish


Harleyrider

Member





A bold move by the Ryder and I like the thinking. However...I would be worried that the right hand side would die back to the ground, with no foliage to support sap on that side and then you lose the dramatic taper. Maybe a little higher.

Harleyrider

Member





Harleyrider wrote:Damn and blast!
Not at all Steve. My experience reducing some trees this far, has been unsuccessful but your cut has a better strength of future design. If this was a Trident Maple, With its superb ability for repairing wounds, you'd be spot on.

Thought i was on a different forum when i seen the title! nice find monkey

Lee Kennedy

Member





Hi Steve & Will,
Thanks for your comments chaps. Your vision and mine Will seem to be on the same wave length. I hope that I can make a half decent tree out of this piece of material. When is a good time to work and re-pot
Buxus
Will?
Lee Kennedy wrote:Thought i was on a different forum when i seen the title! nice find monkey
Yeah, I really need to think more about my thread titles Lee, my humour ain't great

Regards,
Simon

bonsai monkey

Member






---
Permissions in this forum:
You
cannot
reply to topics in this forum