Hi IBC,
i got this banyan ready for repot.
the tree...too boring and very ordinary.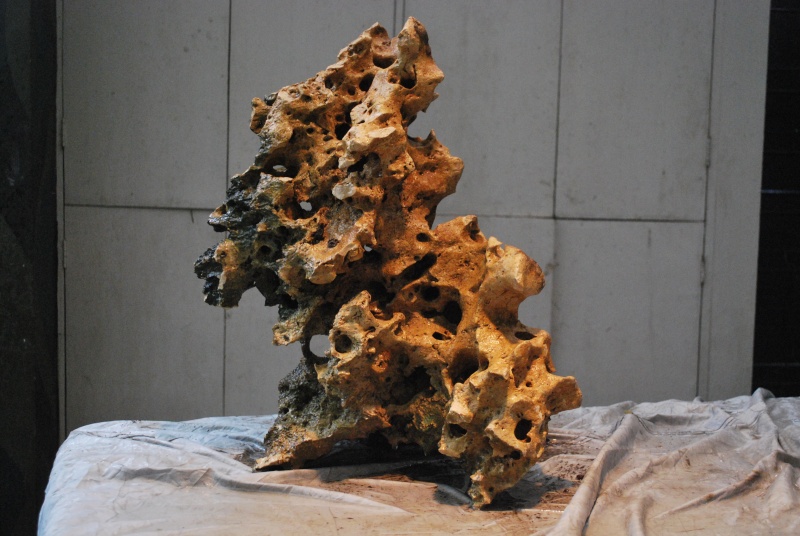 then i saw this on my rock pile. moss are already growing on the left side.
hmmm. my weird mind is telling me something....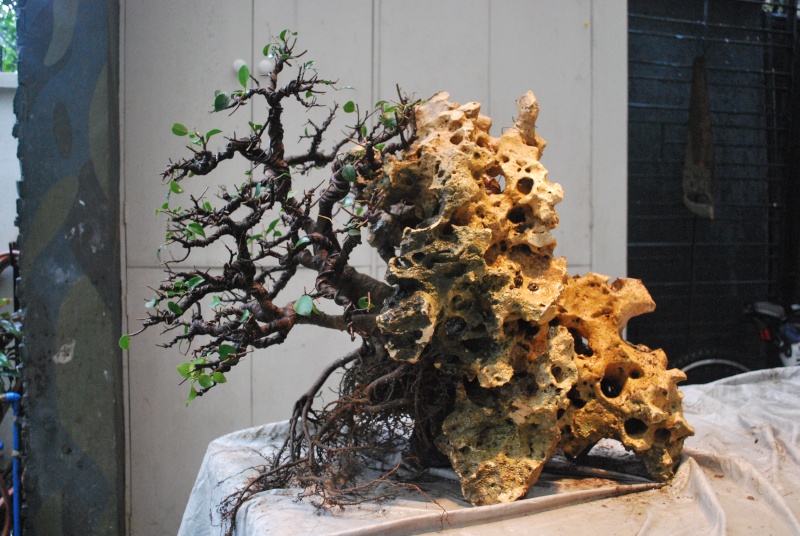 for the more adventurous design...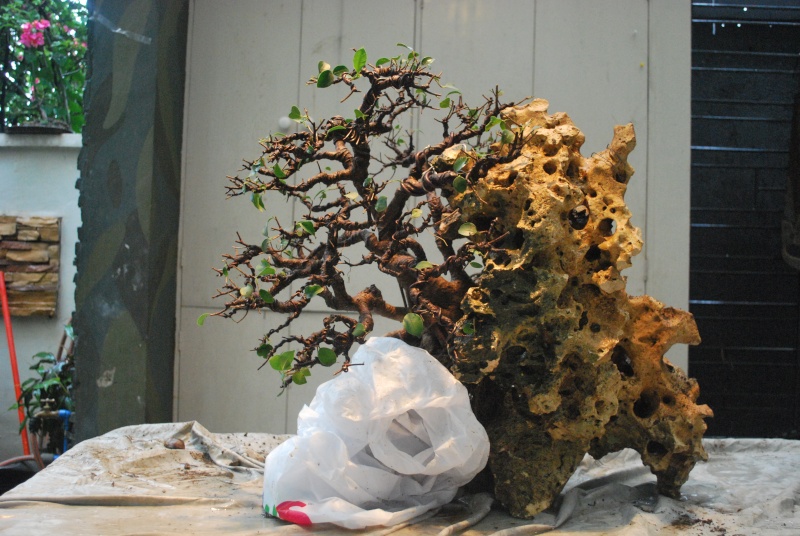 Soil mound will be placed in the plastic area.
the other possibility.
what do you think guys? be adventurous or stick with the boring tree and let it grow for another 5 years?
regards,
jun
Jun, I like the rock, I like the tree. I don't see the match. The tree, as currently styled, wants to spread out - like banyans do when they have the room and aren't competing with other flora. The holey rock seems best suited for standing up tall; not in harmony with the spreading tree. Unless the tree could be styled into a semicascade - possible? I see a very twisty kind of literati type tree working with the complexity of the holey rock. What unusual material grows along your coast line?
Forget everything I just said.... I was boring!!!


Find a nice Ficus Microcarpa (Tiger Bark Ficus) or something with an outrageous bulbous trunk and lots of long twisty roots to make a planting of an OCTOPUS or SQUID clinging to the coral! GO for it!!!
Salut, Todd

Todd Ellis

Member





Todd,
thanks.
this tree can be placed in a semi cascade position because of the triple trunk, just remove either one on the side and you got the semi cascade, perfectly horizontal trunk and one vertical for the apex.
BTW. your not boring---your mind is trying to get out of the box by exploring at the other design possibilities...and trying to be more imaginative. let it explore todd, let it go....




- just kidding.
regards,
jun

JUN,,THAT FICUS,,,Looks really good to me,,my opion ok???What you need to do since you have so many is send that one to me...I will baby it i promice!!! really it looks too good to me to redo it my opion only..take care john
John,
thanks.
find a way on how I could send you one...really, i am more than happy to send one as a gift. your customs are too strict on plants.
packed on a luggage maybe? without soil via fedex perhaps?
regards,
jun

john,
...do you like pemphis?
i got small ones like this on the photo, good thing with this small pemphis acidula is that they were not collected as trees from the wild. (so no guilt on your part) they came from scraps of other large pemphis...part of my experiment on how to return some in the wild habitat someday, but my dilemma now is that these small former branches are turning out to be nice for small bonsai.

This one is just 7 month old.
i remove this small part due to design consideration on the mother tree. ("my pemphis on the rock") i replanted about 6 of these, 2 survived.
regards,
jun

JUN,,I Thank you for your kind offer.I would to have a tree that looks like the ones you post..our shipping here is so tight it would be more than likely stopped when it reached the u.s.and they would let it die..iwould not ever want that to happen!!! keep posting those trees and we all will get to see them anyway..thanks for your kind offer again.. show some more...thanks john
Good Morning, Jun!
jun wrote: .... ....
hmmm. my weird mind is telling me something....
... ...
Your weird mind should not be telling you things like giving away presents and stuff like this, because lot of people are reading....

And I am a jealous person and have a weird mind like you and maybe is telling me something....

Just joking! I know you knew it!
Have a nice weekend!


my nellie

Member






---
Permissions in this forum:
You
cannot
reply to topics in this forum