Dear viewers and
Jerry ,
would like to show You one side of my revamped studio,
It is the side were i draw,scribble,pc and study.
Started a psycology study at University Nijmegen january this Year
and as You can see i have a new doggie !!!

He (Eddie) is an English Bulldog and always with me in my studio

On the place befor the window are a few of my little stones.
Also show another part the opposit of the table were it is special !
Enjoy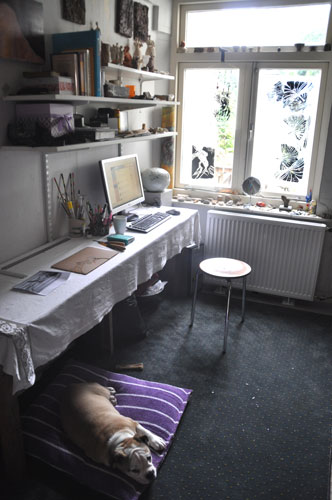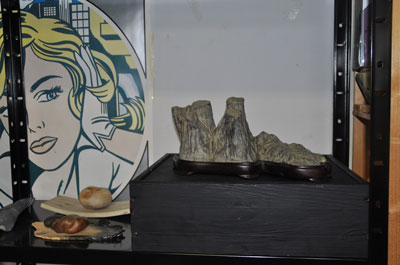 Morea

Member





Dear Chris and others
Been making some display's , with and for some favorit stones.
Some are ceramic and some ,,,,,, are something else.
Here are a few,
enjoy
First i would like to show the stone on a oil painted table.
They feel equally , balanced in heavyness .
The oil painted table i made is called "pain"
The stone belongs on it very much for my feeling.
Second is a Welsh coastel stone in a metal holder.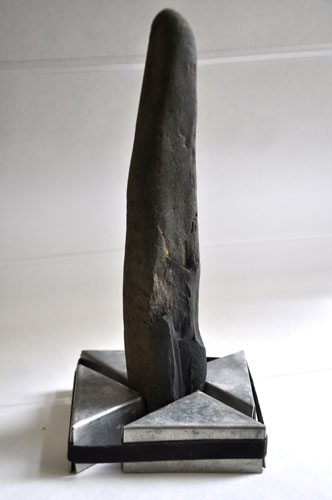 A French stone ( Central Massive ) more green in real on a ceramic slab.
And Jerry's heartstones on a specially made slab for it.
I love the heavy stone ,colour and stripes image in opposit
with the lightness if the black waves as vaporating into the air!
Kind regards
Morea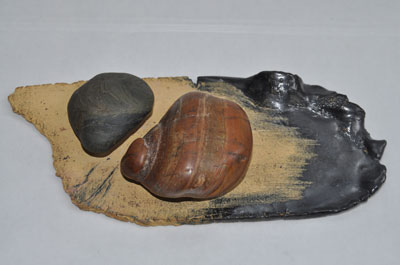 Morea

Member





Hi Morea,
I really like your displays. I find the stone on the painting quite intriguing! I am new to this art form and find it wonderful!
Ume


Ume

Member





Oh my gosh, Morea. ...



... Your displays steal the hearts of viewers-- I am a huge fan of creativity that is respectfully offered & your stone with a line complimented by a painting of a line is earth shattering. Thank you for sharing a beautiful expression.
The Welsh coastal stone in its metal holder balances the humility of the natural stone with respectful craftsmanship of a finely designed seat. It is very unusual and easily treasured. I want to send you my stones that seem a bit unappreciated (because I find no way to mount them) or simply lacking in vision from me (though I like the stones a lot). It is probably impractical to send heavy stones & return them. Still, you turn stone appreciation into art, and I am pleased just to view such wonders.
You have a gift that many "self-professed creative" bonsai enthusiast lack in melding traditional spirit with modern style.

Chris Cochrane

Member






---
Permissions in this forum:
You
cannot
reply to topics in this forum