I've been waiting patiently for my escallonia to flower this year. It had a pretty hard trim this year and it would appear to have resulted in less flowers. It was more interested in putting our strong extension growth. But nice all the same :-)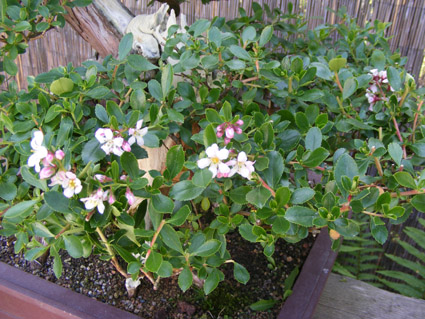 I've worked on this tree since 2001. A full progression in pics can be found here.
Escallonia Progression

Ian Young

Member





Howzit Ian,
Nice work.
I checked out your "Escallonia Progression" and I can see that you put a lot of afford in this tree and it shows. I really like the Jin work. Nice job.
If I may ask, how big is the base of the trunk?
A Hui Hou,
-Tim


Hawaiian77

Member





Ian...

You have a delicate touch in your approach of deadwood... it's truly lovely. I've never seen this species before so I had to spend some time 'googling' it. Very well done!

Kindest regards,

Victrinia

Victrinia Ridgeway

Member





Thanks Tim.
It measures 12 inches across at its widest point and the main girth of the tree is 22 inches around. I just popped out with a measuring tape :-)
Victrinia,
Thanks for your kind comments. The Deadwood has been worked on slowly over the years. With so many heavy branches being removed it takes a while for the tree to figure out the best paths for sap flow. I was lucky with this one as it gave me three separate veins.
Escallonia isn't used much for bonsai. Tony Tickle has his big one that makes my one look shohin size! There was one in the Gingko Award back in 2001 that inspired me to dig this one out of the garden. If there's any more out there, I'd love to see them.
I've been thinking about a possible change of front to improve the tree. It would be nice to see more deadwood contrasting with the live veins. Here are a few options. I'd love hear your thoughts.
This one has two veins coming together then splitting again. The foliage would need a major reworking.
I quite like this too. I would extend the pad of foliage on the right giving a bigger platform for flowering. It also gives a clearer view of the deadwood.

Ian Young

Member






Smithy

Member





Ian...
#2 is my favorite... you can see the deadwood....the taper.... and the trunkline. Excellent view. The first view is a little too dead on for me with the dead wood... There is no play in the live veins... the second view only shows one, but it has a seductive movement in relationship to the deadwood... as it should.

If you do change the front... I do hope you'll post it.

But any way you slice it... it's just a beautiful tree.
Kindest regards,
Victrinia

Victrinia Ridgeway

Member






---
Permissions in this forum:
You
cannot
reply to topics in this forum