We have had the conversations aplenty about how trees, when you see them in "real life" rather than on the forum, sometimes look a bit less attractive than as they appear in the two-dimensional image or they look significantly better.
On Sunday I had the enormous pleasure of visiting Ed van der Reek's splendid garden and I have to say that Ed's trees most certainly fall into the latter category. I have always admired his Euonymus, his Cotinus and of course his award-winning chamaecyparis, but to see them up close and personal was indeed a pleasure. Not to forget the rest of his stunning collection - covering a fair range of sizes and forms. One of the quieter members on here (well, at least he is compared to the big, hairy Dutchman), Ed's obvious talent for bonsai was clearly visible. (IMHO that latter is something we don't often recognise in many of our forum posters as people tend only to post the tree they are currently working on so we miss the bigger picture.)
Thanks for a great afternoon pottering about the garden, Ed, and the yamadori spotting expedition, oops sorry, the dog walking trip to the Rhoon "swamp" was great too. A few pics hastily snapped on my little point and shoot travel camera so they're not anywhere near the quality of Ed's pics.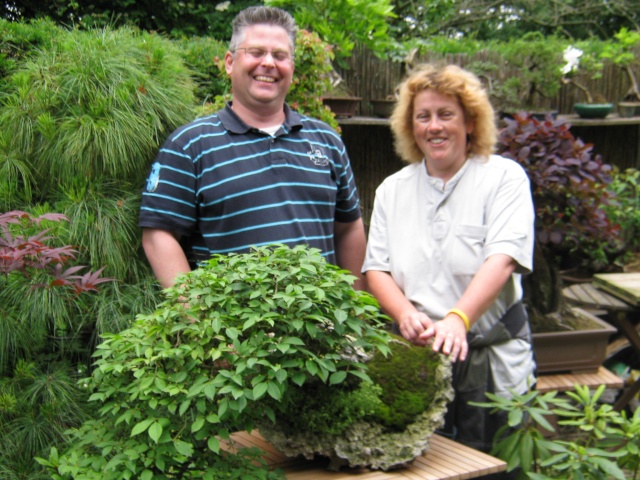 The Euonymus carefully photographed by Ed's wife Fabiana so that neither his belly nor my butt looked big in it!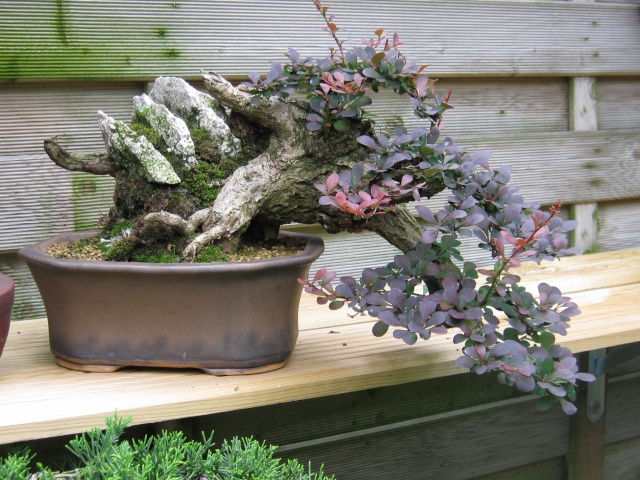 Chuhin sized Berberis in training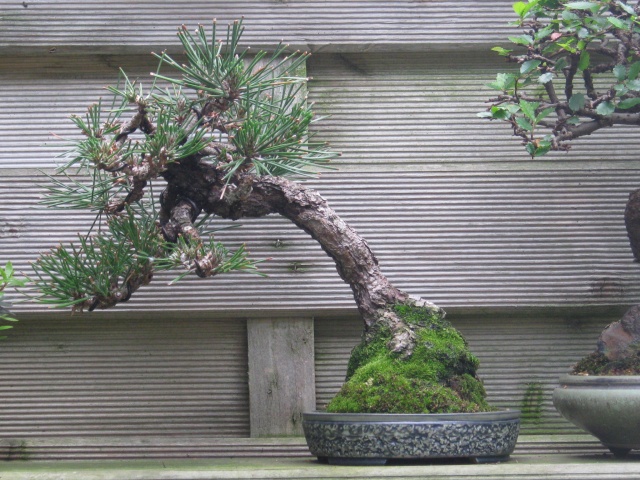 Smashing Pine shohin in a Klika pot ( think. Ed?)
Overview of one end of Ed's display, featuring the chamaecyparis and the raft he posted a couple of months ago.
More later.
_________________
"Espouse elucidation"
_____________________________________
my website

fiona

Member





You both look like you've tried some of those cakes I was talking about. Glad you had a good trip and Ed's garden looks fantastic.
Fiona... I'll come visit you, you come visit me... and we'll have a grand time looking at great trees.

Though I suspicion I might get the better end of the deal.

Thanks for sharing the visit with us....
Victrinia

Victrinia Ridgeway

Member





G'day Fiona...

What a wonderful experience that had to be...visiting Ed's garden. Looks like you could have spent three days there, and still missed something.

And Ed...What a marvelous collection...

Pat…mounted on my trusty stead, riding off wildly in all directions…

bonsaistud

Member





Hi Fiona,
I had no idea that you were going to visit my friend Ed's garden? if I would have known, you would have been more than welcome to have a peak at my trees and garden as well! I live less than 30 min away from Ed place!
Although it probably is better you did not, this time around, my garden and trees and me are not at it's best at this moment. Because of my ongoing back problems, I just haven't been able to do much work lately! So we will keep this for the next time you visit "HOLLAND" tatataa, "HOLLAND" tatataaaa!
I am glad to hear you enjoyed Ed's work and company, he is a nice and talented guy! He only needs a bigger garden!!


Just like I do!!!


Cheers,
Hans van Meer.

Hans van Meer.

Member





I see Ed's garden got much more stuffed with bonsai since my last visit.
Fiona I'm sure jou injoyed his garden. Who wouldn't.

Nik Rozman

Member





Hi Hans. I did ask Ed if you lived near by and he said he'd never heard of you!
That's actually a complete fabrication. He was very very complimentary about you (apart from one or two belly size comparisons). Sadly I didn't have much time to spare on the trip as it was for another purpose altogether.
And anyway, if you hadn't all been going daft about 22 men kicking a stupid bit of round plastic about a bit of turf, you'd all have seen my post about who lived where in the Netherlands so I could come and visit. Then you'd all have been able to boast and brag and blow your own vuvuzelas about your trees to me.



Loved what I saw of NL. I'll be back have no doubt, and Hans - you're top of the visiting list. Get the beers ready. Decent ones - not that Heineken or Amstel p**s
_________________
"Espouse elucidation"
_____________________________________
my website

fiona

Member





Hi all,thanks for those kind words

And Fiona,it was a pleasure to have you in my garden

We look very slim on the photo after all the Brownies and chocolate we eat


And if you go to the next coming Noelanders trophy,I will take the willow with me I promised to you
And Nik,it is always nice to meet you and other IBC members from different countries to visit my tiny garden

Every one is welcome,who is next

Greetings Ed

Ed van der Reek

Member






---
Permissions in this forum:
You
cannot
reply to topics in this forum