Hello

As you all know, chamaecyparis don't bud from old wood, which can limit styling options. I've always wondered about grafting foliege onto old areas to eliminate this problem (I have a C. lawsonii).

1) Can anyone provide some information on how to graft them? i.e. is it better to approach graft, free graft? A good time of the year to do it?

2) There are many different cultivars of C. lawsonii available, could you graft foliege from a dwarf/nana cultivar? The reason I ask is because the cultivar I have now is one of the faster growing varieties used for hedging/garden specimens. Would grafting 'dwarf' foliege onto it slow the growth rate and prevent it growing out of shape so quickly?

I know you can always feed less and keep pinching them continually to keep them in shape, but surely even the actively growing areas will eventually get older and stop producing foliege.

Just a thought, thanks

Richard
The best time to free graft is late Winter/Early Spring and it's best to have the graft recipient to be just starting to push sap. The scion you want to be a little more dormant.

I guess your best option would be approach graft at this time of year.

One of my teachers, Nick Lenz, approach grafted Chamaecyparis obtusa folage onto Thuja occidentalis it is still alive and all the original rank Thuja foilage has been removed.

I'd suggest using regular Chamaecyparis obtusa because the dwarf versions grow so slowly and this will be a long term project already no need to make it even longer.

IMHO, Hinoke foilage is so much better than lawsonii why not replace it.

The trunk should be worth all the effort, something spectacular, otherwise why bother. This project will take a minimum of three years and more likley 5 before complete.
Thanks very much for your reply Doug!
My tree is nowhere near as good as this one; size-wise thetrunk is about 5cm wide just above the nebari, which is probably the best feature of the tree. Unfortunately most of the lower foliege has died back since taking the photo, I pruned the top hard late last autumn to let some light in but to no avail. I left some lower branches on as sacrifice growth, and was hoping to use that growth to approach graft onto the trunk.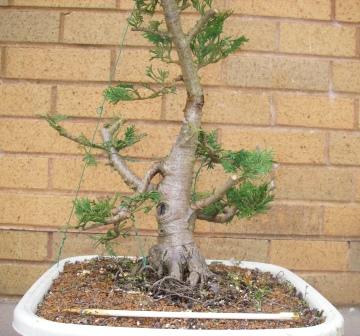 Anyway, as you say, Obtusa foliege is much more attractive, it's not as coarse as lawsonii and I se there are a few 2 litre ones for sale at the local garden centre, so it's no trouble to get stock to use as scions. I didn't realise you could graft onto Thuja, I thought the trees had to be in the same genus! Is it possible to graft junipers onto chamaecyparis? Can you please provide more information on how to free graft?
Thanks again
Richard
What I ment by Free graft was to cut the scion off the donor plant than to insert it into new tree.
There is a good information on grafting at
http://www.absbonsai.org/articles/groundup/grafting.html
and approach grafting at
http://www.bonsai4me.com/AdvTech/ATApproachGraftingforBonsai.htm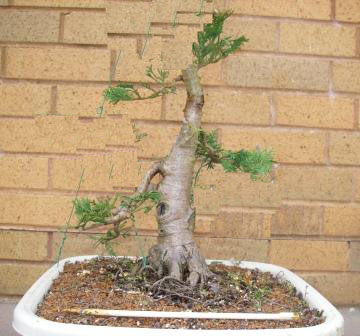 On your tree the trunks not bad and has tapper, so a good start. Tree need to get healthy and gain vigor before pushing it further. I'd be working on that first before proceeding with other work. If dieback was bad and tree looks worse than photograph i'd suggest not doing anything until tree looks robust again.
Buy some of those sale trees and put them in the ground to trunk up and to use as scion wood in the future.
Nicks grafting two different spiecies of trees together successfully is the only time I've seen or heard of it being done.
aha, your virt shows where I plan to chop!

Inicdentally, I'm off to Oz for a year (leaving this week), so I will leave the trees in the care of my dad whilst I'm gone. They bulked up massively last year when I was away as well, I instructed him just to feed heavily and keep them out of the wind when the weather turned. I also think that had something to do with the die back too; last winter was the coldest or 30 years. There are several fully grown trees (maples, conifers) in my neighbour's gardens which have suffered die-back at the extremities. In Britain the problem is not so much the frost, it's the freezing wind, which chamaecyparis don't enjoy at the best of times.

Luckily, the new leader (as shown in your virt) is fully healthy. It's just the smaller branches coming off the trunk which have died back completely. The largest branch at the bottom is ok, although it lost some foliege. I want the tree to heal over the first chop scar before I chop again. Only then would I consider grafting, and that will be at least for another 2 years.

Ta for those links, I have read H.Harrington's approach grafting article a few times already with great interest. I also saw an article by Chris Johnson on free grafing J. black pines, he advocated putting a bag and moss over the scion to keep it moist for the first 2 years. Didn't know if that was the sort of thing I should do here.

When the tree is ready I'll write a new thread showing the tree's progression.

Thanks Doug!

Rich

Edit: Upon checking the abs article, it is said that you CAN graft trees that are in the same family. As Chamaecyparis, Juniperus and Thuja are all in the Cypress family, theoretically you could graft them. There are exceptions of course, i.e. certain cultivars won't graft to others. Anyway, I'll follow your suggestions Doug and return to the tree when it's regained its vigour.
Last edited by RichLewis on Tue Jun 15, 2010 11:17 pm; edited 1 time in total (Reason for editing : more info)

---
Permissions in this forum:
You
cannot
reply to topics in this forum