I don't know what "brand" of Satsuki this is. It is a cutting that was given to me to root 4-5 years ago. The pot and flowers are a bit large. I had this in a smaller pot last year and it didn't do well. It has revived with lots of root room.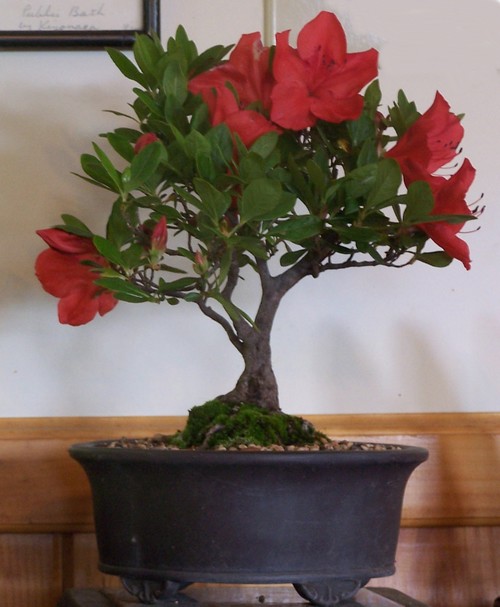 _________________
Jim Lewis - lewisjk@windstream.net - Western NC - People, when Columbus discovered this country, it was plumb full of nuts and berries. And I'm right here to tell you the berries are just about all gone. Uncle Dave Macon, old-time country musician

JimLewis

Member





I really liked this tree. I dont think the big flowers are a problem at all, it made the tree a bit... cute. ( Not meant negatively, I just dont like to use that word so much).
I like pots like that too, but I feel that the dark color makes it a bit hard. A tad rough for the tree.
Just my little amateur-oppinions.

Storm

Member





Last edited by David Cortizas on Fri Dec 18, 2015 4:31 pm; edited 1 time in total
Lovely little "loopy" tree!
_________________
Jim Lewis - lewisjk@windstream.net - Western NC - People, when Columbus discovered this country, it was plumb full of nuts and berries. And I'm right here to tell you the berries are just about all gone. Uncle Dave Macon, old-time country musician

JimLewis

Member





---
Permissions in this forum:
You
cannot
reply to topics in this forum