A friend sent me a pic of his Juniper and a fungus thats suddenly appeared. Its a very fine Juniper and I know he is very fond of it. Anyone know what it is and if its treatable?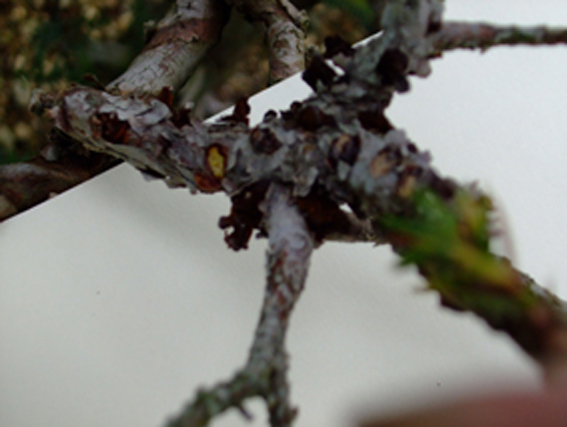 AlainK

Member





Yes Alain, I was interested in that thread but I wondered as this is a different coloured fungus. If it is just that branch, immediate removal and disposal may cure the problem?
Maybe I was a bit too pessimistic. Cutting the branch and treating with a copper-based product might save the tree : actually, it happened to me on a small cutting, I removed the branch and planted the rest in the ground, far from my pear-trees and the rest of my junipers. Three years later, it seems OK again.

But I'm pretty sure it's the same thing, only the orange things must have dried out.

AlainK

Member





Alain. I spoke to him this evening and he said it has never had a yellow stage. Always dark brown.
The yellow thing comes later on. and as far as I know there is nothing else to do than cut the branch off.
I have tried to use some copper-based treat, but it didn't stop it.
It cimes again year after year, it doesn't harm the tree, but the branch with thise things get thicker and thicker and of corse we can't have that on a bonsai.
I've been told that it is Junipers and Hawthorns it grows on, but maybe also on pears.
I have only seen it on Junipers.
There is something that can stop this fungus, but I don't know what its called in english.
We use it in household it is a preservative. used when making marmelade or so.
Put the fluid on the black spot with a small brush and do it each day in a week or so until the black spots dont grow anymore.
I heard from a bonsai friend and have tried it on one of my own trees and it stopped it - Maybe it comes back again next year - I dont know.

Lone

Member





Hello Lone. The only thing I could find as preservatives are Sodium Benzoate and Potassium Benzoate. Is this what you mean?
I've been told that it is Junipers and Hawthorns it grows on, but maybe also on pears.
I have only seen it on Junipers.
This might make it similar to Cedar Apple Rust over here that affects apples and Juniper. Hawthorn are in the same family as apples, and there are rusts over here that affect haws and junipers, too.
You might try something containing carbamate as per my Ortho Garden Problem Solver. Over here it is found in a product called "Ferbam."
_________________
Jim Lewis - lewisjk@windstream.net - Western NC - People, when Columbus discovered this country, it was plumb full of nuts and berries. And I'm right here to tell you the berries are just about all gone. Uncle Dave Macon, old-time country musician

JimLewis

Member






---
Permissions in this forum:
You
cannot
reply to topics in this forum