Dear members,
some weeks ago this oak i potted from the full ground in
one of my pots.
The oak is grown from seed ,is about 85 cm. high.
The pot is 53 cm. long.
With this combie i want to express the fabulous english
oaks and the english stone wall i saw on my trips to England.
As You can see the oak has 2 tops.
This is good and specialy helt that way because 1 top is
going to be deadwood , like the staghead oaks !
This year the oak was ready to go in the pot,
needs a lot of detailwork which i plan to do
further with clip/grow .
For my feeling 1 branch has to come downwards a bit ,
the most lower branch pointing upwards.
I would be delighted and thankfull with Your thoughts.
Kind regards
Morea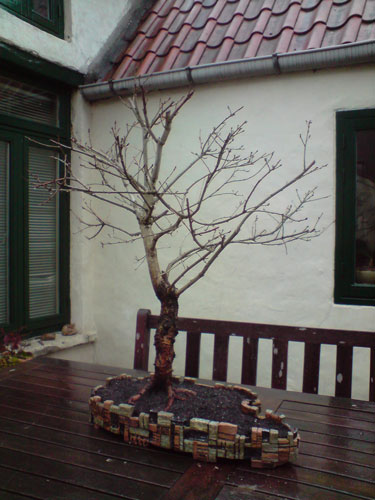 Morea

Member





I would agree with you for what you have mentions thus far in regard to what should be done. Lots of clip and grow. Along with maybe bringing that lower branch a little and lower. Cool tree and very cool pot. I haven't seen many like that. I'm interested to see how this looks in 2 years. Thanks for sharing.

Joe Hatfield

Member





Great pot Morea. I'd agree that the Oak needs to be brought in a fair bit to encourage the branches to ramify better. At the moment their appearance is a bit too straight. Wiring down the lowest ones is a good idea.

_________________
"It is not the strongest of the species that survives, nor the most intelligent. It is the one that is the most adaptable to change." - Charles Darwin.

Kev Bailey

Admin





I love the pot. How did you make it?

-Myrtle
What an interestingly kewl pot Morea. I'll bet that took a while!!

Dale

Dale Cochoy

Member






---
Permissions in this forum:
You
cannot
reply to topics in this forum