I built a display / work bench over this Memorial Day weekend. It stands about 40 inches tall, about 28 inches wide, and about 60 inches long.
The frame consists of 10 - 2x4x8 with not much scrap left over.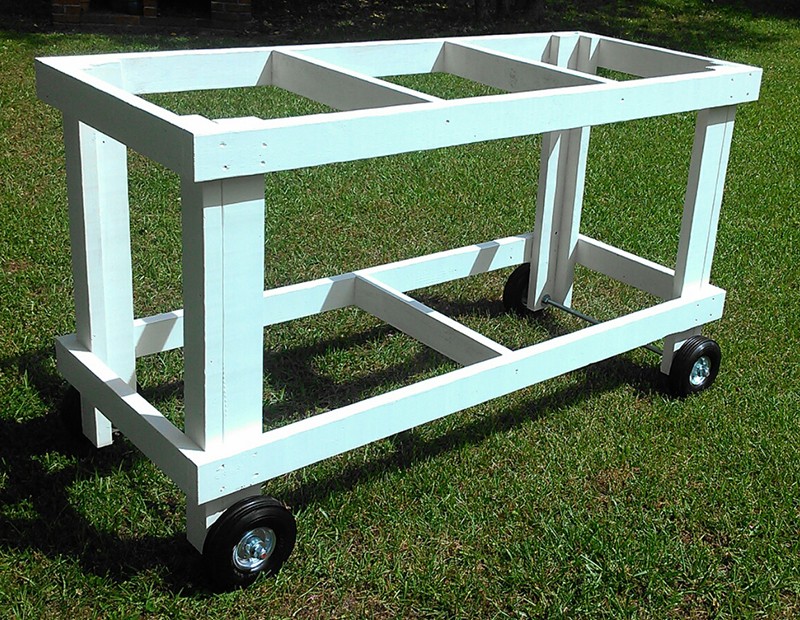 For the work surfaces, I used 5 - 12 feet long decking boards and had very little scrap left over. The inside corners of the bottom shelf were cut to fit around the corner posts.
Then I just threw some trees on it to see what it would look like.
The wheels I picked up at Harbor Freight for about $9 each, they will support 300 lbs. The axles are 5/8 threaded rod, about $9 each at Home Depot, the lumber is from Lowe's.
Over all, I am pleased with how it came out. I can roll it any where in the yard to follow any sunlight or shade.
Thanks for letting me share.


tbarkley

Member





Looks good and sturdy too. Thanks for sharing.

_________________
"Eschew obfuscation"

John Quinn

Member





you might want to consider heavy gauge wire for the top as an alternative to the decking if using to keep trees on it...
that way light can get through to the ones on the bottom...

i have several rolling carts, work benches etc and being mobile is great !
_________________
AAC Original Milwaukee Wi. Chapter - North America
aka beer city snake
http://wiscobonsai.com/

Kevin S - Wisco Bonsai

Member





Snake, thanks for the comment, I thought of that, but I figured I would use decking for those that needed/wanted a little more shade. I have about 2 acres of area if they want more sun. This bench will stay pretty near a huge pecan tree I have right behind the house. Besides, that's where my "porch" swing is (on a frame). In the late summer, I'll grab a handful of grapes off the vine, take a glass of Pepsi with me, and sit on the swing and watch the young deer play in the field. Nothin' like bein' in the country!!!
Whatchathink?


tbarkley

Member





Nice!

Could you have used only one plank per upright corner? I was planning on knocking something similar together myself but with only a single vertical per corner. Your pics make me wonder if there's a flaw in my design, or if you just wanted to do it like this but could just as easily have done it differently?

Cheers

Brendan
Brendan, I guess I could have used one corner piece, but I build stuff very sturdy. It's a fault of mine. I wouldn't have any concerns putting my whole family on this thing..... plus my dog. It will last many years. Hope this helps.

tbarkley

Member





The double boards in the corners forming an "L" shape will make the cart much more resistant to shear by increasing the joint area between the vertical and horizontal members. This means you can push on the top from any direction and the joint will not bend - you will just push the cart over. If you want to make it lighter, I would suggest using 1x stock (3/4 inch, 19 mm thick) rather than 2x stock (1.5 inch, 38 mm thick). You could also probably use 1 x 3 (2.5 inches, 6.35 cm wide) stock as well, particularly if you used some good waterproof (very water resistant in reality) glue for all of the joints.

Marty

---
Permissions in this forum:
You
cannot
reply to topics in this forum