thinking maybe i should improve my irrigation to my bench that i set up last year.  basic ebay system that works reasonably well, some have better flow than others
here is my bench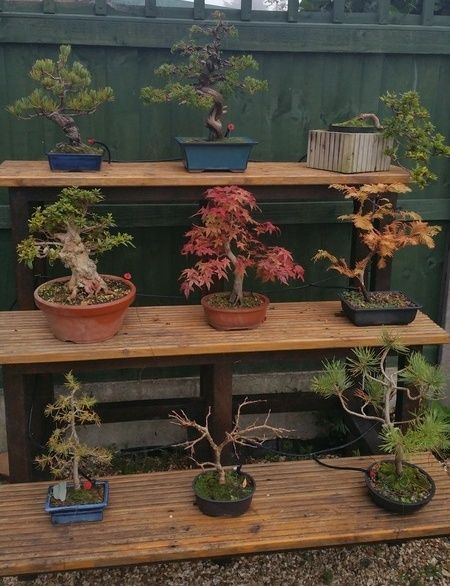 picture A is how i have setup now, goes along and drops down to each shelf and then supplies
picture B i believe would probably be better just a little more fiddly installing and may need longer tubes to the trees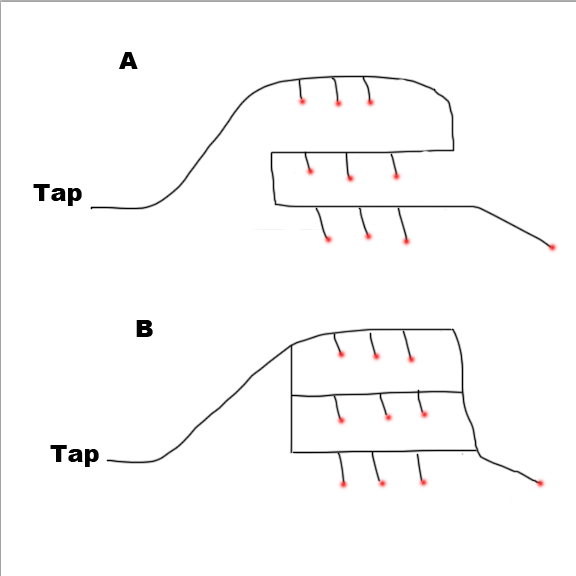 am i ok to user right angled connections or should i try and keep smooth and more of a circle with nice bends etc
should i just run it around the wood frame at far back and then run feeders from there inside to the relevant trees?
supply from tap at bottom or top?
any tips? and could i add some outlets just after the tap for some other trees?  the end is supplying another tree off the bench, maybe i could add a couple there
I do feel style A does hide the tubes better though
Thanks all for any input
There is an ebay bonsai bench system available??
Do you mind sharing the product info?

Also, if you could post more pictures of your bench deconstructed to see how the irrigation works in 3D.

Thank you.
hey marc... i'm gonna scoot this over to the bonsai questions section... maybe it will get more traction.
_________________

AAC Original Milwaukee Wi. Chapter - North America
aka beer city snake
link to ARBOR ARTS COLLECTIVE BLOG

kevin stoeveken

Member





Drip emitter systems are so elevation/head dependent that any attempt to equalize the system will have a beneficial result. In your system "a" the lower shelf would get significantly more water than the upper shelf. The parallel system "b" would help alleviate that problem, but nothing can completely solve it. The top shelf is always going to get less water in a drip emitter system. This can be beneficial if you put trees that like drier soil on the top shelf, e.g. pines.
One alternative would be to have all emitter tubes come from the feed line on the top shelf. You can probably hide them on the back side of the shelf.

Leo Schordje

Member






---
Permissions in this forum:
You
cannot
reply to topics in this forum