Late last winter, I watched a youtube video of an oudoor pine grafter covering the
scion tip with nothing more than wax.  He stripped all the needles from the scions leaving
only the buds.  No baggie.  No damp sphagnum.  No parafilm cocoon. No sun
protection.  
I tried somthing similar.  I performed my grafts in very early April.  I stripped the scions completely
of needles.  The scion buds were dipped briefly in melted candle wax.  I tied the graft unions with
normal grafting tape.  I gave them no other protection from sun, cold, or desiccation.  Several nights,
temps got down in the low 20's.  I thought for sure the grafts would either freeze or cook.     I performed
three grafts this way.  Two failed and one took. Here are pictures of the successful graft after it started pushing.  
url=http://www.servimg.com/view/18285121/27]
[/url]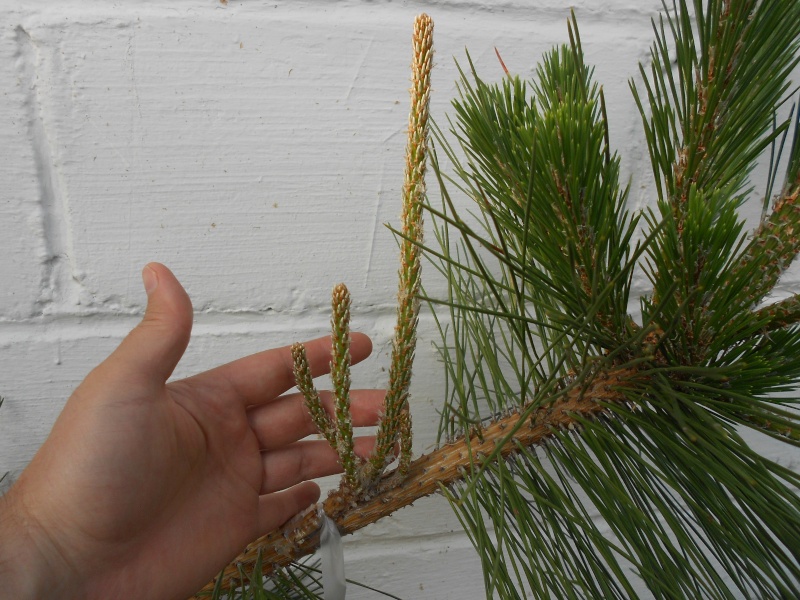 Why would you need to graft on a branch where there are Needles and potential back buds anyway?
Normally one would only graft a pine to put branches where there is old wood and no chance of new buds popping.

Ken
Ken,

Right you are. I'm most interested in grafting P. Parviflora onto P. thunbergii root stock but I didn't want to waste valuable scion wood on such a weird experiment. I also didn't want to scar the root crown of a decent JBP if things didn't
work out. That branch onto which the jbp is grafted is just a sacrifice branch. It was a matter of convenience for the experiment.

Casey




---
Permissions in this forum:
You
cannot
reply to topics in this forum