I have this interesting little Chinese elm, started by Bill Valavanis, that I won in a Rochester raffle. Bill says it is unnamed, but I can't help wondering, since it is so distinctive. As you can see, the bark is quite smooth, unlike typical Chinese elms. The picture was taken in February, and it is obviously evergreen. It has not been pruned that much, as far as I can tell, but the leaves are very small. It does not fit the description of 'Drake,' and I don't think I've ever seen 'Catlin.' I don't know any other evergreen cultivars. I wrote to the cultivar registrar for Ulmus, but never got an answer. Anyone care to give it a cultivar name?
Iris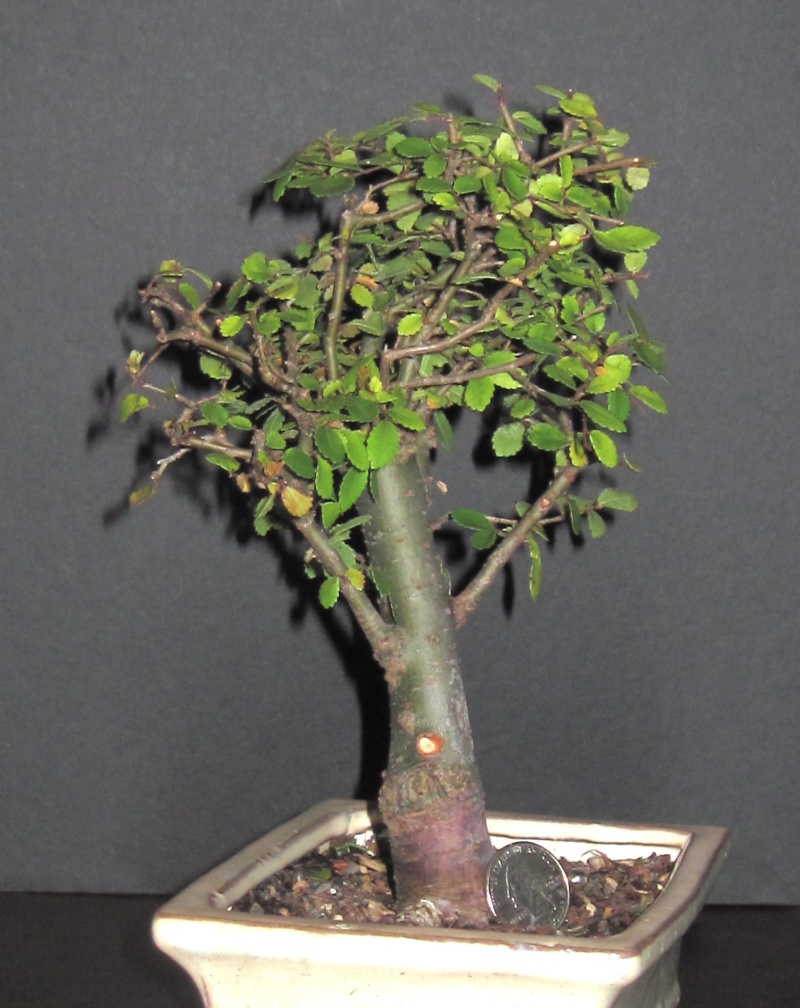 bonsaisr

Member





Looks like it is grafted.
_________________
Jim Lewis - lewisjk@windstream.net - Western NC - People, when Columbus discovered this country, it was plumb full of nuts and berries. And I'm right here to tell you the berries are just about all gone. Uncle Dave Macon, old-time country musician

JimLewis

Member





I have both cork bark and Catlin elms, and that looks like a Catlin to me. Although, those leaves are a bit small for not been cut much. I'd say its most likely either a Catlin elm, or A Seiju elm. The Seiju being the species with really small leaves compared to the Catlin and cork bark.
My opinion.

Shayn

Member





It's not Seiju, which I have. Hard to tell from the pictures online of Catlin.
Most unlikely to be grafted. The other side of the trunk has no seam. I never heard of Chinese elm being grafted. I doubt if Bill would style a grafted elm to donate to a raffle.
Is Catlin hardy to below freezing?
Iris

bonsaisr

Member





Iris,

That elm is a common Chinese elm, Ulmus parvifolia, imported directly from China. It is the common species. If you look closely and have the experience you can tell it was started from a root cutting, not stem cutting.

It is not a Catlin elm which has thick, dark green foliage, but a different shape.

Bill

William N. Valavanis

Member





That explains it. It is probably a different strain from the Chinese elms that are propagated by the hundreds in this country. I was wondering where you got it. I am very fond of it. I hope I can do justice to it.
Iris

bonsaisr

Member





Its just a regular smooth barked Chinese elm, the type produced in the masses and imported from China. leave it outside for a few years and it will gradually develop craggy bark. Like these two of mine, which are just regular Chinese elms that would have started out with smooth bark.

BobbyLane

Member






---
Permissions in this forum:
You
cannot
reply to topics in this forum