I thought I had ben careless with my pine...but now is it happening again...on the upper branches is bites missing, does anyone of you know what is eating my tree?..it is only this tree
url=http://servimg.com/image_preview.php?i=1396&u=15676504]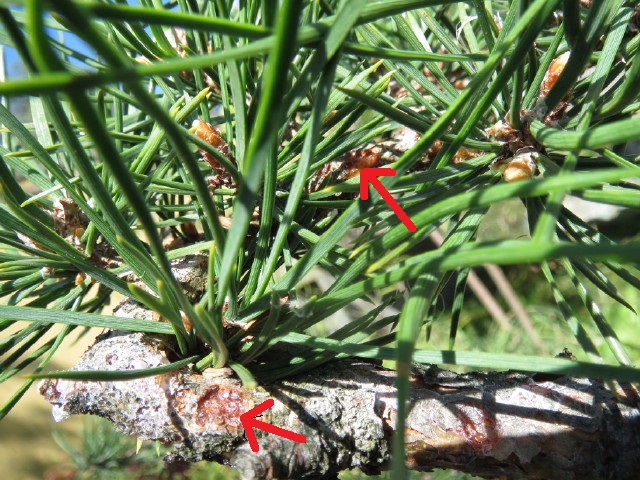 [/url]
Kind regards Yvonne....Thanks Fiona for your upload of photo help  

Are you sure those a're "bites"? I don't know of anything that would willingly bite a pine, especially more than once. They look like cankers, which are a sign of infection of many different kinds. I would isolate this plant until you can positively rule out infection.
I agree that it looks pathogenic. I am interested in knowing what it proves to be.

Pathogens are easier to identify if one knows the common ones for where region where the tree is now or was before your ownership. Any chance that it is mistletoe?
Last edited by 0soyoung on Tue Aug 19, 2014 7:50 pm; edited 1 time in total (Reason for editing : spelling correction)

0soyoung

Member





I have been through a older book, I forgot we had...my husband reminded me of it..
It appears to be hagldamage...no wonder if it is so...the branch is VERY juicy and crisp, the needles strong and big... tomorrow I take a second look at it all, but for now am I thinking it is hagl....the sice, looking like a tiny bite, no strange sapflow, inc. the weather we just had.
Kind regards Yvonne  

 I will be back if I dont think it is hagl after all, and something else show up
yea...you are right  


---
Permissions in this forum:
You
cannot
reply to topics in this forum