A few months ago while picking up some ProMix at a feed store I looked around in their nursery yard. I noticed a couple of interesting new hydrangeas which I've never seen before. I was not looking for anything in particular, just looking and my eye was caught by the shape of the hydrangeas. Note I was looking at shapes, not species. Two specimens had beautiful natural untouched shapes and I purchased the most interesting plant.
The new plant, Great Star Panicle Hydrangea,
Hydrangea paniculata
'Le Vasterival', was growing in a two gallon can and I took it home and potted it in an expensive Japanese Tokoname ware Japanese container from the Reiho Kiln. Over 25 years ago I had three special containers custom made in special colors for some trees. Those bonsai are now too large and the container is broken, but repaired.
Only a couple of branches were pruned and a couple pulled down with guy wires. This plant continues to dry out quite quickly and it now sits in a shallow basin of water, thus the name "Hydrangea."
I've been watching and studying this plant waiting for the delicate white flowers. Some did not understand this bonsai or the subtle beauty, but I liked it and wanted to share it with visitors today.
Enjoy the summer display in my studio tokonoma alcove.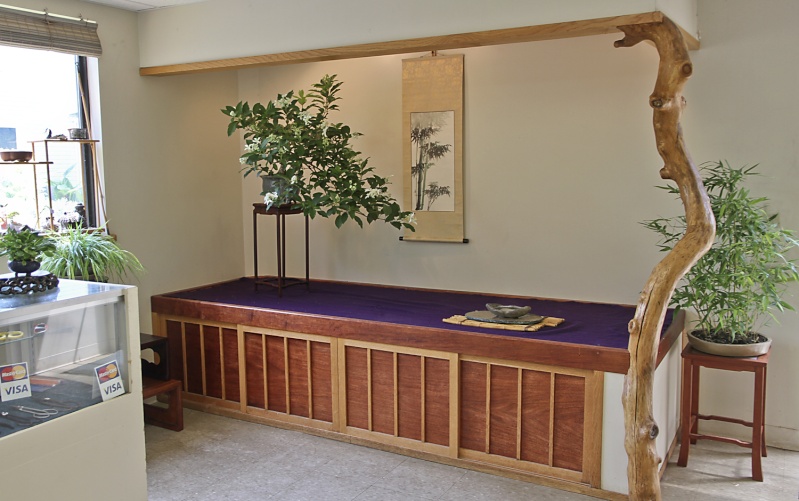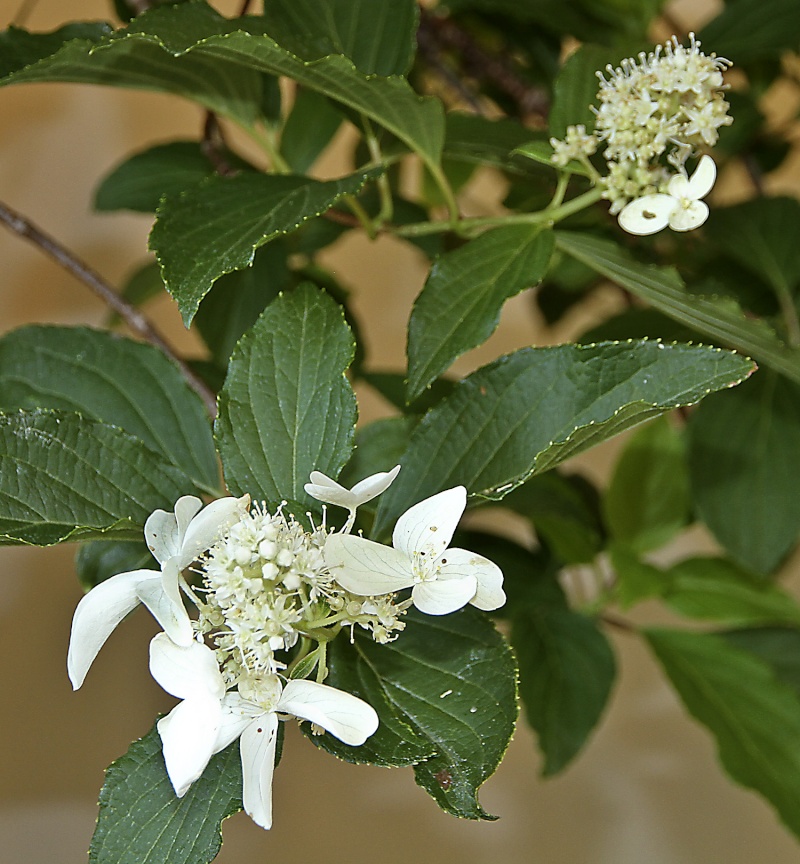 William N. Valavanis

Member





Unusual . . . and lovely, Bill.

(And thanks for the Thuja articles in your latest issue!)
_________________
Jim Lewis - lewisjk@windstream.net - Western NC - People, when Columbus discovered this country, it was plumb full of nuts and berries. And I'm right here to tell you the berries are just about all gone. Uncle Dave Macon, old-time country musician

JimLewis

Member





yes, beautiful!! And love your display area
Summer was such a wonderful and care-free time in Japan. I love the whimsy of their summer displays... so many unconventional things you'd never see otherwise. Special times for sure.

Thanks for sharing.

R

Russell Coker

Member





Hi Bill
I like how you use all the elements to the japanese tradition, to offer the viewer a cool shady summerbreeze, on a hot summerday...Lovely  

Kind regards Yvonne
I love the light feel and Summery feeling this display emotes. Thank you for confirming that bonsai is more than just using conventional styles; more importantly, it is the feeling that you so often remind us about. 


Todd Ellis

Member





Hallo Bill
I think you did a marvelous job in this display.  Everything is very well balanced.  
We call this kind of Hydraenga the
Lace Cap
Hydraenga.  Or actually, because they flower in December here by us we call all Hydraenga, Christmas Roses.
I like your Tokonoma very much. Is it longer that usual?
What kind of wood is your beautiful toko bashira?
Who was it again who had a Bamboo toko bashira, I thought it was you Bill?
Love and light

Andre Beaurain

Member





Andre,

Thanks, I appreciate your comments. It's nice to know that some understand my sense of beauty. Yes, in the nursery industry here we also call this type of Hydrangea Lace Cap. Its still blooming by the way.

The tokonoma is "standard" size, 3' by 8'. But tokonoma come in all sizes, however, for bonsai display, the size I use is quite common.

So you like my tokobashira! Well, it's a Camperdown Weeping Elm, or it was. I grew this tree from a one gallon can, planted it in my garden and wrapped the thin trunk around a 10' metal electrical conduit. A long time later it died, but I kept the interesting trunk.

When I got married, moved and designed my new tokonoma 27 years ago the tree was perfect for the accent pole. David Knittle who built the tokonoma and I struggled for several hours, about half a day on the correct positioning for construction support as well as aesthetically pleasing. At the end of the day my new bride, Diane, walked in and instantly said, how about this way. Well it was perfect and it's stayed that way since. I only wish she walked into the studio earlier in the day.

Also, by the way, this is not my first tokonoma for bonsai display. Before I got married I built another tokonoma in my mother's home. And, the tokobashira for that was also a tree I grew, a Zelkova. That tree did not die. I needed to remove it from the garden because my new lath house was going there. If I find a photo of it, I'll post it. But remember, many of my old photos and slides got BBQ'd when our house burned down five years ago. I think I used the image for an ad in an ABS Magazine and can find an image to scan.

Bill


William N. Valavanis

Member





Found an old ABS Magazine with an I had and scanned the photo. Sorry about the quality, photo over 30 years old.
This was my first tokonoma for bonsai display. The tokobashira on the left was a Zelkova growing in my garden. On the right there is a row of black bamboo sections. Directly above it is a door to hold small display items. The shape of the window on the left is similar to my
International BONSAI
logo.
Please remember this spring display is over 30 years old and I've learned a great deal on display and also my taste has changed, hopefully for the better.
I also have an outdoor tokonma in my display garden as well as a miniature tokonoma in my studio for displaying and sharing bonsai with friends.
Enjoy this vintage photo.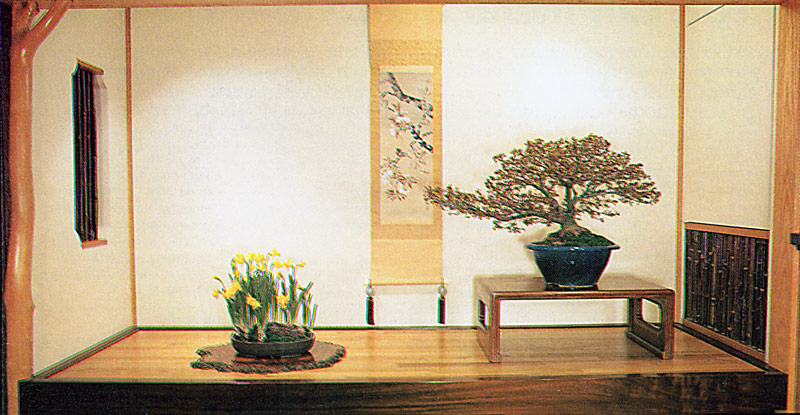 William N. Valavanis

Member






---
Permissions in this forum:
You
cannot
reply to topics in this forum