Here is one of my first attempts at a viewing stone at our local Fathers day show. There were allot of questions (public and club members) and different thoughts or interpretations of what people were looking at. The Lord of the Rings book/film was brought up several times. Some of our club members are getting some to. It comes from Santa Eulalia, Chihuahua, Mexico. It did make people stop and think for a while. Any comments would be welcome.
Thanks,
Mike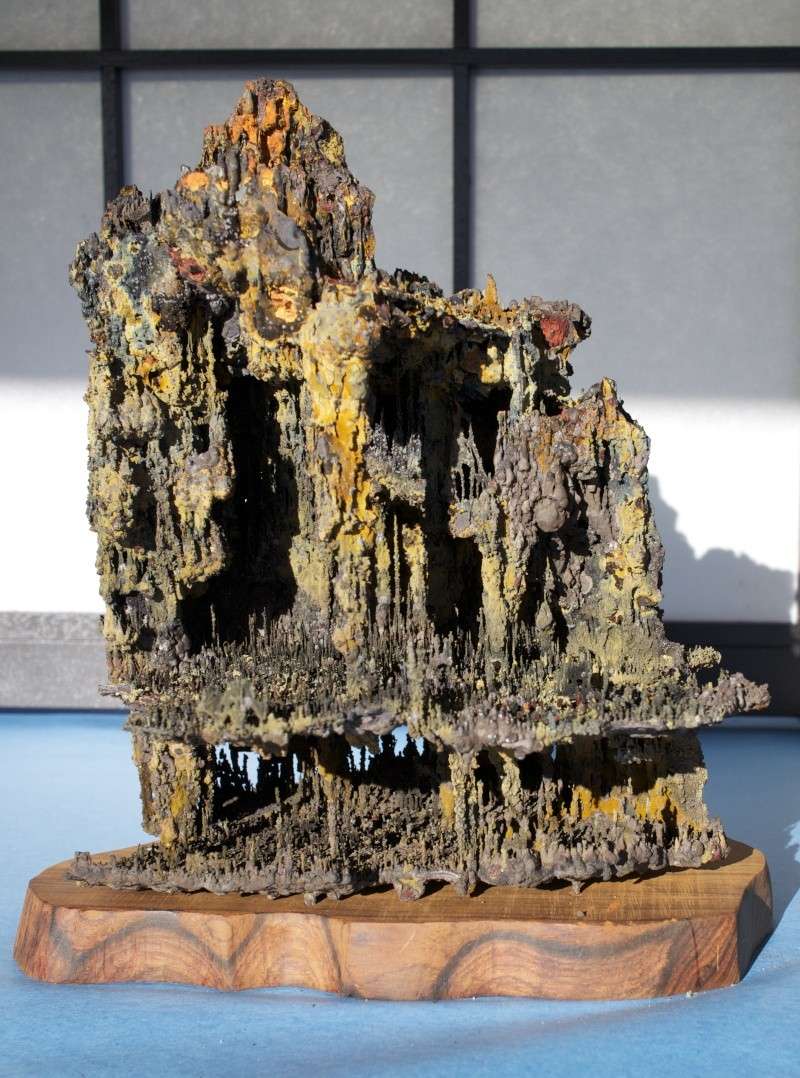 Lost2301

Member





Incredible stone...

Do you know what type of stone this is?

Ill give you a hint.... This stone was prized the highest in the age of Bushman and Strandlopers (which are now extinct due to hunting)(Yes Humans hunted Humans ages ago)

Love and light

Andre Beaurain

Member






Tom Simonyi

Member





Mike, your thoughts on the daiza as pictured. Thinking a doban or suiban might give it a more complimentary look....To me it looks like a desert stone having survived the eons of blowing sand....

dick benbow

Member





I love both the stones.

The first one will keep me busy for hours appreciating it!

Lennard

lennard

Member





Andre,

I am not sure what you are referring to as to what type of stone it is? I don't think your asking what type of material it is, it is "Goethite". These are being mined in Mexico.

Dick,

I did consider using a Suiban but I was concerned about how to get the sand out of it should some of it get in it. This is a very porous stone. This stone is pretty flat on the bottom and only had a few areas on the bottom that made it hard to stand up by itself. I did carve out some areas on the wood diaza.I have another one that is equally beautiful that would not be able to stand in a suiban. I do agree it would probably look best though. If anyone wants to see more of these stones, go to Ebay and enter Goethite in the search box and look under the completed auctions. About 5 or 6 of them were just sold. There was one that would have really looked great in a suiban, it was more long and wide then up and down.

All,

Thanks for your comments.

Mike

Lost2301

Member





Mike, I was referring to the colour.  

Your stone contains hydrated iron oxide, which is the yellow to brown colour,   and also dehydrated iron oxide which is the most prized, and is the Red colour on the top, right hand corner of your stone.

It was used to paint the famous cave paintings of  the World, and the Bushman drawings of Africa.

This type of Iron stone usually occurs at hot water springs and geysers.

A really beautiful stone.

Tom, your stone is something totally different.  Not the same formations.... Me thinks.

Love and light

Andre Beaurain

Member





Hi Lost
Your stone look like a dream  

I think a jitta is a good choise, but I would prefer to use a very thin natural shaped polished jitta, due to the fine texture of the stone.
A very low quiet suiban could also be quit exiting, dont use sand, but let the stone stand in shallow water...to follow this stone dry up, is something i would be happy to do.
Kind regards Yvonne

Lost2301

Member






---
Permissions in this forum:
You
cannot
reply to topics in this forum