Hi,

Three weeks ago I repotted my Japanese Beech and found that it had a very poor root system.  About 10 days later, I was relived when the leaves started to open on about half of the branches. I wasn't too concerned about the foliage not opening on the other branches, because I assumed that they were just a little bit behind, because of the repot and very poor root system.

However,  in the last couple of days I became more concerned, because I noticed that the buds wasn't growing. So tonight I peeled back some bark on the branches without leaves, and unfortunately instead of a healthy bright green colour, I found a very unhealthy brown colour. In other words, the branches were dead. I peeled back the bark on the branches where the leaves are open, and they are bright green. However, they also have some dead sub-branches

So, for my question. Is there anything that I can do to rescue the situation, or is my tree destined for a slow death? I don't think it can be anything else except a root problem, and I have already repotted into good quality substrate with lots of air circulation. Should I cut the dead branches off? also, I was thinking of trying to insulate the pot in order to raise the temperature, which hopefully might encourage root growth. Would this make any difference?

I've been doing Bonsai for ten years, and in that time, I've lost two trees, but this very much reminds me of a very nice White Pine that I lost, no matter what I did, it just slowly died.

Any advise you can give would be much appreciated.
Last edited by Stephen_S on Fri May 23, 2014 3:10 am; edited 1 time in total
At some point there is not much you can do, it has new free draining soil you done that. I would leave it be, put it somewhere with decent light out of the wind and full sun. It might die or it might surprise you, but doctoring won't help.

I have a Wisteria that I put under the bench thinking it was dead, it surprised me with some green points this late in spring.

arihato

Member





I agree. While you are waiting for the tree to decide, you might start thinking of a redesign.
_________________
Jim Lewis - lewisjk@windstream.net - Western NC - People, when Columbus discovered this country, it was plumb full of nuts and berries. And I'm right here to tell you the berries are just about all gone. Uncle Dave Macon, old-time country musician

JimLewis

Member





hi, i love white beech but it has been a 7 year learning curve,
fagus crenata are not so simple - the growth and vigor you get this year was largely laid down last year when the buds were formed and set. if a tree is in poor soil, too wet, pruned badly (ie cut back too soon to just 2 leaves) or underfed it will form very weak poor dormant buds - the following year you have a tree that grows very weakly because of the treatment the year before - this causes lots of head scratching and can easily occur with newly bought trees as the seller may not have known how to keep them properly.
you also have the problem of doing everything right but seeing no improvement - the work you do this year dictates next years health and strength so you need to have total faith and confidence in your methods. Crenata will drop entire branches from the bottom working up if they get 2 years of incorrect care, they drop lots of inner branchlets and inner buds the year following incorrect care so one year of neglect takes a lot of time to repair. They need as much summer warmth as possible to grow strongly - remember they are not our european native beech for a reason so need more attention.
White beech are basically single flush trees so do not make new buds that open into more leaves in the same year. for this reason there is no reason to prune the shoots back too soon - you weaken the tree by pruning too soon and gain nothing as the buds you leave just sit until next year anyway. crenata branches are not pruned while still in active growth - wait untill the leaves are out and formed, then look closely at the leaf bases for the new buds and cut back to 2 BUDS not 2 leaves - 2 leaves may have no buds so that section of the branch is ruined for next year if you prune back incorrectly. once you have a nice leafy tree do not totally defoliate - cut back to 2 leaves with buds at their bases as described above then cut the larger outer leaves in half if they are shading inner growth.
when you see new buds form under a mature branch keep one rather than rubbing off - these are often needed to grow a new branch when one weakens or even dies - i believe the tree knows well in advance that a branch is on the way out so makes new inner shoots - the owner has read somewhere to remove shoots coming from the trunk so the tree loses both the old and new branch !
feed well, higher percentage akadama, feed well - we use my organic pellets and weekly fish emulsion, let the tree flush out rather than being too quick to prune, dont buy a tree with just leaves on the end of bare branches, these will take 10yrs and luck to sort out.
here are a couple of our trees - one now sold to a new owner and one is mine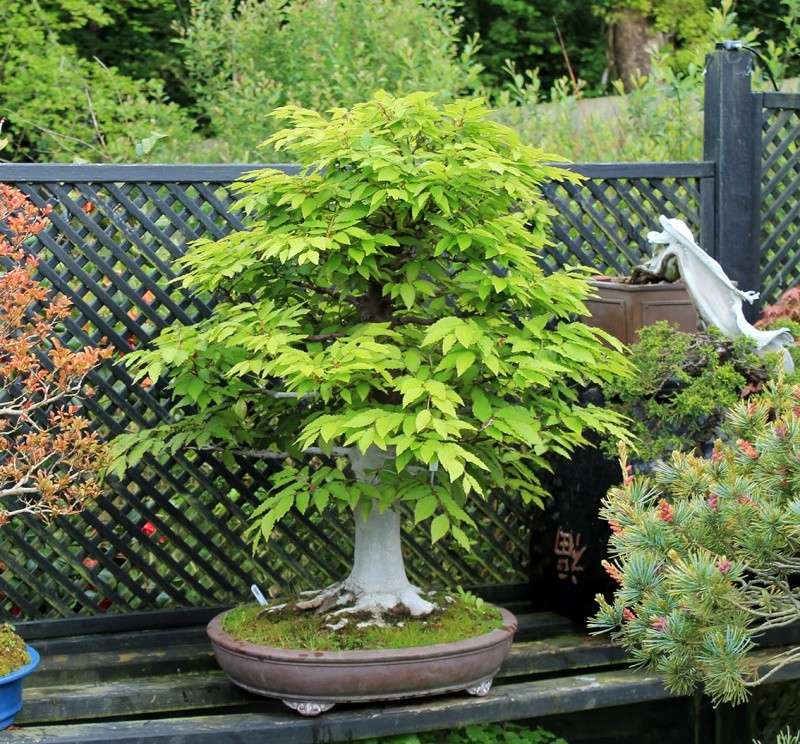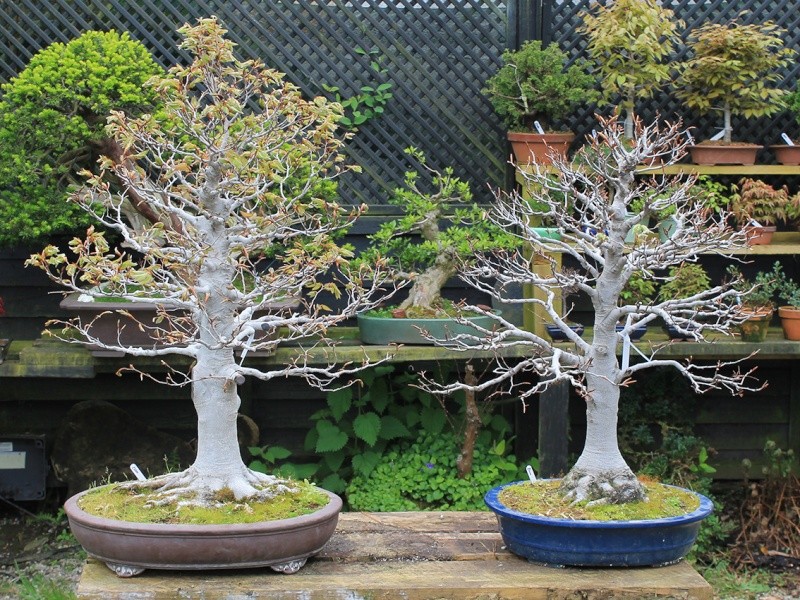 over the years I've had 5 others all sold on to new owners and touch wood not lost one.
good luck - stop scratching off bark - its giving the tree more damage to deal with too

marcus watts

Member





Thank you for your replies so far. I've had the tree for about 7 years, but in that time, I've never really understood how you look after it. I decided to prune, because the top third was way too vigorous and the branches on the bottom third were basically withering away. I also think that I've been guilty of over watering in the past.

I must be honest and say that that I'm expecting the tree to die. However, there is still plenty of leaves on the top part of the tree and they're not turning brown. I can see just a couple of buds growing from the trunk, at the side of a dead branch. I'm assuming the branch is dead because there's no sign of any buds, apart from old shrivelled ones. Also I peeled a small area of bark away and it was dried and brown. Should I prune this dead branch away or leave it? Also, should I feed now, or wait to see if things improve first?

Marcus, if the tree lives and it takes me ten years to rebuild the branch structure, then I will think that I've got off lightly. But sadly, I'm expecting the worse.
Hi,

Just thougt that I would post an update on my Beech. Its been abot three weeks since I discovered several dead branches on my tree. By this time I expected the whole tree to be dead, but it isn't.

I moved it to a shaded part of the garden, kept it watered and lightly fed, and I'm still seeing light green under the bark. several small buds have opened towards the top of the tree, but there dosn't seem to be anything happening further down.

I was wondering if the tree was going to die, would it have done so by now?

Best wishes
Stephen

---
Permissions in this forum:
You
cannot
reply to topics in this forum