As any other Spring I encounter loses on my trees. Last year was 5 Japanese Maples and this year bad hit on Pinuses [Sylvestris and Thunbergii] I have no idea what went wrong. Past winter I improved cold protection. I built  large cold frame for my smaller trees and put up shelter for medium and larger ones. They all were mulched up to first branches and ocationaly covered with snow. Even the trees in very large pots all nicely survive grouped together behind cabano. Is anyone here to know what's happen. Thanks in advance.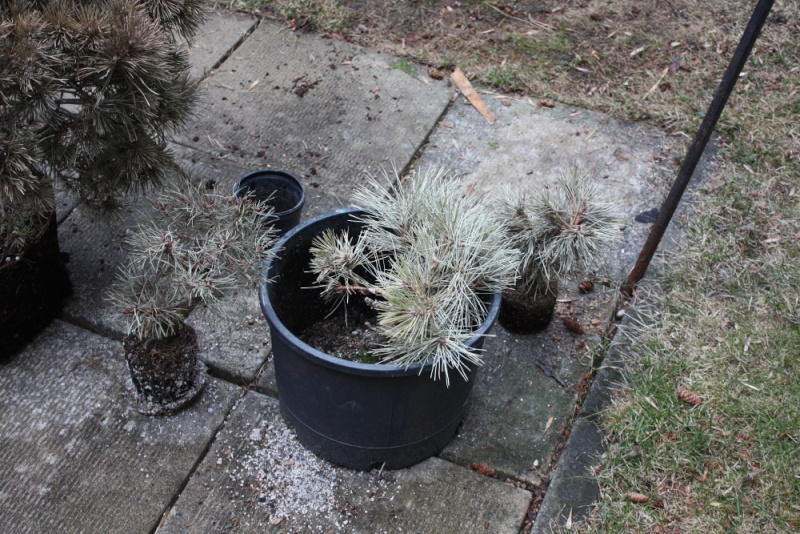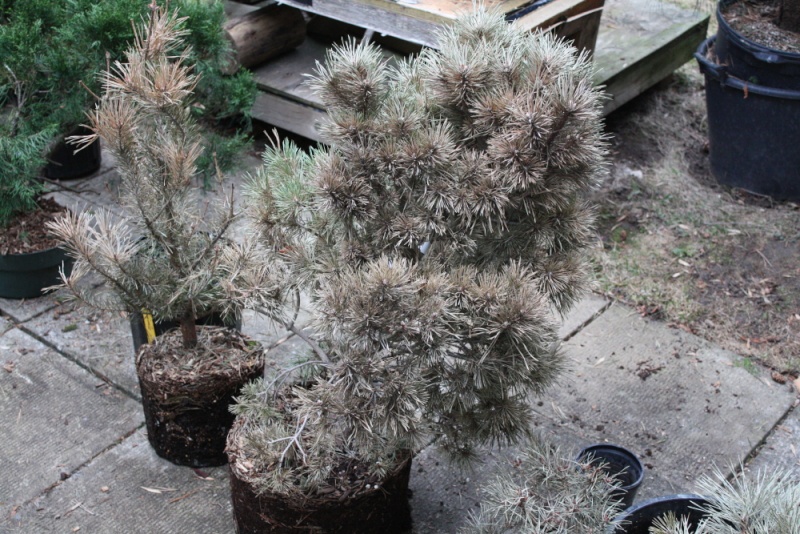 yamasuri

Member





I have similar troubles - every year it is something different that doesn't survive. As I understand, the general nature of the problem can be described as 'dessication'. It just keeps arising in ways that surprise me and I have a much milder climate than yours.

I lived many years on the plains of eastern Colorado and eastern Idaho which have climates a bit more severe than yours. Few nice trees can survive the winters there because the extremely dry, cold, and windy air, along with the bright sunny days, dries the cambium. Sometimes trees will limp along with a little surviving cambium on the northern and wind sheltered side for a few years. But I continue to be surprised here on Fidalgo Island where just about anything will grow and yet I lose several trees each winter. And I'm intrigued by the surprising ways they go about dying unexpectedly.

I know that what you're showing in the pictures also occurs in the wild to trees in full sun and possibly also wind exposed - I cannot recall, but foresters have a term for it. Again it seems to be a dessication problem - wind and sun extract more water than is supplied to the foliage. Transpiration pulls (sucks) water from lower down the tree - ultimately from the roots which are not particularly active in the winter. Cavitation (the formation of vapor bubbles in the xylem) can result which stops any further water transport. If so, the foliage will certainly dry and turn brown. Cavitation may also occur because of the xylem 'sap' freezing.

Alpine trees have narrower xylem lumens than do low-land moderate climate trees which affords alpine trees greater tolerance against cavitation. Japanese black pine (P. Thunbergii) is a lowland/sea-shore specie. I am unsure about P. sylvestris.

Hardening for winter is another climate factor that could have played a role. Basically what happens is that the night time chilling + day time warming 'sugars-up' the entire tree - sugar acts as antifreeze. This is caused by an enzyme whose action is triggered by freeze-thaw cycles. Trees will 'sugar up' or 'harden' more if average temperatures decline slowly so that there are many freeze-thaw cycles before the hard freeze of winter.

Maybe add more wind and sun protection in the winter. It may have been worse this year than others because of an abrupt onset of winter in late 2013 which precluded much hardening from occurring. As rediculous as it sounds, might also help to water your pots during winter if/when they are not frozen solid (which I'm thinking they shouldn't be when mulched as you describe). I suppose it is also possible that the trees wintered under snow cover in the past years which indirectly protected them from dessication by the sun and wind.

That doesn't really answer your question.

0soyoung

Member





Thank you Osoyoung for very detailed explanation. It make sense for me and is what happen here with my trees. Believe is frustrating and I'm not interesting in buying new trees this year specially not enough hardy species. Even if I drive by car around neighborhood I see a lot of damage on peoples gardens especially shrubs hedges and even grown trees. Probably I should move?? 


yamasuri

Member






---
Permissions in this forum:
You
cannot
reply to topics in this forum