hi

im looking for advise from fellow UK bonsai-ists


do you display in your garden in full contact with our watery weather of use a bench etc with some sort of canopy to stop a lot of the water?



im designing a bonsai bench in my head and now im just thinking that maybe better to have a canopy so i can control the water supply, personally i feel will look better without but then would help stop any major rain falls


whats your thoughts?

Hi Marc.
Here's how I do it - bearing in mind that this applies only from spring through to early winter as the rest of the time the bulk of the trees are under shelter either in a garage or greenhouse or in a purpose-built shelter.
Half of my trees (usually my smaller trees) are on open benches against the back wall if the house. They get a degree of protection from the wind because of that and the eaves give them a bit of shelter from the rain. (remember, this is the west of Scotland so a lot of rain, as they say, is no stranger to us - even in the height of summer).
In summer my larger trees sit out in full sun in the main part of the garden.  The layout and location of the garden mean that it gets about 16 hours sunshine (or at least, daylight) in the summer.  I would not consider putting any sort of canopy over them. 
For your own benches, the best recommendation I can give is that you make sure you locate them somewhere that makes it easy to water the trees.  I know there's an irony that your question was about how to stop the rain damaging trees. 
Also beware of draft pockets/wind funnels as sometimes it's easy to forget that even in warm or hot weather, freak strong drafts can do damage - and sometimes this is as damaging, if not more so, than rain. 
Not the best pics I could find.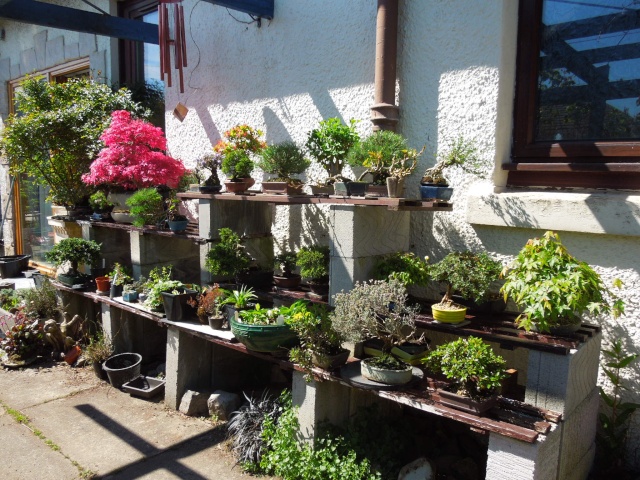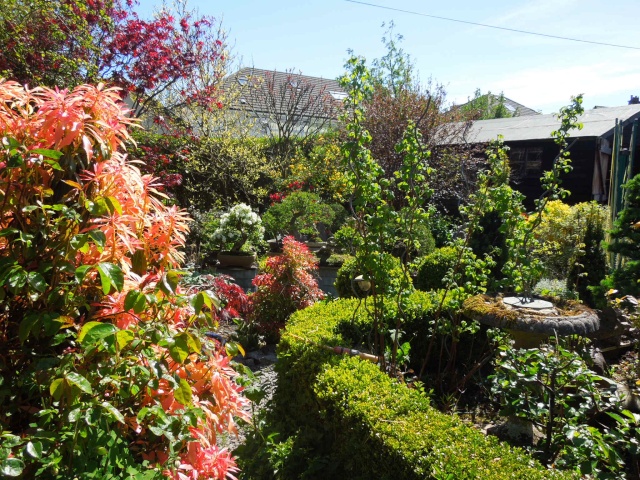 _________________
"Espouse elucidation"
_____________________________________
my website

fiona

Member





thanks and very nice setup

just shows i don't have to go to some elaborate bench system to get a good looking bench


im in Kent, the garden of England. probably the hottest place in the UK in summer.
the garden is south facing and the bench position will have to go side on to the sun, meaning will receive sun for most of the day. some wind but im planning to grow some cannas each side to help take some of the brunt of the wind. but still feel that smaller pots may need to be wired to the bench to stop moving

i suppose the UK rain is ok as long as good draining soil, i have already invested in some. any major rain storms and I will happily move to the shed

also already planning to re-roof my brick shed to have a better see through plastic roof for winter storage. no frost or rain but still receive some winter light


bench plan is for 3foot wide and 3 steps. originally planned to be covered in decking with no gaps, a full 3 steps covered in decking. playing with other ideas as im no wood worker



i don't even have many trees yet but i'm hoping to buy a couple more and then maybe the odd one through the years.

baby on way so the money will soon dry up, hoping this can be my hobby and watch the trees and my baby grow through the years


---
Permissions in this forum:
You
cannot
reply to topics in this forum