This Larch group is remarkable in many ways, non more so than for the reason and time of year that it was put together.
June 2012 at our (Dragon Bonsai), club show we did a demo on how to put a group together, with some of the wild collected larch seedlings that we always seem to have plenty of.
So in full leaf these were all but bare rooted and put together on a hot weekend to show the the steps of how to arrange the trees when thinking about the positioning of the trunks etc and the overall practicalities of the operation.
We took all the precautions we could for the health of the trees, spraying the roots and foliage regularly during the operation and keeping them out of direct sun etc.
After we had finished Pete wanted to take the group on and has done a fine job to present it 18 month later for potting with not one tree having suffered!!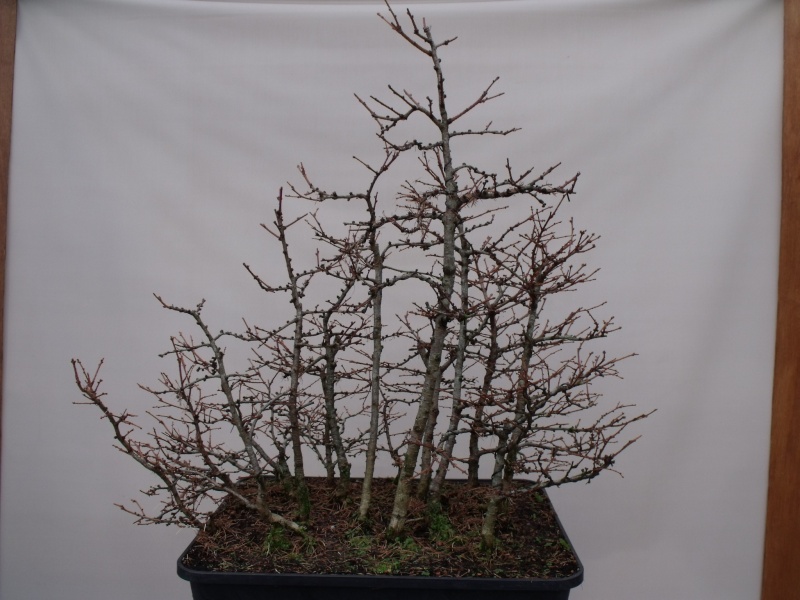 The intended slab pot was to small so a more traditional pot was selected

chris

Member





Pete meshed and wired the pot in readyness for the trees, the group was then taken out of its training tray and slightly root raked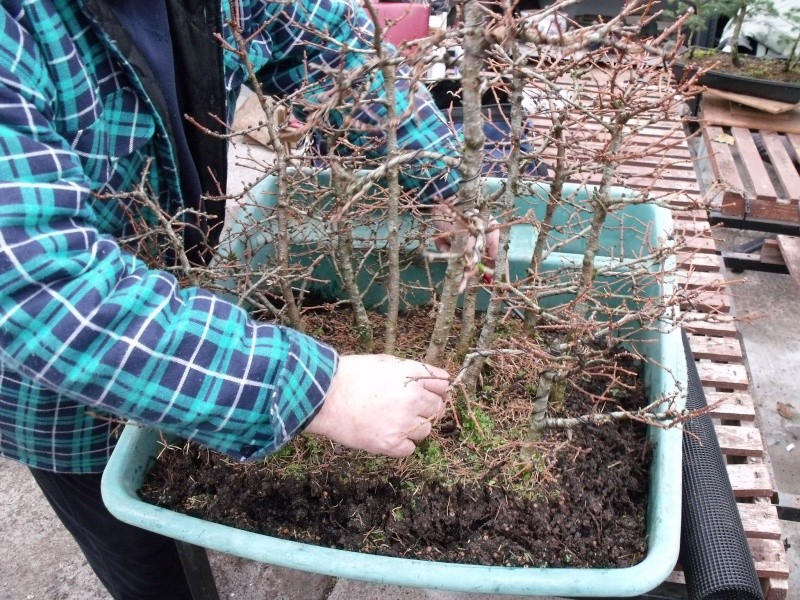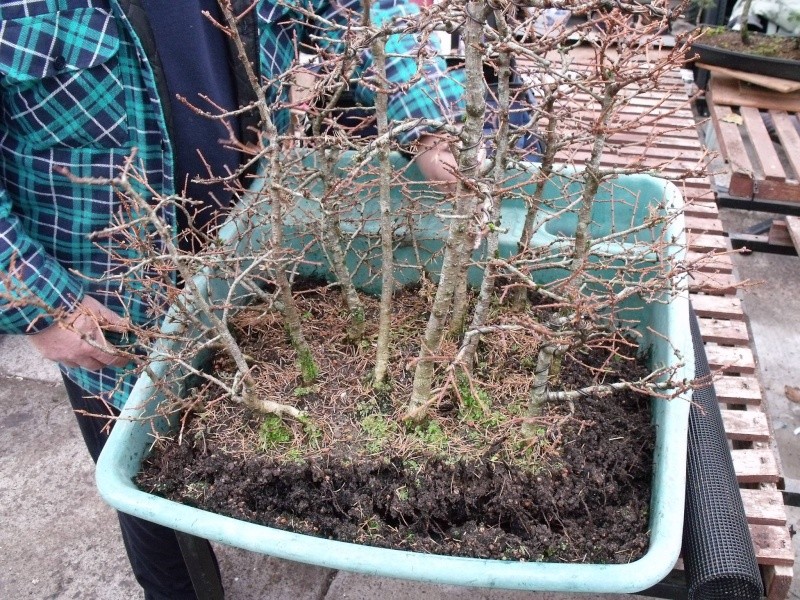 chris

Member





The group was now positioned in the pot and wired in firmly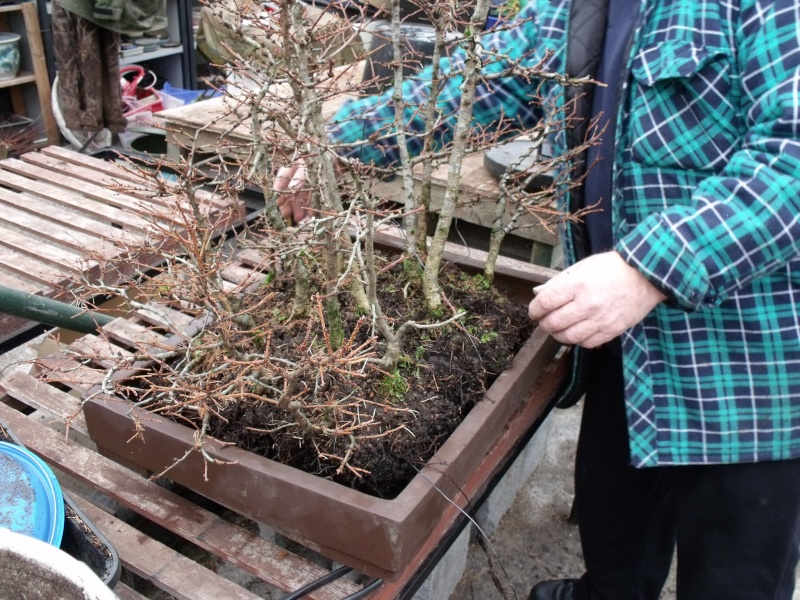 So here we have the repoted image now awaiting wiring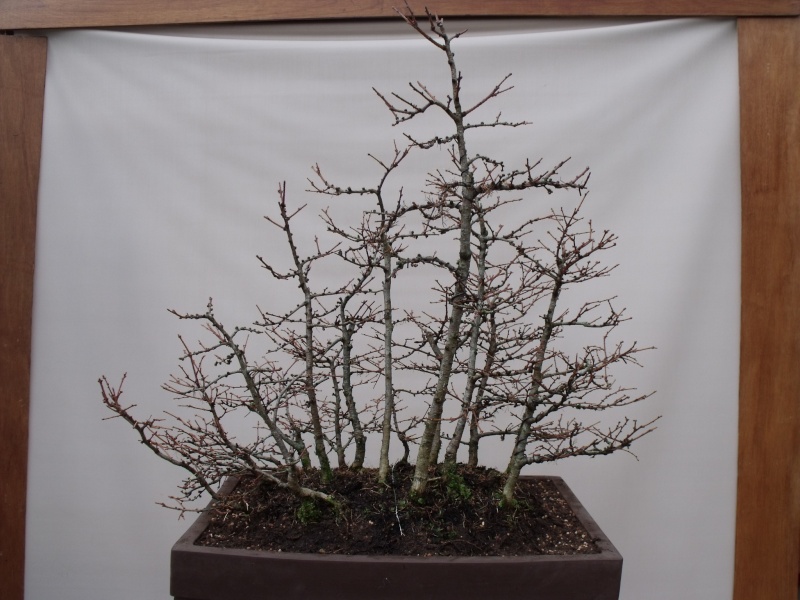 chris

Member





There were a few areas to be addressed, on the back of the right hand side there is a lot of confusion
The top of the main front tree needs the top taking out and a branch bringing up as a new leader to give better taper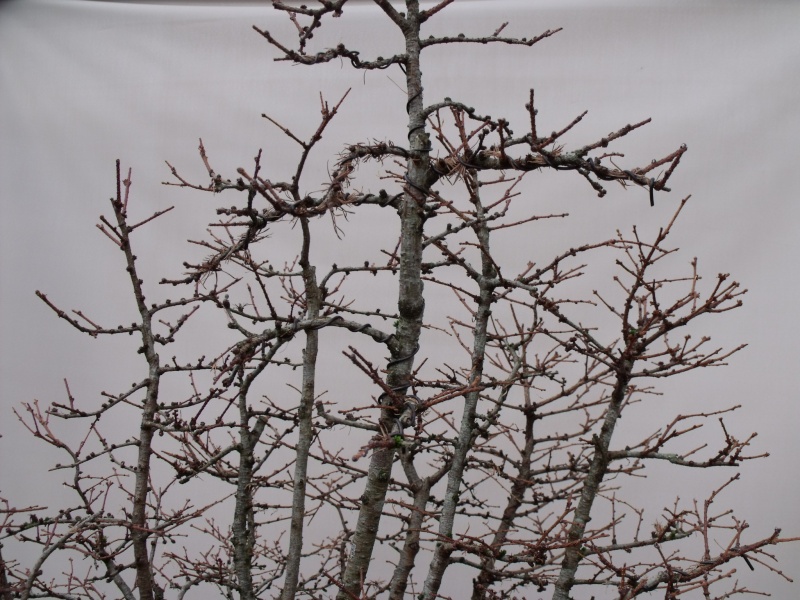 Pete worked most of the day wiring and cutting, there is still a lot of wiring to do but as Pete said he has lots of tome over Christmas to finish it off!!!!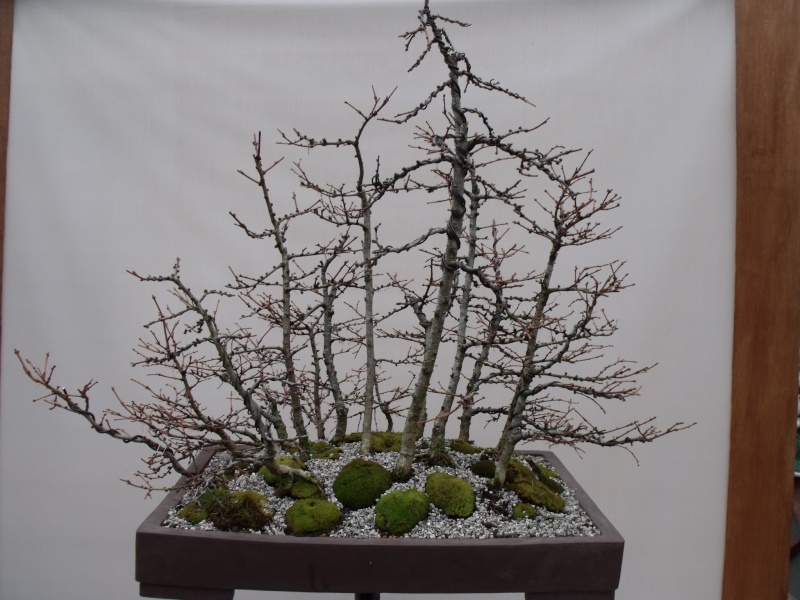 Regards Chris

chris

Member





Hi Chris Peter got a good group forming but the pot and the moss is wrong why don't he ask Dan to make him
a slab to make it stand out
reg Paul
paul.spearman wrote:Hi Chris Peter got a good group forming but the pot and the moss is wrong why don't he ask Dan to make him
a slab to make it stand out
reg Paul
The moss will grow and develop, but I do agree with the group needing a slab. It is amazing how things have changed over the last twenty years or so. Pots like the one shown in this thread were common for group plantings but now the common "pot" is not a pot at all but a slab, and I agree with this idea and prefer it over the pot.

Vance Wood

Member





I agree that slabs are the current trends, but keeping something basic is not all bad either. It's in a pot now, so it can be enjoyed this way while a slab is located. I took my acer forest off a slab last year and put back into a pot. To be honest I enjoy it either way.
I appreciate pete posting and being open to our varied views....


dick benbow

Member





This is so funny because Peter has a two part slab that he ordered of Dan Butler which was to small when we came to marry the trees to it, I should have taken a pic of it, so the pot was an after thought and lucky that I had it so we could at least pot it. The slab wont go to waste we will plant it eventually.

Regards Chris
Last edited by chris on Thu Jan 02, 2014 5:18 pm; edited 1 time in total (Reason for editing : Spelling)

chris

Member





I can appreciate the humor in that. Quess there was a reason for what happened....what I refer to as a "murphy's law".


dick benbow

Member





---
Permissions in this forum:
You
cannot
reply to topics in this forum