I seldom can resist a photo of my trident raft after the leaves have fallen, though it looks as if I need to repot next spring as the tree is being pushed off the tray.
Anyway, pic one was taken during a late afternoon trimming session. Number two is shortly thereafter.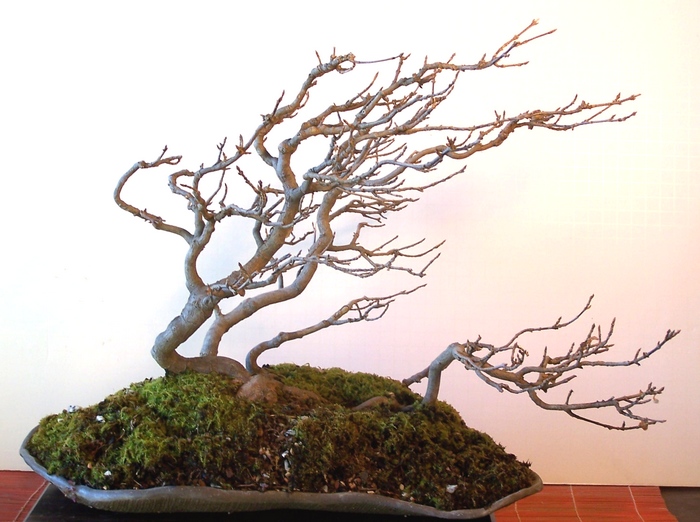 _________________
Jim Lewis - lewisjk@windstream.net - Western NC - People, when Columbus discovered this country, it was plumb full of nuts and berries. And I'm right here to tell you the berries are just about all gone. Uncle Dave Macon, old-time country musician

JimLewis

Member





I like this a lot. Hope you don't mind sharing my thoughts. Some of the branches in the upper parts are a bit thick. Design wise I am wondering if the tree on the right may be straightened up a little. Logically it is located behind the larger tree and would be protected from the wind.
Perhaps like this?
Best,
Dorothy

dorothy7774

Member





Overlay: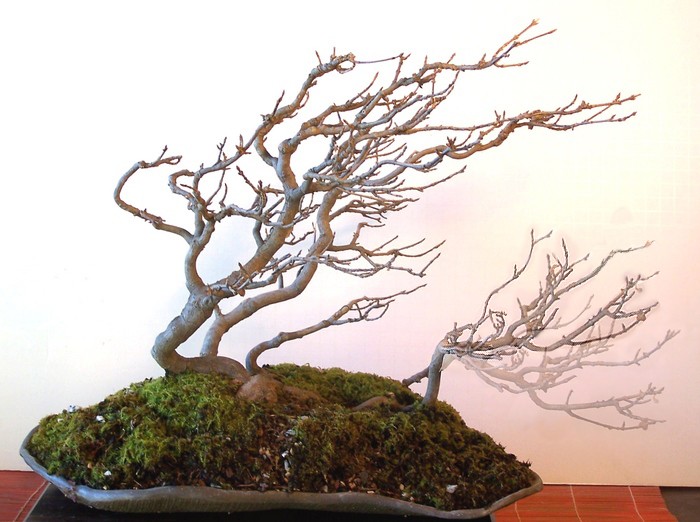 I really like the simplicity and naturalness of your composition.
Best,
Dorothy

dorothy7774

Member






luciano benyakob

Member





You did a nice job with this; very convincing. My solution to the "right" tree would be to incorporate some movement in the bottom part of the trunk somehow; the straight rise from the soil is different than the other trees from this perspective.

Todd Ellis

Member





Thanks all. Of course, this is all one tree, and fairly old so the wood is hardened and not THAT moveable, but yes, I think I can move the right hand trees around a bit. And I see what you mean about the upper branches -- especially the upper left hand one that comes off the main trunk. That can go. It's a tad awkward, anyway.
_________________
Jim Lewis - lewisjk@windstream.net - Western NC - People, when Columbus discovered this country, it was plumb full of nuts and berries. And I'm right here to tell you the berries are just about all gone. Uncle Dave Macon, old-time country musician

JimLewis

Member





---
Permissions in this forum:
You
cannot
reply to topics in this forum