About 10 years i was searching for a wildpear. 2010 i could buy one in Italy.
This trees are rare in our region. Sometimes you can see big and very old trees on an farmland.
The tree has a trunk diameter of 15 cm and about 70 cm high.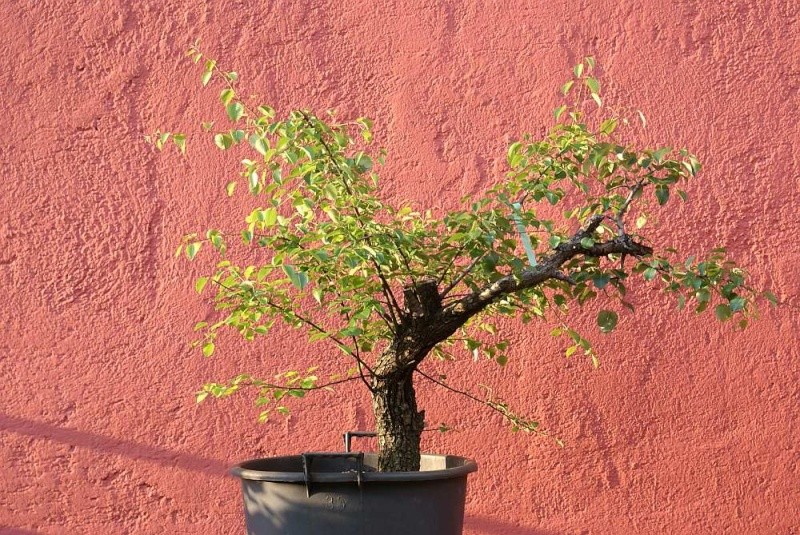 The trunk has a nice rotation. A crown does not exist, because the tree was cut on top. What is striking is still a long (about 60cm) and thick branch in the crown area.
So let´s start plan A in 2011:
Grafting a shot on the Long branch to get a new top.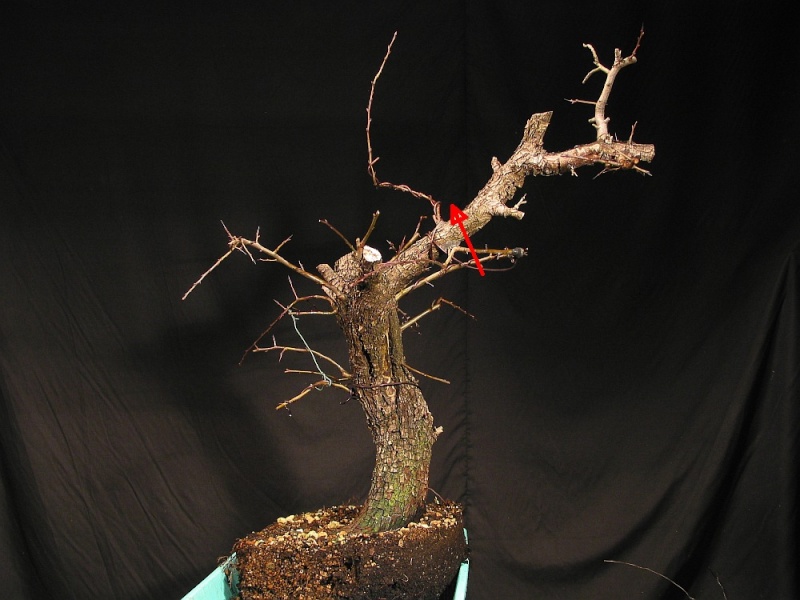 When repotting 2011 then the first not so nice surprise. The tree has a terrible nebari that is not to use. Two very thick roots lie one above the other. The most fine roots are growing only on the underlying root. This is shi.t.
Cutting the lower root, you have a big ugly wound that never heales.
The trunk is to beautiful and elegant for making it as a hollowed stem.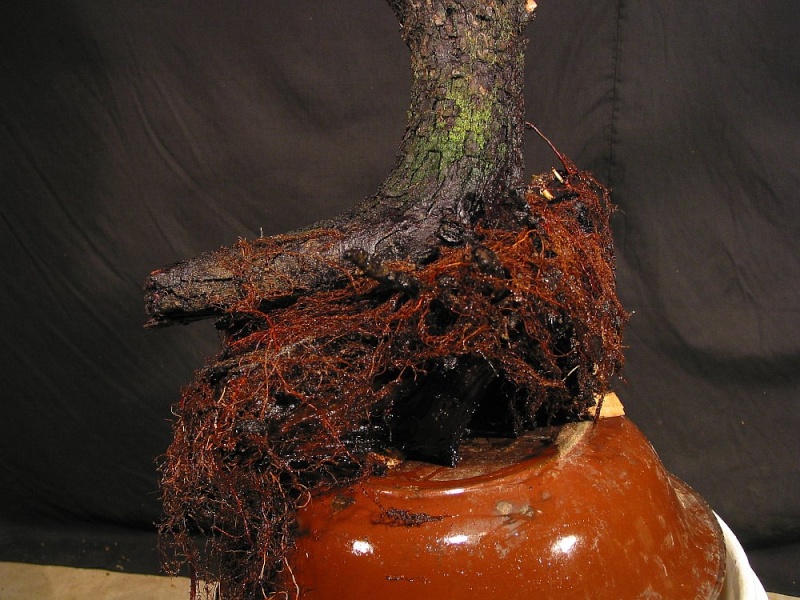 The correction of the Nebaris will take some years to complete until it looks the way I imagine it.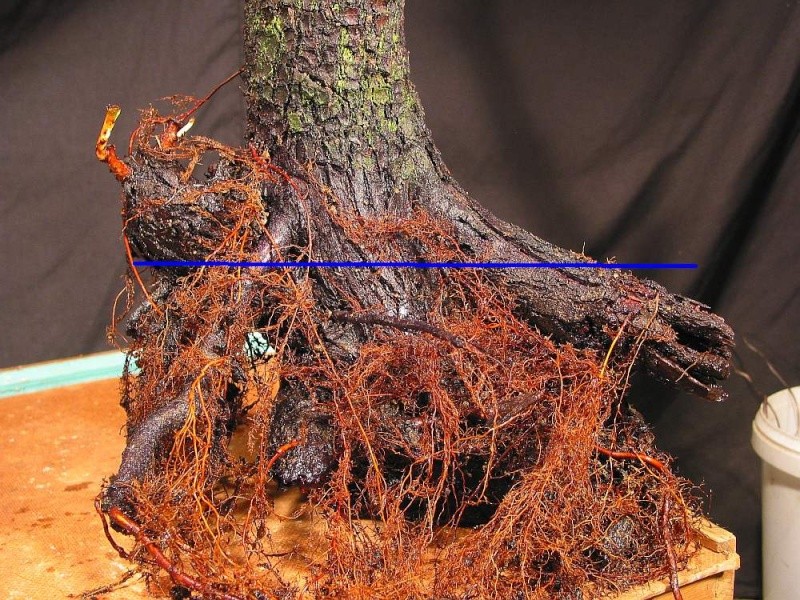 I have no idea how the tree was dug. Maybe this is an old root sprout and the old root was simply cut off back and front.
Anyway, does not do the simple restoration of the root ball.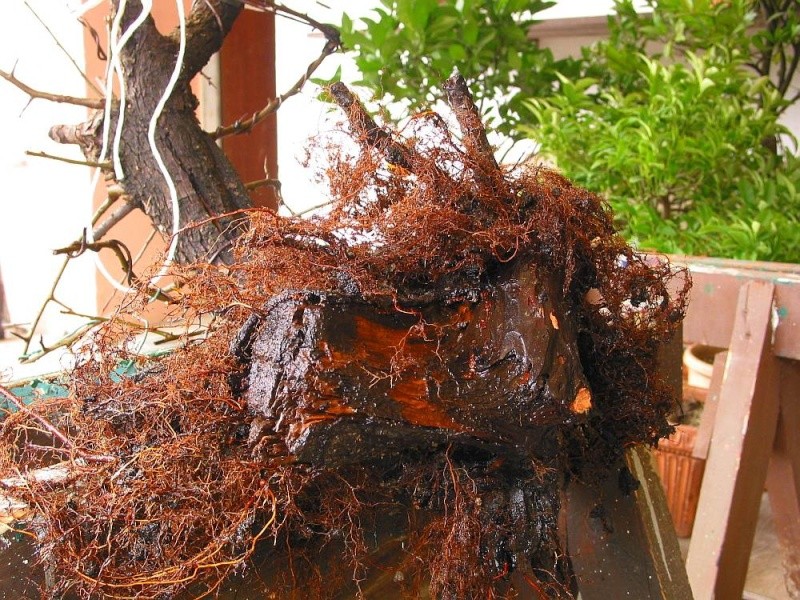 Herbert A

Member





O.k. the normal bonsai saw is too small because you need heavier equipment. Unfortunately, I could only cut off about 10 cm, otherwise not enough fine roots would have remained on the tree.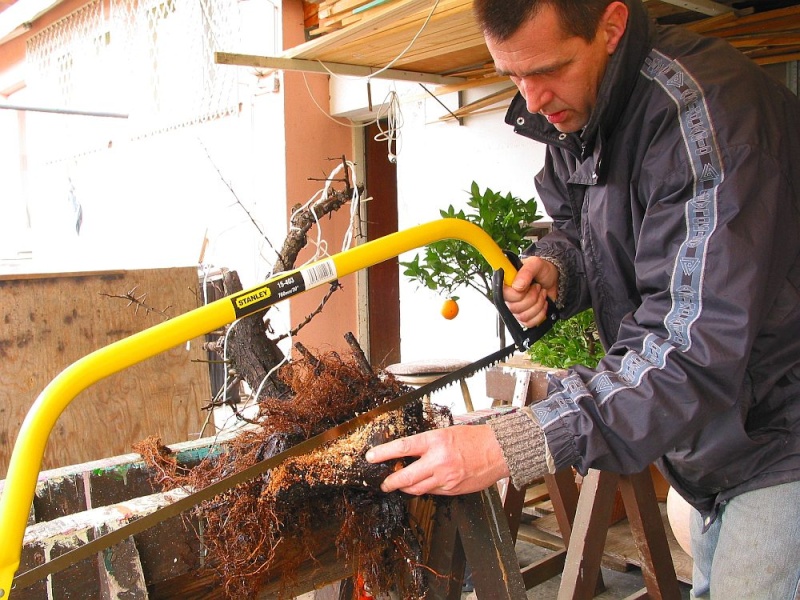 The root ball is still at least 15 cm high. So that the tree can dry properly i wanted him to give no more in a plastic pot, so needed a long, but flatter pot.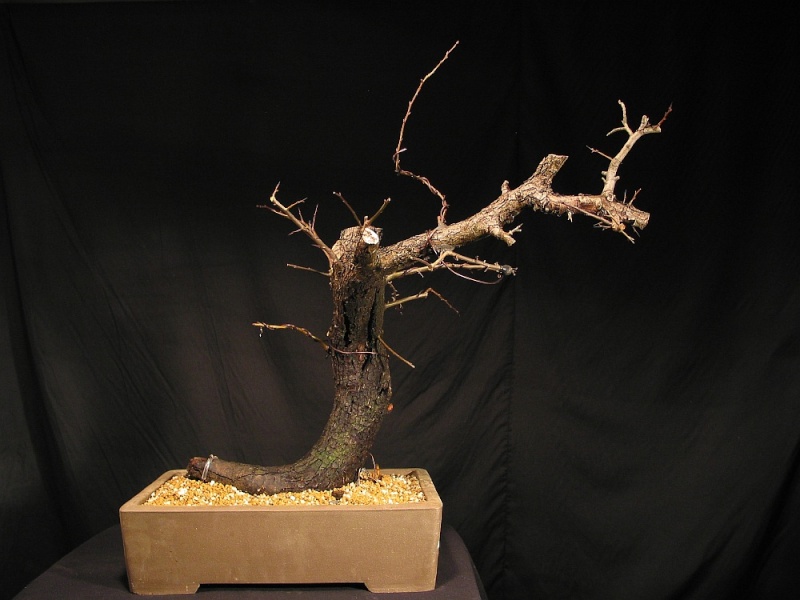 In 2011, the growth of the tree was not so strong. O.k., i saw that the pear does not like so hard root works.
You can see that the tree dit not grow good to September. The arrow marks the grafting of the new top. This is of course not fused because of weak growth.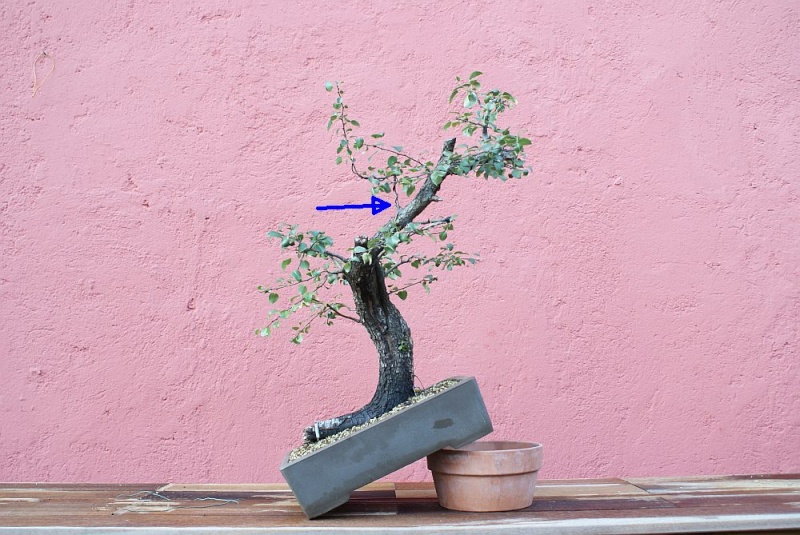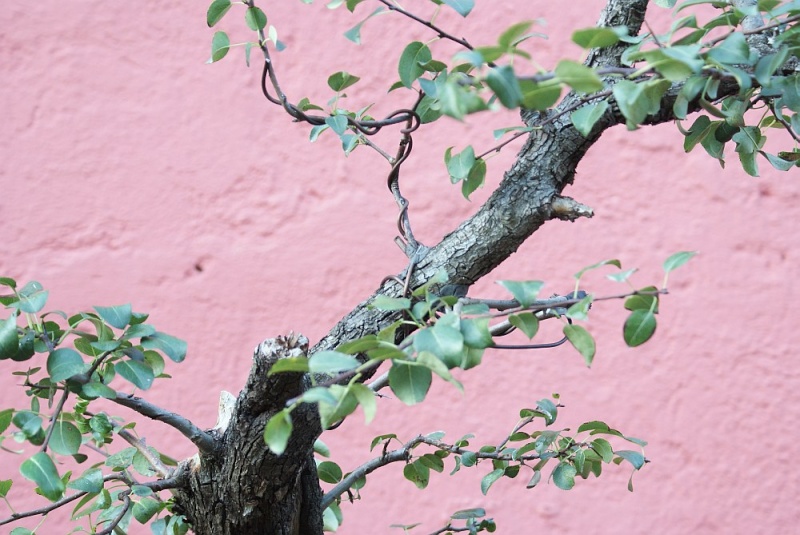 2012
Actually, I should not do anything at the roots of the pear due to the weak growth in the last year.
But by the time you gain experience how far you can go with a tree.
So let's see once down into the underworld of the tree.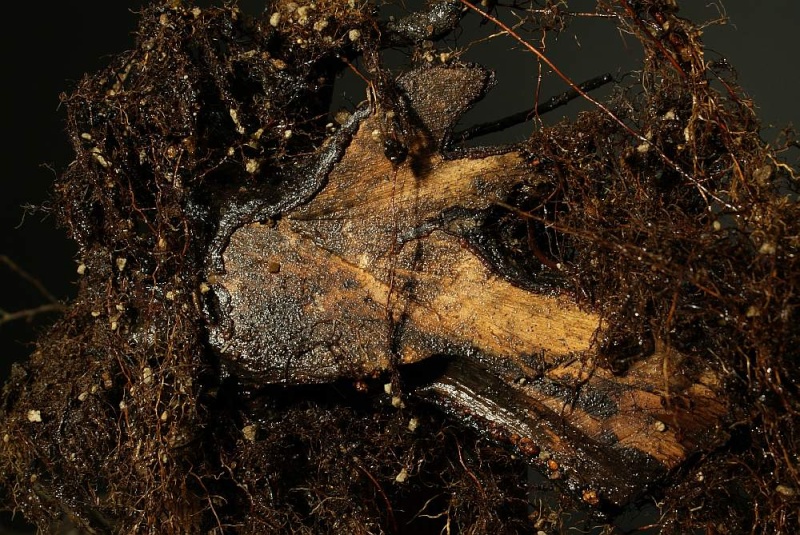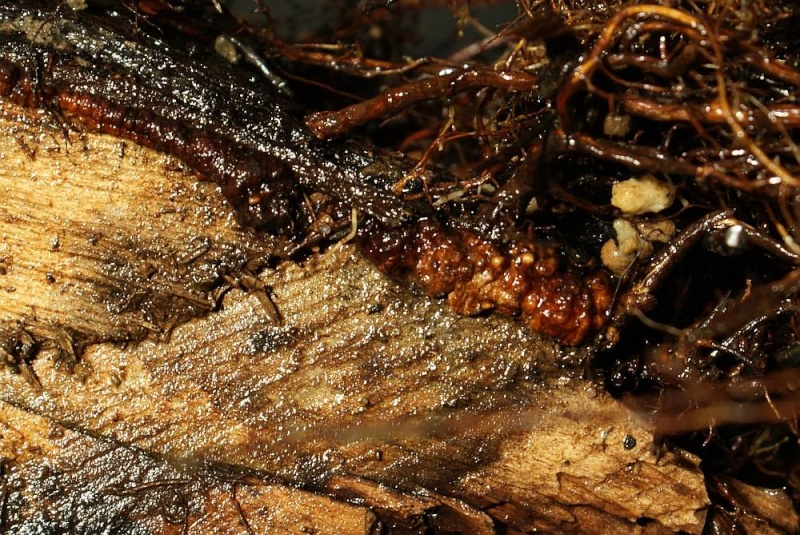 The interface looks good. It forms callus. As a root image I've never seen on a deciduous tree. No long, thick roots, only very fine thread like roots. Is that in the wild pear or was it due to the weak growth?
We further analyze.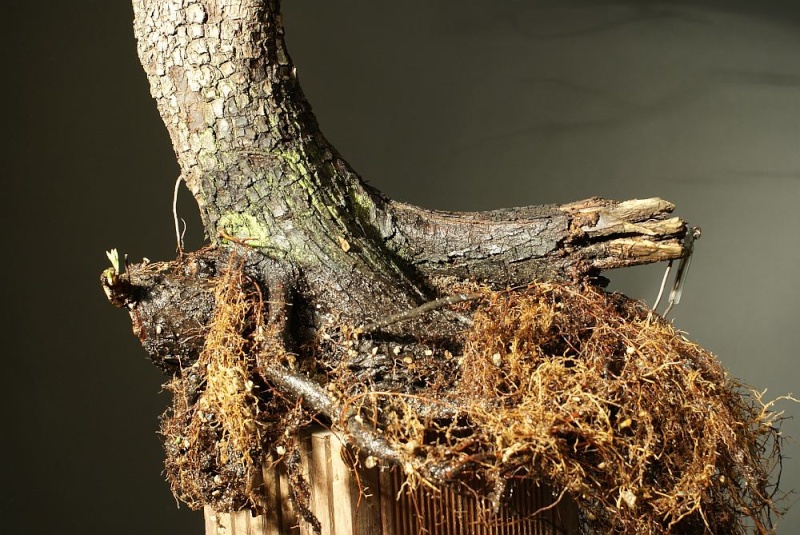 Left from the trunk new roots are grown - good.
On the underside of the overhead root new roots are grown - very good.
Now it is possible to shorten the thick upper root.
Conclusion - if you force the pear she also makes new roots. I take the risk and reduce the root ball again.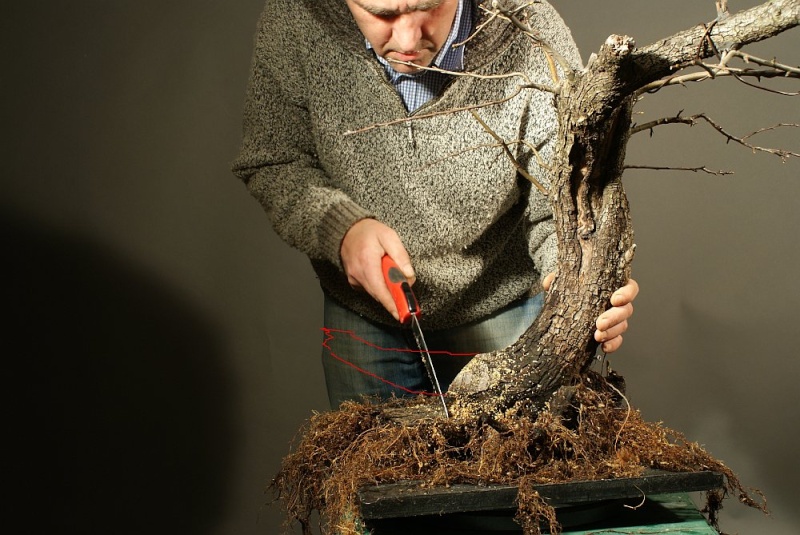 The long root which is lay on the substrate already cut away (see red marking)
Now we cut back or the lower root.
A thinner root can be airlayerd to get near the trunk fine roots.
I hope that at the cut of the upper root new fine roots grow when I bring them under the substrate.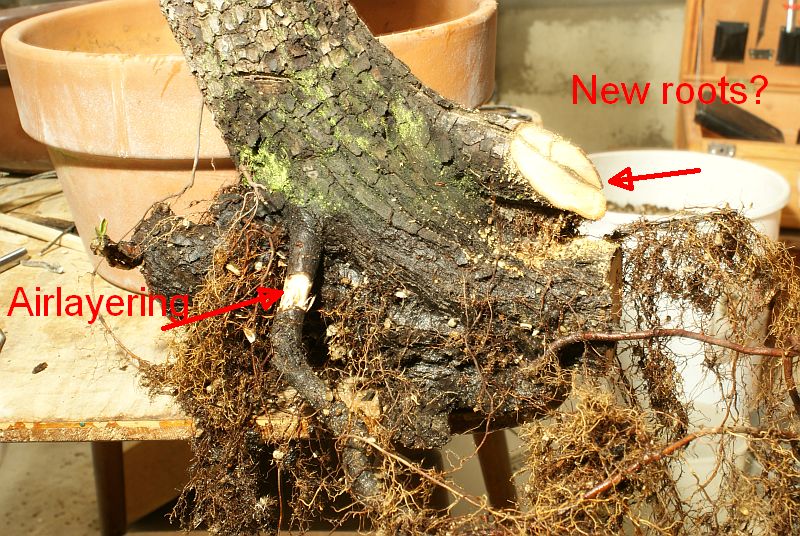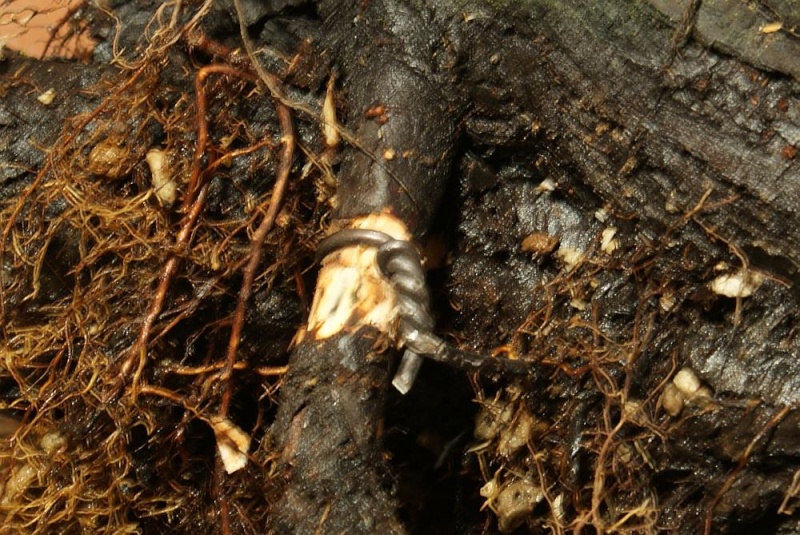 At least now he already fits into a growing pot.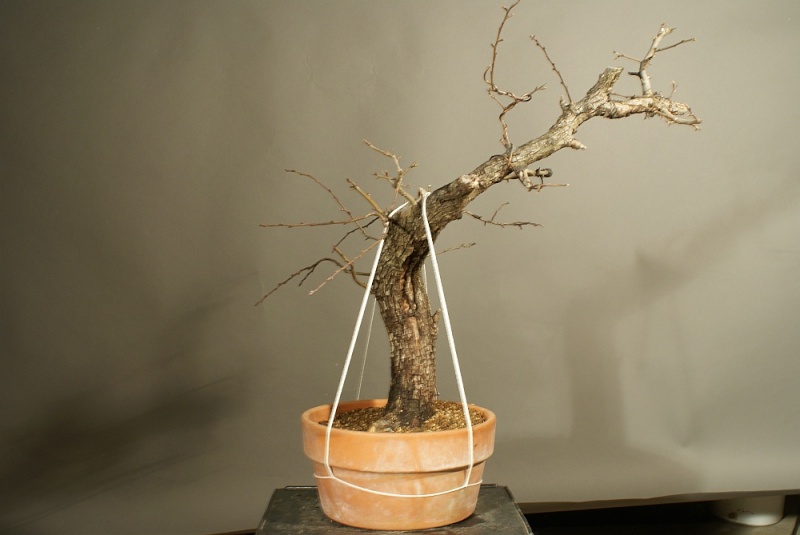 Herbert A

Member





2013
The pear is grown well this year.
But she had another surprise for me. After a Long period of rain i saw fungal on top of the branch.
This means nothing good. The monitoring showed that the entire branch is dead above. But the branch is still alive.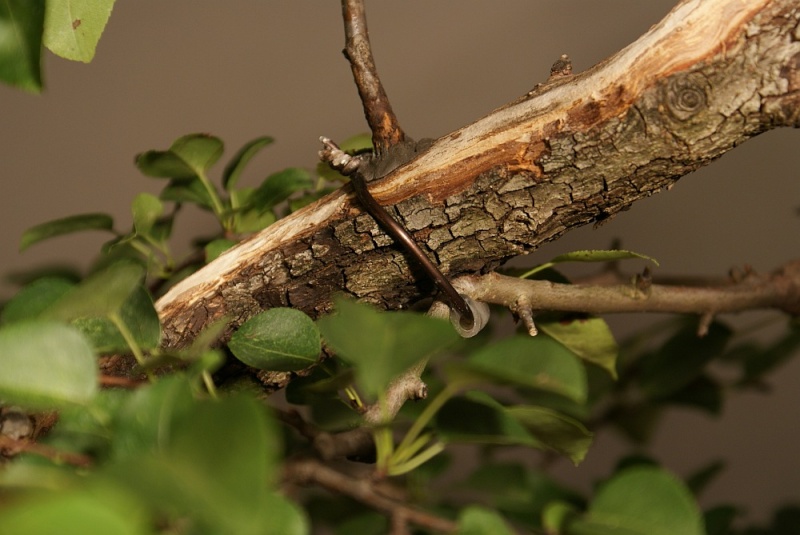 The graftet shot might be slightly fused under the branch. But too little to be separated. Visually, the results in any case a problem.
Well, if he'd grown well below, you could cut off the branch immediately after the grafting. But that will take years before that looks believable.
It is time to fundamentally rethink the design plan.
Let me summarize:
Work on the Nebari will drag on for at least 3 years. According to the current state, it is difficult to say how it will look at all once.
The wild pear has so far shown no strong growth in thickness of the branches. This may be due to the root work.
In any case, it would at least take 10 - 15 years to the beginnings of branches have the right thickness and have formed a cracked bark. Young bark of the crown branches and an old trunk with beautiful bark I do not particularly like.
When I count, then I would be 70 years old until the tree looks like I imagine him.
No, that's not the point!

Herbert A

Member





Plan B must be found.
If I design the tree windswept, then I could integrate the long branch. It would make the tree unique. But he could also be cut.
In the windswept form as I imagine the tree, long,thin and flexible branches are needed.
So I do not Need to wait 10 - 15 years.
The first wiring after leaf drop or early spring should already give a picture how the tree will be designed in the next years.
So I made ​​a drawing of how I imagine the tree.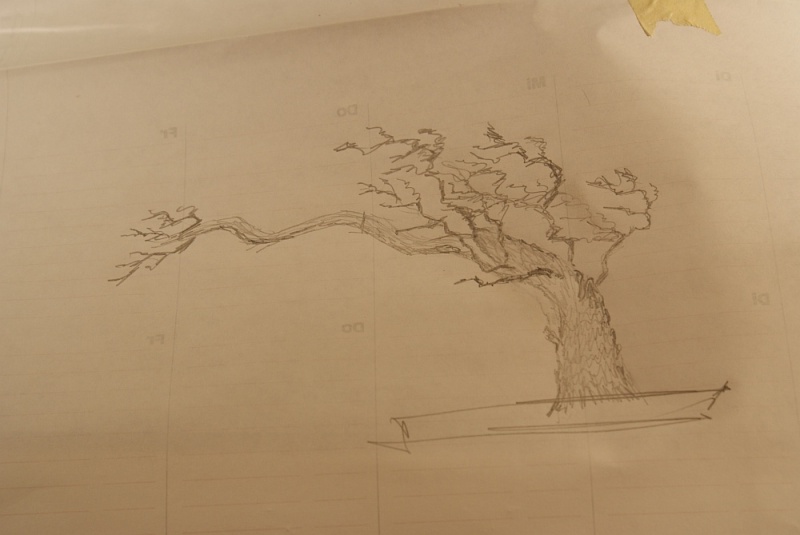 The first time in my life I have drawn a tree.
The proportions and details do not exactly match, but I think you can see how Plan B looks and especially that he is in a relatively short time to realize.

So what do you think. Is this a way the tree should go?
regards
Herbert Aigner

Herbert A

Member





Thank you for sharing the process with us.  Some might have been satisfied to hide the surface roots all together since the trunk is so formidable, but I think you made the right decision.  It is always disappointing to find a major flaw hiding beneath the surface, but even more so when it is material that you have developed from a seedling as you cannot curse the vendor for the bad design.  It only makes the good surprises that much nicer when you uncover even taper and a nice spread.  You know what you are doing, I think this will really be taking shape by the time you are 60 or 65.

MrFancyPlants

Member





I think an informal, hollow (upper) trunk is the way to go with this tree; it has more character. The long branch, where it is attached to the trunk, looks as if a believable hollow can be created... I love pears; you can't beat them for Fall color.

Todd Ellis

Member





I like plan b, but most importantly I like how you shared your thought process. I am receiving a collected plum next spring and I'm assuming developing the roots will be the same process.
Herbert: Thanks for sharing this wonderful progression. The problem with pears is that the leaves are relatively large and it is difficult to get fine ramification. I find it harder than even a crab apple. So for a flowering tree - you need many small branches (like plum or flowering apricott) in order to build structure for tree to flower. With a pear it takes much longer. All fruiting trees are prone to rot and fungal problems. If the trunk has good natural taper and no wounds - I would not advise opening up for a hollow trunk look - unless absolutely necessary for the design. That said - pear wood is very hard for fruit tree. Wood carvers like to use pear wood to make carved objects.

Not sure if I agree with windswept idea. With the nice trunk movement - I see no reason not to build and wire out crown. I think the foliage mass can get bigger and denser over time. Also - I think you should consider a deeper pot than suggested in your sketch ? Fruiting/flowering trees prefer a little more depth and depending on your summer temperatures can dry out quickly. You should have many good options in Europe for off-white and cream colored pot with raised feet. Beautiful and elegant tree in very near future. Pear is uncommon tree but nice one to have.....good luck, Tom
Last edited by tom tynan on Thu Oct 31, 2013 4:51 pm; edited 1 time in total (Reason for editing : typo)
Thank you for your nice comments.
MrFancyPlants wrote:I think this will really be taking shape by the time you are 60 or 65.
I hope so :-)
@Todd Ellis
I think an informal, hollow (upper) trunk is the way to go with this tree.
Todd, this is an option that could be quite good. But on the foto the trunk is not as nice as in real. So this is option Nr. 2 for me. And i have some trees with dead wood on the trunk. So this one should have no deadwood if possible. But we will see.
@ tmmason
I am receiving a collected plum next spring and I'm assuming developing the roots will be the same process.
Please show us the progress.
@tom tynan
Tom, this is a pyrus pyraster, a wildpear. This kind of tree has small leaves (only about 2,5 to 3 cm long), and they make fine ramification without special cuts or pinching.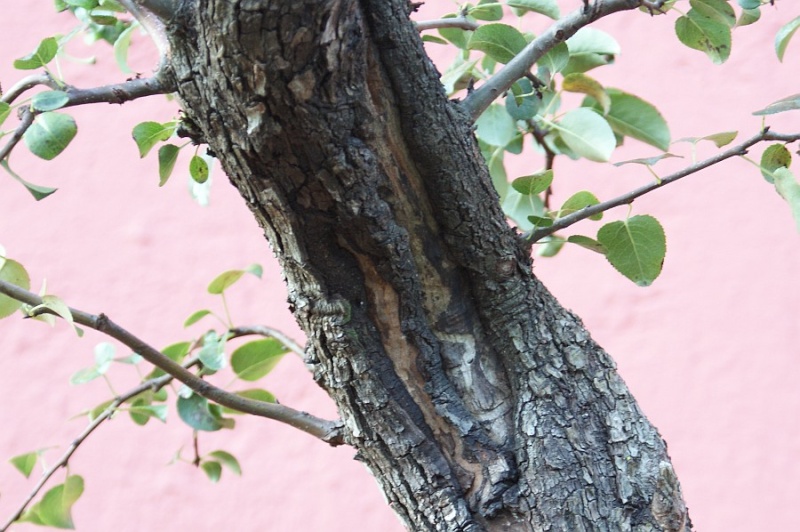 pear wood is very hard for fruit tree.
Yes it is very hard.
The further styling belongs how strong the pear grows. If she grows faster as in the past years i build a new crown. But if not, so i think the windswept style ist option Nr 1.
And i do not have a windsswept tree in my collection. So i want to try it once.
regards
Herbert Aigner

Herbert A

Member





Hi Herbert
I've enjoyed your posts and trees recently, thanks for sharing your thought process and all the effort you make.
No advice from me, just watching and learning

Cheers
Gerhard

---
Permissions in this forum:
You
cannot
reply to topics in this forum