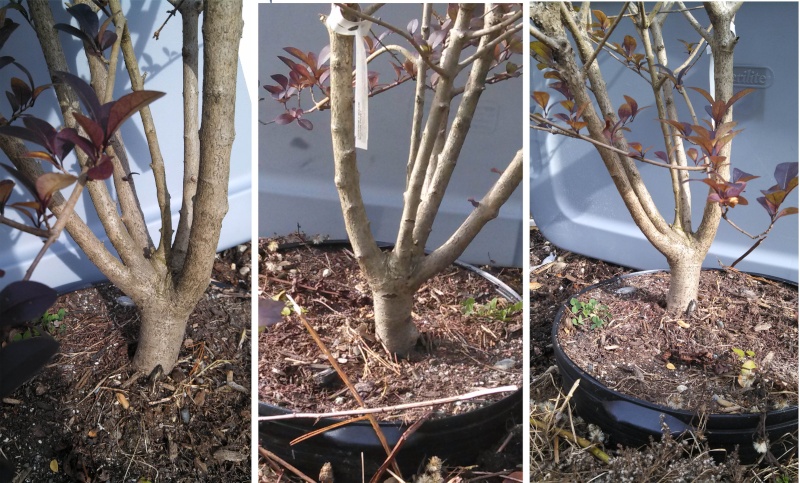 so i found this ligustrum ibolium at a local garden center for $12 usd with a 2 inch caliper trunk. i actually found 2 so i had to grab them both. (end of season clearance) this one is quite pot bound so i figured spring it would get a haircut and rootwork. the other guy is going in the ground to continue growing. as you can see in the pics it has a nice case of inverse taper happening and im not sure what to do. do i cut below all the branches and wait for back budding. orrrr pick a branch and cut the rest. im afraid of all the scars it may leave... if anyone has suggestion it would greatly help. thank you all so much.
i am afraid that any angle it will be left with big cut scars. unless serious carving can be done, and if so how long do i wait after the chops and rootwork. ive read that privets are pretty forgiving and can handle lots of work within the same season. please help
What about layering it at the wide spot as it forks and creating a clump? You could probably slip pot it into a larger pot, cut it back severely, and do a ground layer all at the same time next spring. Or you could do the slip pot and most of the cut back this fall (I leave fall cuts long to allow for some winter dieback). When layering this close to the current soil surface, I like to put down some very coarse soil, a layer or weed block cloth or screen, and then my bonsai soil with some finer bonsai near the layer. It works well on Japanese maples and I am betting privet will layer even faster.
never considered that option... that would set me back a season on this trunk that i was excited about, and make another tree.... my other thought was to airlayer off individual branches and yeild 5 trees. and make a big deadwood out of the the knot of branches. hmmmmmm
brian soldano wrote:never considered that option... that would set me back a season...
Dude this is bonsai, a season is just a drop in the bucket.

Twisted Trees

Member






---
Permissions in this forum:
You
cannot
reply to topics in this forum