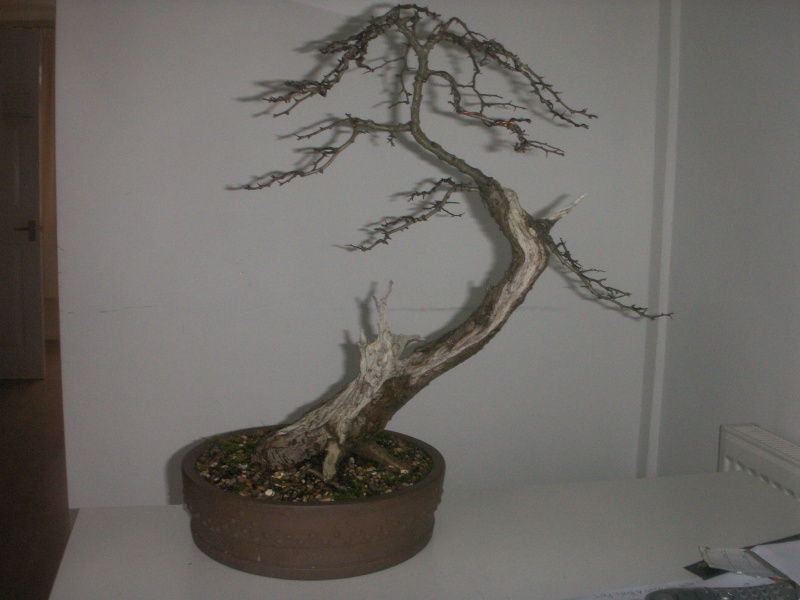 This is a Hawthorn i bought from Chris Thomas at his Bonsai nursery in Amanford South Wales (the home of dragon bonsai). It was a small collected yamadori and had been in it's pot for about 5years, Chris told me. The roots were really thick and heavy for a small tree, it was very thorny and congested and had long straight water shoots coming out at all angles. I did'nt think anything would come of it, so i did'nt take any photographs at this time sorry. After a while and on closer inspection, i saw a line in the trunk that i thought i could develop, so i bought it. On getting it home and with a good pair of thick gloves i went to work cutting off all the branches just concentrating on the trunk line. This was about 2and a half seasons ago. The new branches are quite thin and sparse at the moment, but i am hoping time will change this. I love the movement in this tree and i call it (THE DANCER).Bob Hill South Wales.
Bob, excellent work! Very elegant tree! Congrats! If I may I'd shorten apex branches on the right side to avoid the apex looking a bit symmetrical.

Best regards,

Andrei Darusenkov
hi andrei, thank you for your comments and yes i agree i do intend to do a bit of pruning back to encourage some new growth regards bob hill.
Hi Bob,
How is your Haw doing?

Regards,


Rui Marques

Member





hi rui, just an update on the hawthorn, i havn,t done done to much work on the tree to date just some light pruning back to the top branches, we went through a realy bad cold spell early in the year which came more or less without warning tempreturs of minus twenty deg,s that resulted in the loss of a lot of trees over here for people including myself but this one is fine.like hans hawthorn i also called it the dancer!
lets rock n roll. bob,
Looking good Bob

Regards Chris

chris

Member





looking good Bob got the hang of sending the pictures and what a good job you have done excellant tree and photos
Paul

thanks chris and paul, see you sunday at the boot sale bob,

---
Permissions in this forum:
You
cannot
reply to topics in this forum