Guajuvira -
Cordia americana
(the old name was
Patagonula americana
)
Well, this plant went two years without the care it deserves, the structure that I built was lost. First because some branches grew more than they should and because important branches died and were lost.
Now I just have to rebuild it.
It is not easy trying to talk about a three dimensional tree only by photos, but the photo does not lie, the structure has several overlapping branches that are not cool:
My first plan is to try to keep the original design, selecting new branches, wiring and refining, to get this canopy:
What bothers me in this project is the right branch, which has developed over the others, shifting the focus to himself:
And here another thing that bothers me, two branches almost parallel competing togheter. I still have not decided on which one to remove, but one thing is certain, one will have to leave.
The second project is more radical, should I rebuild all secondary branching, ignoring the last years of growth?
The lower canopy would give greater emphasis to nebari (which is buried at the time), so it would need a smaller pot as well.
Opinions?

Arzivenko

Member





I wouldn't be unhappy with the tree if that one left-hand branch were removed from the branch you circled in red. You could remove all the current growth and start over if you like, but I suspect that some judicious pinching in the future would get you where you want it to be.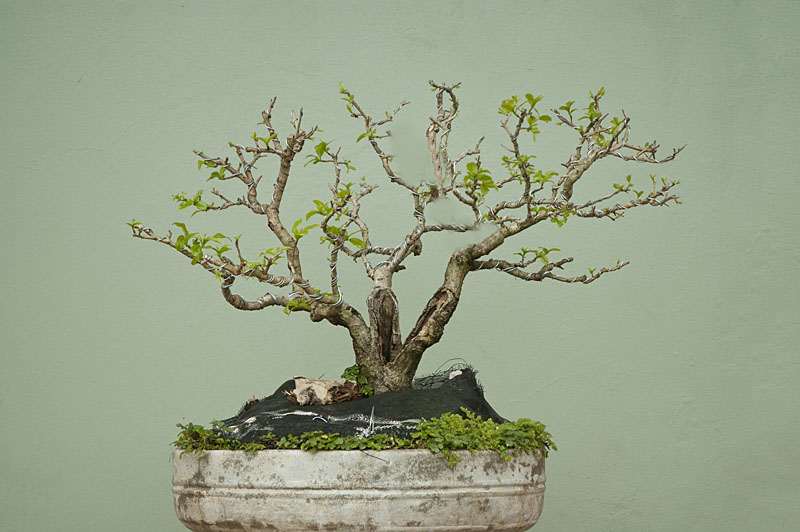 It is a very nice composition. What is it planted on? Or in?
_________________
Jim Lewis - lewisjk@windstream.net - Western NC - People, when Columbus discovered this country, it was plumb full of nuts and berries. And I'm right here to tell you the berries are just about all gone. Uncle Dave Macon, old-time country musician

JimLewis

Member






---
Permissions in this forum:
You
cannot
reply to topics in this forum