Recently I went over to a friend's house who has gotten into terariums and exotic frogs. so cool, yet i needed another hobby like,
well, it wasn't happening!
So what did i do? put together a kusamono to look like one of his environments for his little frogs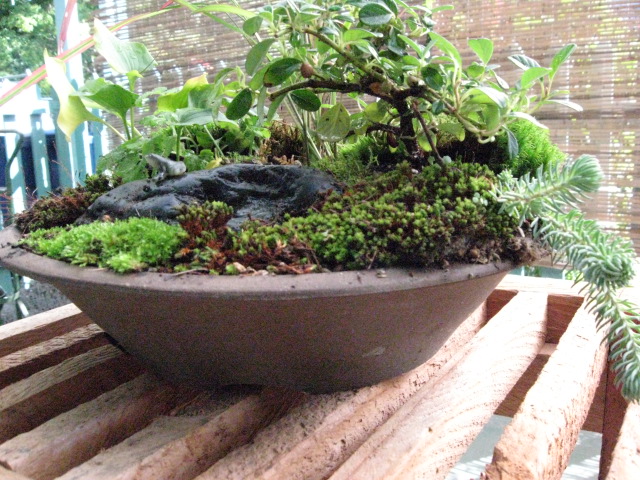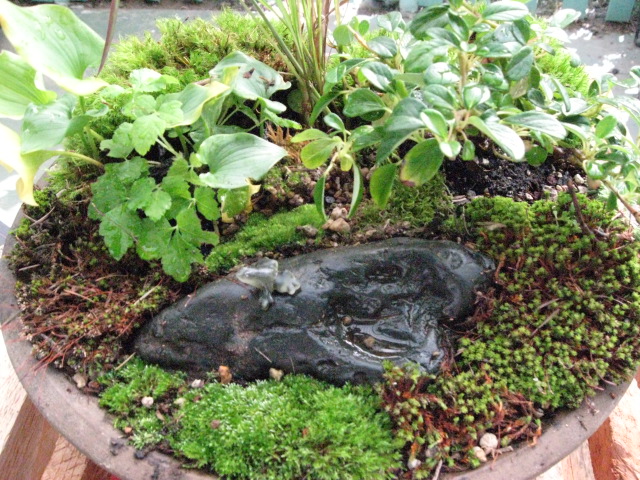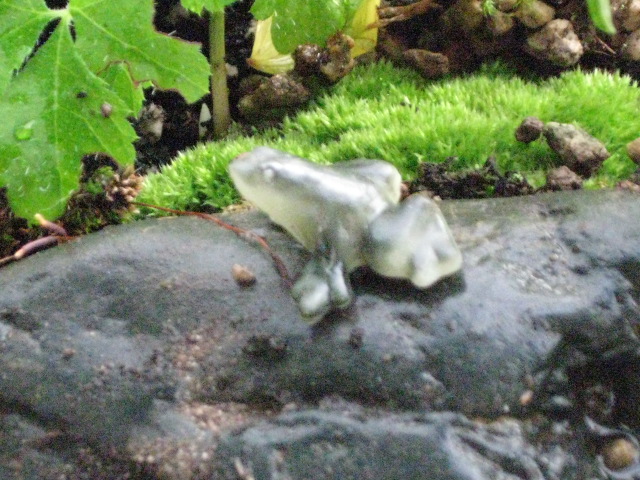 I couldn't get over the bright color of his frogs but this was the best I could find for my display. So. what do you think?

dick benbow

Member





I used a small contoniaster along with local natives. I would have preferred a pool stone with better water in it, but hopefully I can find something to swap out with the current stone. The height in the back is supplied by japanese blood grass. I love the depth and shape of the pot. Normally I'd seek out something glazed with some color but found this quiet setting seemed to work better with what I wanted to achieve. If anything I might have made the frog a little harder to spy, but I often find in most shows people move along quite rapidly when they think they have dozens of trees to investigate.
Could i get some comments please


dick benbow

Member





Hi Dick,
I am glad you are finding time to have some fun!
You asked for comments so please take them or leave them, whatever works for you.
I would consider placing the waterpool stone deeper in the composition ( further to the back) surrounding and somewhat overhanging the
back and sides with your plantings. Also, I would try match the nice curve in the back of the stone with the curve in the back edge of the container.
The waterpool stone seems like it might hold more water if placed closer to level rather than placed tilting forward as it appears.
The moss and accents, consider the relationship of each element to the composition. I would consider a lower oval or rectangular container.
For me, the round, tall container dominates through its visual mass and spoils the image.
I noticed that the stone is placed left of center but the frog is also facing left, looking out. I would consider changing his view to the right.
It would be nice to not see the soil remnants on the  stone and moss as well. Thank you for sharing that small world.

Mark
thank you mark for your detailed insightfull remarks. very helpful. i know better then to rush and should have taken time to clean off the dirt. my bad!

dick benbow

Member





Way cool Thanks Dick!...
Both you and Andre inspire me!
I going to try one like yours!...

on a cement stand like Andre's boat
I really like havin' fun...

stonener
*commission time*  
p.s. Dick I found the black oval jiita's
we were talking about on ebay,
as shallow black marble suibans, reasonable
on "the stone king" 7, 10 & 14"

---
Permissions in this forum:
You
cannot
reply to topics in this forum