Hi,

Have been having a hard time with my White Pine this year. So much so that I thought I had lost it completely at one stage.

Buds are now almost fully open on 70% of the tree thankfully - pollen cones and all- but in some areas, the buds have failed and remain brown and are no doubt dead.

Some tiny buds are visible further back on branches where the tip buds are dead seemingly.

90% of the old needles have died off completely leaving me with as very bare looking tree and only this year's new shoots.

So the questions :-

1/ are the branches where the buds have failed completely and no green needles remain destined to die off altogether?

2/ will branches where tip buds have failed but back buds are present , die back to the back buds, assuming these buds survive of course?

I suspect the cause is cultural rather than disease related. I up-potted in Feb/March to give it a bit of growing space just when we were hit with soaking then freezing weather for about a month and I don't think it liked it at all.

New territory for me so any advice would be appreciated.

thks

TimR

wabashene

Member





Sounds like root problems, or maybe you repotted too early. They need to be done just as the buds start to swell.
Probably the latter: back-budding implies the tree was in really good shape going into whatever this was. White pines don't do that easily. Give it some more Super-Thrive and foliar feed with kelp in the early AM. A fritted minor element supplement in the soil is a must with these, too. Something like Minor-El.
I am told Miracle-Gro has the trace elements, but some of my trees develop trace element deficiencies, so I begin to wonder.
Don't candle trim this year. Keep the tree over-winter in either good light or very little very dormant), but not in between. If your winters aren't real cold, a light supplement over winter wouldn't hurt. Some of the new LED panels sound interesting.

bonsai.terry@gmail.com

Member





potential needle cast type fungal attack made worse by the poor weather, needles yellow a bit, then brown, then drop. What should have been the strong new shoots have very short new candles and will open with very short weak needles and of course you have no old needles behind.

this can be made worse by over protection in winter - these trees need a cold spell and they need good air movement and exposure - protect the pot (ie roots) from sub zero temps if it is grafted but no need to protect the top in the 0 to -10 deg region - just like a yew really. I have one newly imported tree from the winter shipment looking the same as yours, 3 that are perfect and one that only dropped a percentage of the old needles after we wired it - this though is usually stress related not fungal.

the tree needs a spray for fungal attack so new needles are not effected, all the old needles need clearing away and the tree needs treating with great care as these needles are precious - they need to last 2 years to get the tree back in balance. did you pot up using a long term proven white pine soil mix or were you experimenting ? regarding timing of potting you cant have got it wrong if this was a true 'pot up' ie no root pruning as you can do this basically any time - a proper 'bonsai root prune' type repotting is timing critical as mentioned above.

marcus watts

Member





Thanks guys.
I must confess that I DID do a bit of a root tidy when when I moved it to the larger pot which was a small pond basket- but nothing major.
The mix is my standard Sophisticat, grit, akadama, hydroleca, soil conditioner etc. that I use for almost everything.
I suspect the root disturbance and increased air space around them combined with near on a month of freezing/soaking (unusual for Hampshire) weather in twice the amount of "soil" did quite a bit of damage.
When I slipped it back into this light blue pot about 6 weeks back, there was not much extended root present.
So I know what I did wrong but do we have any opinions on whether or not the branches with dead shoots as pictured survive or die back eventually?
If they ARE gonners, this presents opportunities to re-style, jin etc.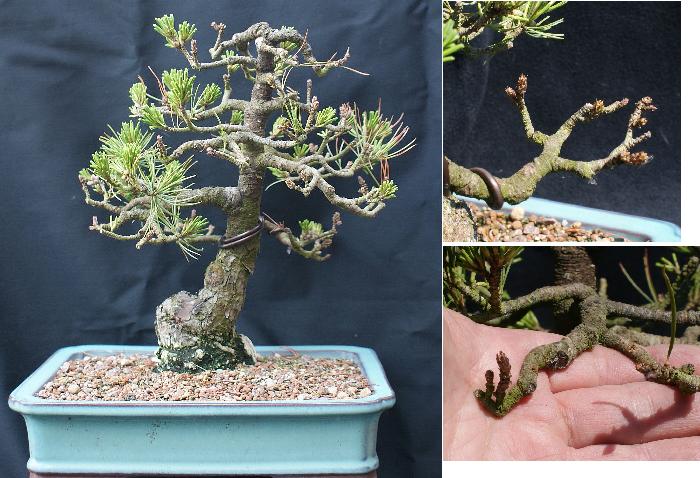 thks
timR
v

wabashene

Member






---
Permissions in this forum:
You
cannot
reply to topics in this forum