Hello all!
I'm a new member and I am a new to bonsai.
I found this trunk of Bougainvillea 1.5 months ago. Cleaned it, planted it, fed it. Today this plant has started to grow well. And I need you advice.
1. When I should start to training the bouga?
2. What is a style wiil be the best for the bougainvillea.
Thanks a lot. This photo will show progress for 1.5 months.
Photo from 28. march.2013
Photo from 28.april.2013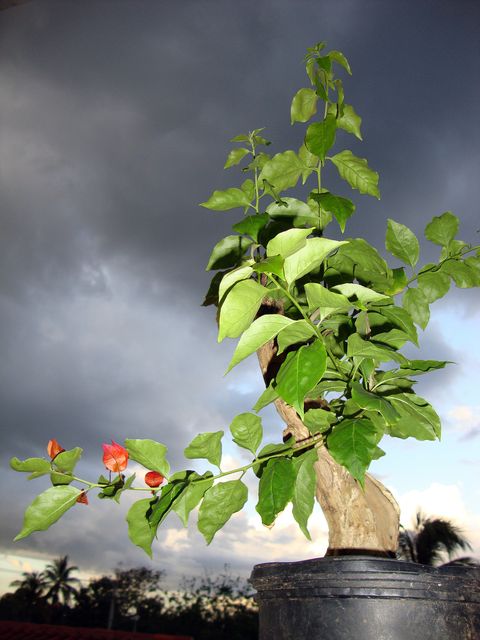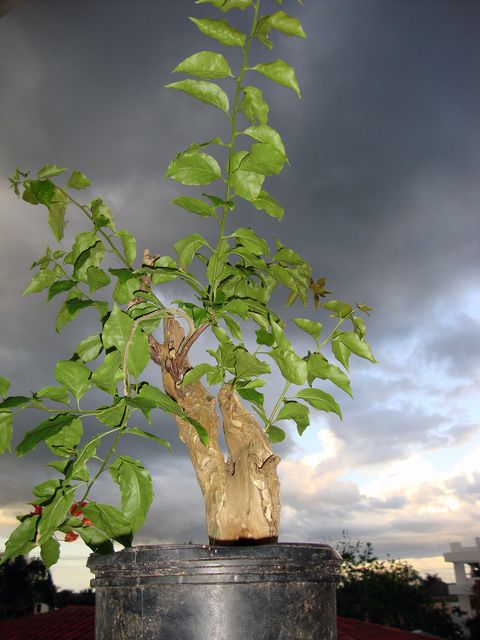 Last edited by Hecata on Wed May 08, 2013 2:08 pm; edited 1 time in total
Wire the branches down and trim the silhouette into a triangle. Water. Fertilize. Trim. Wait.

Twisted Trees

Member





I would trim the branches back to two or three pairs of leaves, and let it grow. Then, do it again. With that nice trunk, there's no sense being in a hurry to whack it into some kind of bonsai shape.

This probably will end up being an informal upright.
_________________
Jim Lewis - lewisjk@windstream.net - Western NC - People, when Columbus discovered this country, it was plumb full of nuts and berries. And I'm right here to tell you the berries are just about all gone. Uncle Dave Macon, old-time country musician

JimLewis

Member





please, not a triangle. Bougies are not triangular trees.

I've tried to upload a virtual of my idea, but can't seem to make it work. Will come back and try again later.



- bob


cbobgo

Member





I agree, no triangles. Your tree has an interesting shape, and conforming it to some cookie cutter design would be unfortunate. Just let it grow for a while.

PeacefulAres

Member





Thanks a lot. I realy do appreciate for your advice.

I think I will trim the branches back to two or three pairs of leaves, and let it grow. If I am right this triming will give it a much stronger crown.
This trunk has just started to grow a root system (1.5 months).
When should I start to trim the branches? Is it possible to do it now or should I wait a few more months?


You will always be safest by waiting for a good root system to develop before trimming.
_________________
Jim Lewis - lewisjk@windstream.net - Western NC - People, when Columbus discovered this country, it was plumb full of nuts and berries. And I'm right here to tell you the berries are just about all gone. Uncle Dave Macon, old-time country musician

JimLewis

Member






---
Permissions in this forum:
You
cannot
reply to topics in this forum