Hi,
I'm new to bonsai and have been starting to gather a couple of small trees to practice on and have read a book or two about it.
In mid december I collected what I believe is a Juniper Procumbens Nana. Not a good timing for collection, but you know, sometimes its not possible to choose when to dig up garden material.

Anyway, back then I just washed off all the garden soil and put in a soil mix of 2/5 cat litter, 2/5 leca safe(crushed leca) and 1/5 of regular potting soil. Now I know that this might not be the best soil, but would you recommend that I repot it now after only half a year in its pot or should I just stick with the current soil for another year? If I was going to repot it now I would use a soil with ½ clay granular(Akadama alternative) and ½ crushed granite and then a bit of coco peat. Would that be a better soil for this tree or any other recommendations?
Next question. When I collected it I cut off some of the longest branches, but I'm uncertain how much to cut off now. How much of the foilage can i trim off or should I cut nothing off at all at this point? Pictures of the tree below.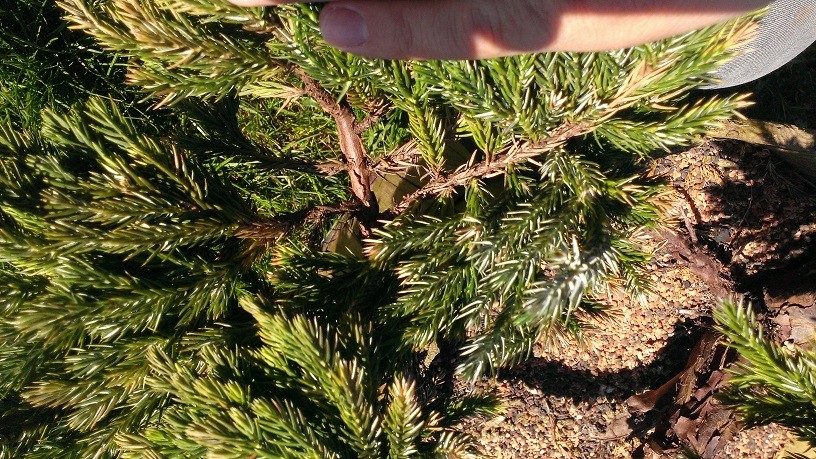 Regards,
Henrik Skov
Denmark
Hi Henrik

Welcome to IBC....I dont really work with junipers, and can not give any advice...hope someone else member will do that.
I witch area do you live...you know we have bonsaiklubs..My group are situated in the west Sealand, our name is " Ki No Nakama", and you can pm me any time.

kind regards Yvonne
Hey Henrik, from what i understand Juniperus get a good deal of their energry from the foliage. That being said, maybe a good idea to let it grow and recover over the course of a year or two before pruning further. Best regards and good growing, Jacob.

appalachianOwl

Member





I was just a bit worried that it might not have enough roots after collecting to provide all the foilage, thats why i thought it was a good idea to prune some of it away.


/Henrik
Hello Henrik,
Most Junipers here are slowly activating growth right now, this is visible as fresh green on the tips and new white feeder roots, on yours this might be a bit later.
As already been sad, do not cut any green, the tree needs the green to grow roots.
I would give the tree at least two years to grow and for now you can help the tree by misting the green and be sure the soil is not getting to wet.
It could take some time before you notice the roots are taking enough moisture to dry out the soil.
Have you verified the species?
Sunip

Thanks for your answer. I will let the tree grow and hopefully live the next two years. I will also mist the foilage and be carefull not to water too much.
I have noget verified the species, was hoping that someone here could tell me based on the pictures if it is something else than a procumbens nana.

/Henrik

---
Permissions in this forum:
You
cannot
reply to topics in this forum