Hello to all, I'm new in this forum I don't like to bug people much with questions.
I bought this buganville last spring and from my prospective i see three possible designs for it. I designed them on paint just to demonstrate the main branches would be positioned and to anticipate a posibble style.
Considering the size of the leaves and considering that it's a floral plant what would be your opinion on the designs that I've designed.
The pictures were taken that one day that I first bought it and after its first trim.
Now its full of leaves and you can hardly see the branches.
In this first one I thought of a Moyogui style with a triangular crown only with the branches sketched in white or extend the crown up to where the grey branches are sketched, those in grey aren't in existence yet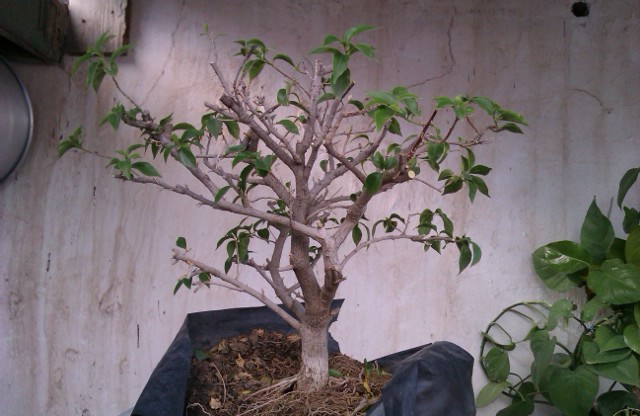 In the second one im considering a Han Kengai but I would need a lower shoot in the branch and eliminate whats in red..
The third one is very similar the only difference is that I would eliminate the main branch create a Yin and only use two main branches. Again that in brown dosen't exist yet..
Now she is like so..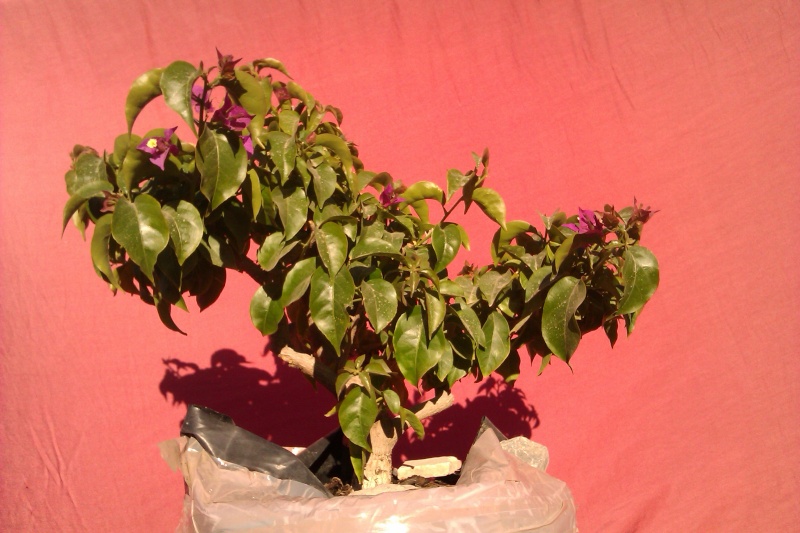 The leaves are big therefore i think i have to make a biger plant. My question is.. What you will do..??
I see that in this forum there are themes that are very advanced I understand if I don't get anyone's reply on this theme in the forum.
.....

Alabby

Member





The leaves will reduce in size over time when you get the finer branch structures in place.
Thank you for replying. Yes, thats what im going to need for this one smaller leaves..

Alabby

Member





i like the second angle better...it has more movement in my opinion...but, i would leave out the jin....matter of fact, i would really really consider making the branch that you have as a jin in your virt the new leader...

Just Mike

Member





oh, and that lower branch might not need a lower shoot...its always hard to tell from a picture, but i bet over several wiring sessions that branch could be wired down and twisted slightly so that the drastic bend is horizontal facing back...man, i hope that made sense...trying to describe styling in words isnt easy lol

Just Mike

Member





Wood is very quick to rot, so dead wood must be treated and kept treated.

Billy M. Rhodes

Member





Thank you for your comments they are very valuable for my decision..

Yeah is possible to use the middle branch, that's actually the main branch, you can see it more clearly in the first picture... I hadn't tough about that way, use the three of them. The branches are very breakable, but i´m going to try lower it as slowly as I can...

Alabby

Member





The only thing I would add is that the trunk coming straight up out of the ground needs to be angled.

Twisted Trees

Member





Thank you. That would look good with the semicascade design. This spring I will take it out of that soil and place it in good substrate and make that small angle.

Alabby

Member






---
Permissions in this forum:
You
cannot
reply to topics in this forum